Biden Leads Trump by 7 Points in North Carolina, Which Republicans Won in 2012 and 2016: Poll
Presumptive Democratic presidential nominee Joe Biden appears to have the support of a slim majority of registered voters in North Carolina, a state which President Donald Trump carried in 2016 and that Republicans also won in 2012.
New polling from NBC News/Marist shows Biden ahead of Trump by 7 points, with the former vice president backed by 51 percent of registered voters compared with 44 percent who support the president. That marks a significant change since March, when Biden was backed by 49 percent of voters in North Carolina compared to 45 percent who supported Trump.
North Carolina has generally gone for Republicans in most presidential elections going back to 1968. The only exceptions have been in 1976, when the state voted for Democrat Jimmy Carter, and in 2008 when it was carried by Barack Obama. But Trump won the state by a margin of 3.6 percent in 2016 after the 2012 Republican presidential candidate Mitt Romney carried the state by a margin of 2 percent.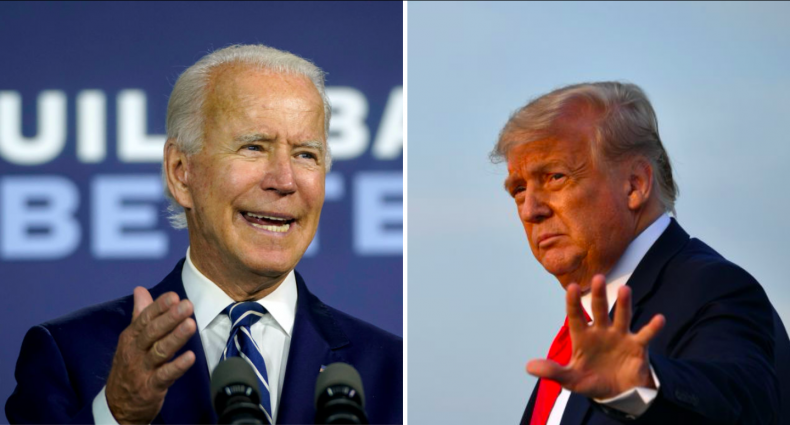 Trump's declining support in North Carolina appears to be connected to voters disapproval of his response to the coronavirus pandemic and issues of racial inequality. Only 41 percent of respondents said they approved of the job the president is doing, while 55 percent said they disapproved.
When it comes to race relations, 53 percent said Biden was better equipped to handle the issue while just 31 percent said the same of Trump. The results were similar when it comes to handling the coronavirus pandemic, with 51 percent saying Biden would do better compared with 31 percent who backed the president. But Trump still gets higher marks when it comes to the economy, with 52 percent saying the president would be better than Biden; 39 percent chose Biden's economic prowess over Trump's.
Most recent polls in North Carolina show Biden in the lead, with the current RealClearPolitics average showing him ahead by about 3 points. A recent poll by CNBC/Change Research showed a much closer race, however, with 47 percent of respondents backing Biden compared with 46 percent who support Trump. A survey by Public Policy Polling has Biden up 4 points, with 50 percent to Trump's 46 percent.
Trump campaign officials and the president have consistently dismissed negative public polls, suggesting they are generally biased against Republicans. They also point to 2016, when most pollsters believed Democratic presidential candidate Hillary Clinton would win. Instead, Trump pulled off a series of victories in key battleground states, propelling him to a big win in the Electoral College. But Clinton actually received nearly 3 million more individual votes nationwide.
Nationally, Biden leads Trump by about 9.1 points, according to the average compiled by RealClearPolitics. The most recent poll by CBS News/YouGov shows the president trailing his Democratic challenger by 10 points, with Biden backed by 51 percent of voters compared to 41 percent who support Trump.