Democratic Presidential candidate Joe Biden is ahead of incumbent Republican President Donald Trump in a Hill-HarrisX poll released Friday, but some Americans indicated they won't cast ballots for either major candidate.
Biden accepted the Democratic Party's nomination for president Thursday. In his acceptance speech, Biden criticized the Trump administration's handling of the economy and the coronavirus pandemic but did not mention President Trump by name. Publicly, Trump has questioned how effective Biden would be fulfilling the requirements need to carry through presidential duties.
According to poll data, 46 percent of those surveyed would vote for Biden if the presidential election were held today. President Trump was eight percentage points behind Biden with 38 percent of those surveyed giving him their support. In last week's poll, 45 percent said they'd vote for Biden, with 39 percent who would vote for Trump, a difference of six points.
However, 4 percent of poll participants said they would vote for someone else while 3 percent said they would not vote at all. An additional 8 percent said they did not know who they would vote for.
Democrats comprised 37 percent of those who answered the poll question while Republicans made up 32 percent. Those who identified as Independent voters made up 29 percent while 2 percent labeled themselves as "other."
Newsweek reached out to the Biden campaign for comment.
The poll was conducted among 2,840 registered voters before Biden accepted the nomination and carried a margin of error of plus or minus 1.84 percentage points.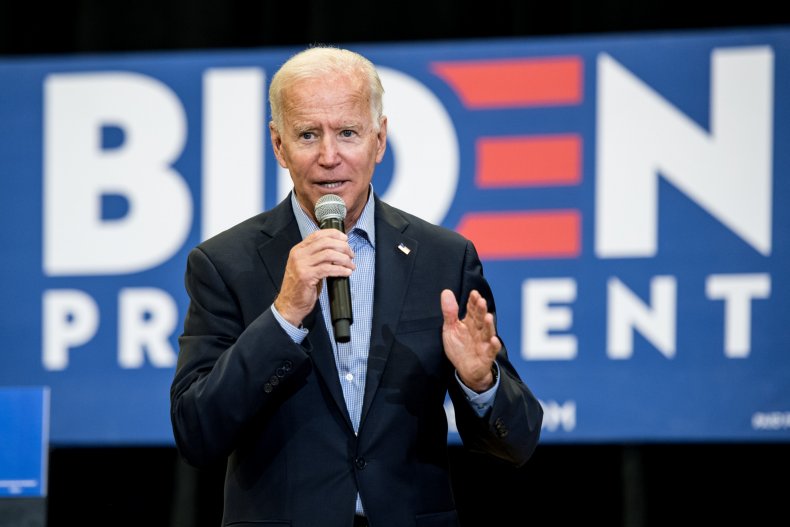 In most states, voters can write in the name of any individual to wish to cast their presidential ballots for. Those votes may not count if the write-in candidate has not filed the appropriate paperwork with state election officials.
American political parties besides the Republicans and the Democrats have nominated candidates for the 2020 election. Known for its expansive climate change policies, the Green Party nominated former UPS driver Howie Hawkins as its presidential candidate in July.
"The two-capitalist-party system of economic rule has utterly failed to provide real solutions," reads Hawkins' website. Hawkins' platform includes the raising of the minimum wage to $20 per hour, the doubling of Social Security benefits and a national transition to clean energy by the year 2030.
Libertarian candidate Dr. Jo Jorgensen has based her platform on an increase in personal freedoms with a diminution of government interference into the lives of citizens.
According to her website, Dr. Jorgensen wants to "turn America into One Giant Switzerland: Armed and Neutral—with the military force to defend American's shores and soil against any foreign attackers or invaders."
Arguably the most famous third party presidential candidate was Theodore Roosevelt, who formed the National Progressive party during the 1912 election. National Progressives built their platform around equal voting rights for men and women, justice system reform and a living wage for factory workers.
Roosevelt ran against Republican William Howard Taft and Democrat Woodrow Wilson. Wilson won the popular vote in 40 states and received 435 votes in the electoral college, making him the 28th U.S. president.
No third party candidate has won the U.S. presidential election.