Biden Leads Trump By 8 Points In New Michigan Poll, But Same Firm Showed Clinton Up By Double Digits In 2016
A new poll out of Michigan shows Democratic presidential nominee Joe Biden leading President Donald Trump by nearly 8 points with less than a week until Election Day, but the same polling firm showed former Democratic presidential candidate Hillary Clinton ahead by double-digits in 2016.
According to the new poll, conducted by Lansing-based Glengariff Group for The Detroit News and WDIV-TV, Biden is supported by 49.3 percent of likely Michigan voters while the incumbent Republican president is backed by just 41.6 percent. The survey was conducted from October 23 to 25, with responses from 600 Michiganders and a margin of error of plus or minus 4 percentage points.
Although Biden's lead looks promising for Democrats, Glengariff Group carried out a similar poll for The Detroit News and WDIV-TV in October 2016. That survey showed Clinton with a double-digit lead of nearly 12 percentage points. Clinton was supported by 42.2 percent of likely voters in the Midwestern state and Trump was backed by just 30.6 percent. The same number of respondents were polled and the margin of error was the same as well.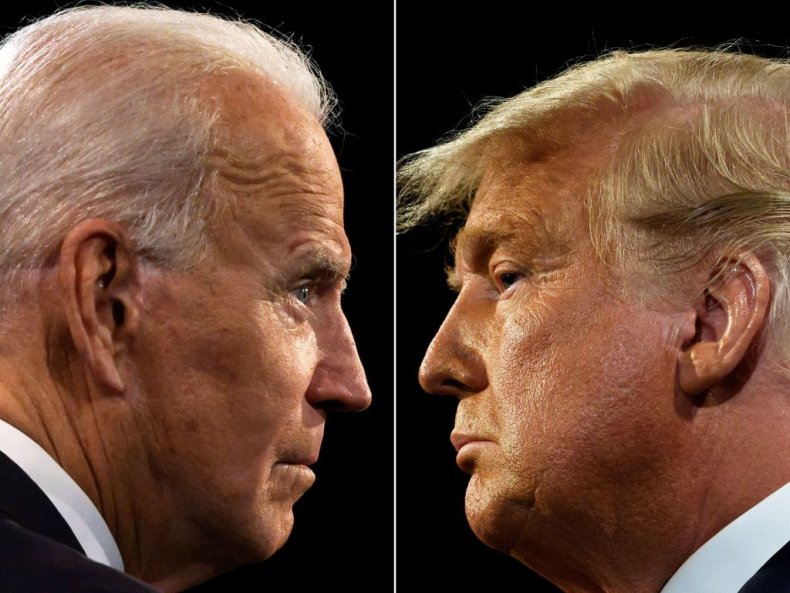 There are, however, some notable differences. The 2016 poll results were published nearly a month before Election Day on October 12, while the new poll results come just under a week before Election Day this year. Additionally, Biden appears significantly more popular than Clinton in the survey, with the backing of nearly half of likely Michigan voters. Clinton was only supported by just over 40 percent in the 2016 poll.
Regardless, the comparison underscores what Democrats and Republicans anticipate could be a tight race in the key swing state. Trump won Michigan by a narrow margin of just 10,704 votes in 2016—or 0.2 percent. The Republican candidate's win came after Michigan had gone for former President Barack Obama in 2008 and 2012, as well as for every Democratic presidential nominee going back to the 1992 election.
Most recent polls suggest Biden is favored to win in Michigan, and that he is backed by a higher percentage of likely voters compared to Clinton when compared to 2016 surveys. Currently, the Real Clear Politics polling average for Michigan shows Biden supported by about 50.6 percent of likely voters in the state. Meanwhile, Trump is backed by an average of just 41.9 percent—a lead of nearly 9 percentage points for Biden.
The most recent poll to show Trump leading in Michigan was conducted by Trafalgar Group from October 11 to 14. That survey showed the incumbent president with a narrow lead of just 1 point—or 47 percent to 46 percent for the Democratic challenger. All other October polls in Michigan have shown Biden with a relatively comfortable advantage.
Trump won the Electoral College in 2016—despite Clinton receiving nearly 3 million more individual votes nationwide—through a series of wins in key swing states including Florida, Michigan, Wisconsin and Pennsylvania. Beyond Michigan, the polling averages compiled by Real Clear Politics show Biden with the advantage in Wisconsin and Pennsylvania, but Trump is ahead by an average of just 0.4 percentage points in Florida.