Biden Leads Trump by 9 Points in Michigan, but 9 Percent of Voters in the Swing State Are Still Up for Grabs
Democratic nominee Joe Biden leads President Donald Trump by 9 percentage points in the key swing state of Michigan—but 9 percent of voters say they're still undecided.
The new poll by EPIC-MRA, which was released Wednesday, shows that Biden is backed by 48 percent of Michigan residents, while just 39 percent support Trump. But with 9 percent of the Midwestern state's voters still up for grabs and with the Democratic nominee still polling below the 50 percent threshold—the race could be closer than the current margin between the two candidates suggests, come Election Day.
The results are similar to when the same poll was carried out in September, however. At that time, EPIC-MRA found that Biden had the same level of support (48 percent) among Michigan residents. Trump's support in September was just minimally higher—standing at 40 percent then, compared with 39 percent now. The polls' margin of error is plus or minus 4 points, with 600 respondents in total.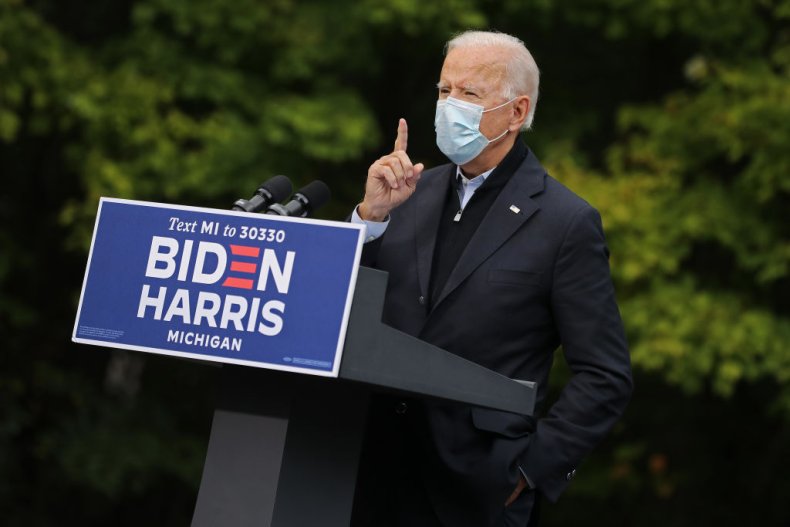 With less than three weeks until the election, Biden continues to lead Trump by double digits in most recent national polls. No recent national poll suggests that Trump is favored to win. Additionally, most polling out of key battleground states—including Michigan, Wisconsin, Pennsylvania and Florida—suggests the Democratic nominee is favored to win. These four states are seen as key to Democrats, as they all voted for President Barack Obama in 2008 and 2012 before flipping red for Trump in 2016.
Trump won Michigan by a margin of just 0.2 percentage points in 2016, winning only 47.5 percent of the state's votes. The Real Clear Politics average of Michigan polls currently shows Biden leading in Michigan by an average of 7.2 percentage points—or 49.8 percent, compared with Trump's 42.6 percent.
In Wisconsin, which Trump carried by just 0.3 percentage points in 2016, Biden is ahead by an average of 6.3 percentage points, according to Real Clear Politics. The Democrat's margin is even bigger in Pennsylvania, with an average lead of 7 percentage points. In 2016, Trump won Pennsylvania by just 0.7 percent of the vote.
The race is closer in Florida—Trump's official state of residence—with Biden leading by an average of just 3.7 percentage points. The president won the Southern state by a margin of 1.2 percentage points in the last election.
Notably, if Biden managed to win just three of these four key swing states, while also maintaining all the states carried by Democratic nominee Hillary Clinton in 2016, he would emerge victorious in the Electoral College. At the same time, Biden leads in national polls by about 10 percentage points, according to the current averages published by FiveThirtyEight and Real Clear Politics.