Biden Leads Trump in Key Swing States Michigan, Florida and Arizona Nearly a Month From Election
Democratic nominee Joe Biden continues to lead President Donald Trump in the key swing states of Arizona, Florida and Michigan with almost one month left until the November 3 election.
U.K.-based polling group Redfield & Wilson Strategies surveyed various numbers of registered voters from September 23 to 27 in several key swing states, according to poll results released October 2.
In Arizona, 47 percent of voters said they would support Biden in the election, compared to the 44 percent who chose Trump. Biden's lead shrunk by 2 percent from results published by the same polling group two weeks ago, as Trump managed to increase his lead slightly in the former reliably red state.
Biden saw an increase of his lead in Florida, however—one of the most important states for Trump to win if he has any hope of remaining in the White House for the next four years. The politically unpredictable state has voted for every presidential winner since 1996, including Trump in 2016, Al Jazeera reported.
Forty-eight percent of Floridians said they would vote for Biden, compared to the 43 percent who chose Trump.
And in Michigan, where Biden has plans to campaign Friday, the former vice president saw his lead shrink by one percentage point over the last two weeks. But more than half of residents still say they support the Democratic candidate, 51 percent, compared to the 42 percent who support Trump.
Biden is also leading Trump in three other toss-up states, including North Carolina, Pennsylvania and Wisconsin, according to the recent poll.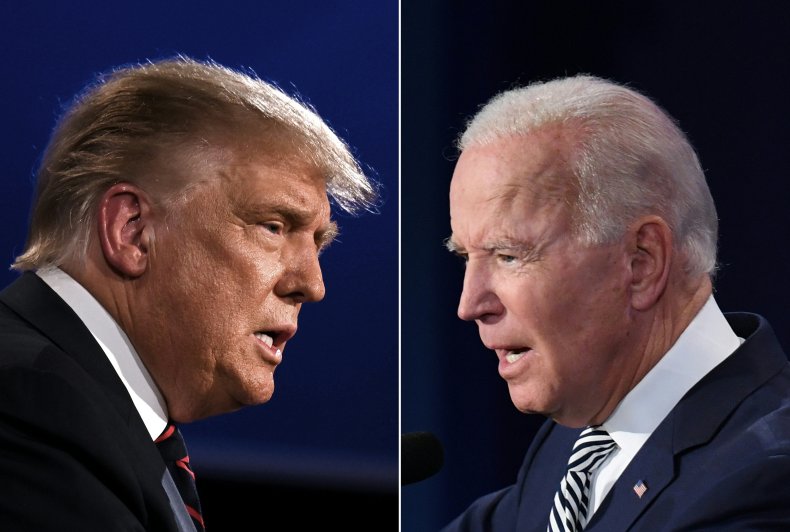 Trump has trailed Biden in most national opinion polls throughout the campaign period, although the former vice president's lead has certainly fluctuated. As of October 2, Biden maintains an average lead of 7.4 percentage points over Trump, according to polling aggregator FiveThirtyEight.
Trump's net disapproval rating has also struggled amid the ongoing coronavirus pandemic. At the end of July, an average of 55.8 percent of Americans disapproved of Trump's record in office, FiveThirtyEight reported.
But his numbers have remained steady over the past month, with an average of 52.2 percent of U.S. adults saying they were unhappy with Trump's job as of Thursday. Only 44.1 percent of those polled on average said they approved of Trump.