As President Joe Biden leaves for Europe, he promises a reset from the turbulent transatlantic relationship he inherited from his predecessor. And while his candor marks a major shift from former President Donald Trump, the areas in which the two administrations appear more aligned than apart may speak to some fundamental changes to U.S. foreign policy.
These changes may serve to undermine Biden's message of multilateralism and an attempt to establish a collective front against climate change.
Nearly a year into the new administration, Biden has not yet repaired severed ties with Cuba or Iran, nor has he backed down from a confrontational stance toward the United States' global competitor, China. And the manner in which a recent nuclear submarine deal with Australia and the United Kingdom was handled drew comparisons to Trump from spurned ally France.
The U.S. withdrawal from Afghanistan, a country where the U.S. and global partners had been present for two decades, also showcased a key area of continuity between Biden and Trump, who initially signed the peace deal with the Taliban last year.
Since emerging victorious from a tumultuous election, Biden has promised "America is back" to follow Trump's "America first" pledge, but some experts now see more similarities than expected.
Among them is Anders Fogh Rasmussen, who served as the 24th prime minister of Denmark and the 12th secretary general of the NATO alliance. He went on to found the Alliance of Democracies Foundation, whose inaugural 2018 summit featured Joe Biden as a keynote speaker.
Many in Europe cheered Biden's win last year, but now Rasmussen described a creeping frustration across his continent.
"So in Europe, there was a feeling of relief when Biden was elected president and the statements that 'America is back,' his first visit to Europe etc., etc. At the end of the day, it needs to be more than rhetoric," Rasmussen told Newsweek. "In some camps, there is a sense that policies haven't changed that much from the previous Trump administration."
"This is actually now the discussion in Europe," he added.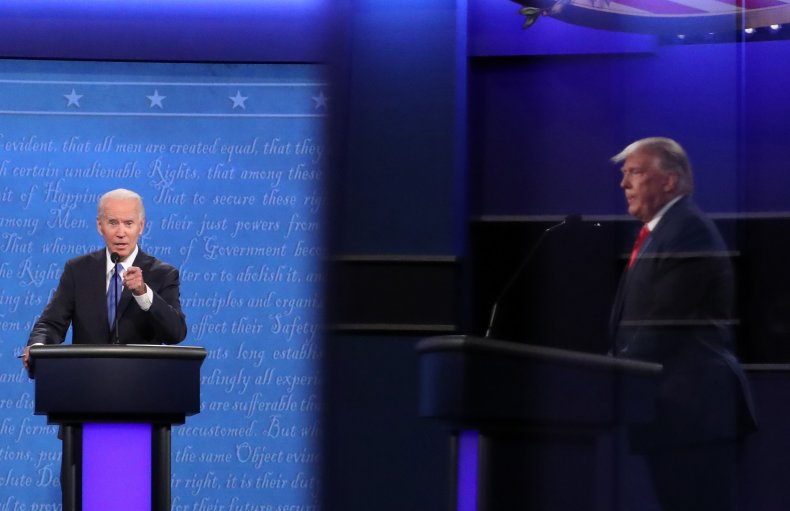 One of the most notable differences between Trump and Biden is on the issue of climate change. It's been a key focus of the president's appearances both at the G20 summit in Rome and a subsequent gathering in Glasgow specifically on the topic organized by the United Nations.
But as Biden seeks to assure world leaders that the U.S. can be a model for tackling a worsening environmental crisis, he will have to do so without bringing any concrete commitments to the table.
The White House announced on Thursday that the administration would be pursuing "the largest effort to combat climate change in American history" as part of a $1.85 trillion economic plan. But political wrangling has watered down some of the more ambitious initiatives, and deep divisions remain an obstacle for realizing substantive change.
Beyond the domestic struggle to push through legislation, there also lies a sense among a number of experts that, for all the attention given to climate change by the Biden administration, a lasting strategic overhaul of foreign policy priorities has yet to occur.
"The Biden administration has spoken quite eloquently about how climate is an existential threat, but it means nothing because we've not seen anything in the form of policy that has been adjusted to that reality," Trita Parsi, co-founder and executive vice president of the Quincy Institute for Responsible Statecraft, told Newsweek.
Rather, one of the most important issues that seems to dominate the Biden administration's foreign policy thus far is addressing a perceived threat from China.
"When it comes to what's happening with Asia, we're seeing the very same escalation that was going on within the Trump era that, at the end of the day, is built based on the idea that we essentially have to dominate the Chinese, otherwise the Chinese will dominate us," Parsi said, "a foundational grand strategy of seeking liberal hegemony to think that we will make ourselves safer, the world more stable by being a major military dominant force globally."
Until this "foundational grand strategy" is amended, Parsi argued, there will be little hope for a decisive shift away from the dynamic set in motion under Trump.
Representatives of the very European Union nations that Biden would address in his upcoming conferences appear to be among those to have realized this.
"I think there is a greater understanding amongst EU ambassadors here that there is a tremendous amount of continuity, and that Trump was not an aberration," Parsi said. "The illusion of hope that existed that Trump was an aberration I think largely has been dispelled, and they do recognize that there's a very high likelihood that they will once again be shifted back to what was there."
"So America is changing," he added.
And he also put little credence in the Biden administration's motto given the current trend.
"It doesn't matter how many times we're saying 'America is back,'" Parsi said. "Whatever existed before Trump is not likely going to be resurrected by any American president. I think that concern about the continuity or relying heavily on the United States is not something that the Biden administration has done enough to be able to address and dispel."
Trump's legacy appeared particularly strong at a time when U.S.-China tensions continued to overshadow attempts by the two nations to work together comprehensively on climate change.
"I'm not surprised that there's basic continuity on China, but I am surprised that some very easy steps to reduce the tensions were not taken," Jake Werner, a research fellow at the Boston University Global Development Policy Center, told Newsweek.
Werner pointed to potential steps such as easing Trump-era visa restrictions on Chinese citizens, reopening China's consulate in Houston and rolling back limitations imposed on Chinese journalists and state media as actions that could have been "fairly easily" taken and "would have gained some goodwill on the Chinese side."
Part of this approach is defensive, Werner argued. The former vice president's path to the White House was achieved by paving over hyperpartisan divides that have been exploited by Trump and his supporters to undermine Biden's mandate and leave him open to attacks on nearly every major issue.
Werner identified a "feeling of political vulnerability" among Biden administration officials, and said "they want to limit the exposure that they're giving for people to attack them on nationalist grounds in the hope of passing their agenda."
Werner also saw indications among Biden administration officials that they have come to realize the old foreign policy approaches will no longer work going forward.
"I think there has been a real substantive rethinking within a lot of the foreign policy leaders in the administration, that the old free-market globalization with the U.S. sort of providing security services that would secure the global system of free-market globalization, that that has lost a lot of its legitimacy, and there needs to be a new direction to revive American leadership," Werner said, "and that new direction is in some fundamental ways nationalist."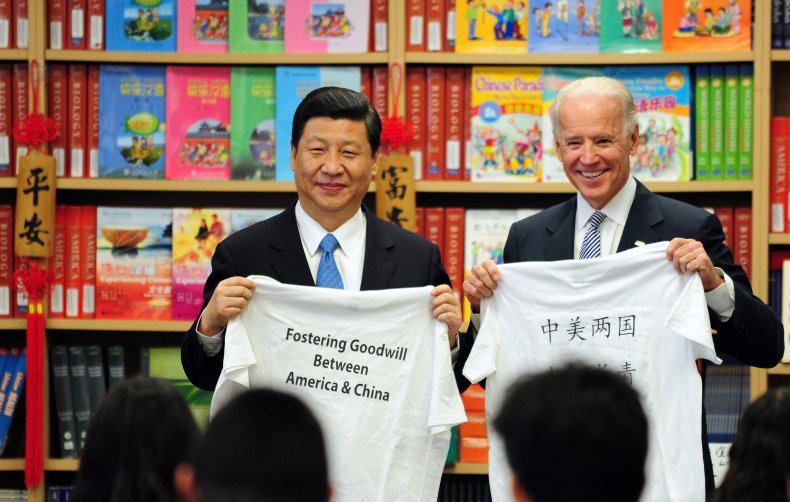 Stark differences do exist in the character of that nationalism as it is presented by Trump and Biden. The latter has rejected divisive rhetoric in favor of a more inclusive and diplomatic tone.
But branding has also played a central role in the debate over how the Biden administration's foreign policy has formed and just how much it represents a break from Trump's approach. Much of Biden's message on the campaign trail honed in on the notion that his administration would represent nearly everything that Trump's leadership did not. It was not until entering office that commonalities truly began to emerge.
Richard Fontaine, chief executive officer of the Center for a New American Security think tank, said this did not necessarily come as a surprise.
"There tends to be more continuity across administrations on U.S. foreign policy than is often properly understood," Fontaine, who has previously held positions at the National Security Official and the State Department, told Newsweek, "in part because during campaigns, the candidates always pledge radical differences, because campaigns are about maximizing differences. It gets more complicated when you're talking about actual governance and actual policy development."
There's also the objective reality that much of U.S. foreign policy has been developed as a reaction to world events, many of which, such as China's rise, play out independently of who is elected to the White House.
"The world hasn't changed dramatically just because we've had presidential change," Fontaine said. "And American interests and values haven't changed dramatically, just because we've had a presidential change."
Also unsurprised by the Biden administration's current direction is Muqtedar Khan, a professor in the Department of Political Science and International Relations at the University of Delaware. He said both Trump and Biden's aspirations on foreign policy were somewhat reined in by those around them shortly after taking office.
"Both presidents' campaign promises were strongly diluted when it came to implementation," Khan told Newsweek. "I suspect they were swallowed by "the blob." the foreign policy elite whose consensus drives U.S. foreign policy. [This is] more true of Biden than Trump."
Even going into the 2020 election, Biden did not embody the most extreme divergence from Trump on the political spectrum, Khan argued. He saw a larger contrast between "the left-wing and right-wing populists" represented by Democratic candidate Vermont Senator Bernie Sanders, an independent who identifies as a democratic socialist, and Trump, who managed to rebrand conservative politics under the banner of nationalism.
Between these two, "Biden is the moderate," Khan said. "Moderate what? Moderate Trump."