Biden Losing Ground on Support for 2 Key Campaign Issues
Support for President Joe Biden's handling of the economy and the COVID-19 pandemic is slipping, a new poll showed, although overall, the results showed he still has majority approval.
Biden campaigned heavily on his ability to control the pandemic and turn the economy around and months into his presidency he's facing rising COVID-19 cases and disappointing job reports. While Democrats are largely standing behind the president, he's facing opposition from independents and Republicans and his declining poll numbers could spell trouble for the president's party in the midterms.
A poll from ABC News and Ipsos released on Wednesday found Biden's handling of the COVID-19 pandemic his strongest issue among voters with 57 percent approval. However, it's a significant decline from his 72 percent approval rate in March and a seven point drop from when the poll was taken in August.
The COVID-19 pandemic was an integral issue during the 2020 presidential election and voters overwhelmingly disapproved of how former President Donald Trump handled the outbreak. Biden marketed himself to voters as the right man to take on the pandemic and bring the health crisis under control.
While there were promising signs of the pandemic ending at the beginning of Biden's first term as vaccinations increased, interest in inoculations largely plateaued and the president failed to make his July 4 goal of vaccinating 70 percent of the population. Vaccine hesitancy and the Delta variant's transmissibility fueled nationwide spikes in cases and hospitals across the country have been overwhelmed with patients.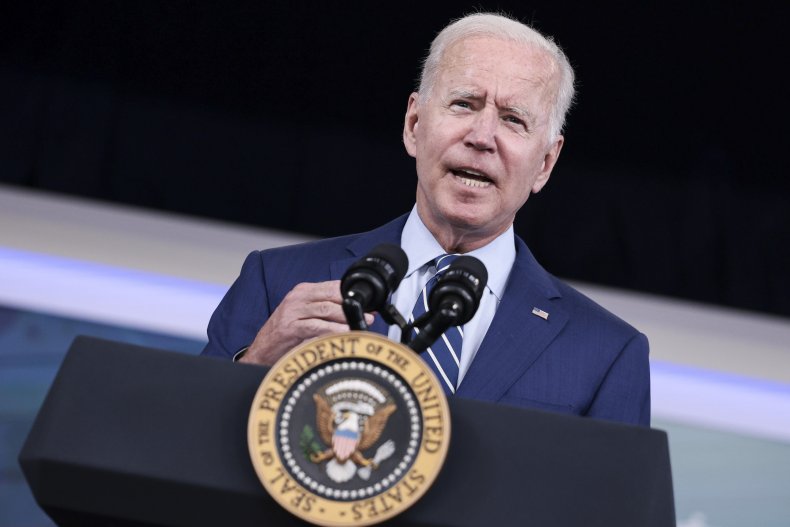 The bulk of hospitalized patients are unvaccinated, but the strain on resources has caused vaccinated people entering the hospital for issues unrelated to COVID-19 to struggle to find the care they need. It's led many cities and states to reinstate mask policies regardless of vaccination status and Biden recently announced he was instructing the Department of Labor to issue a requirement that employees of all companies with at least 100 workers be vaccinated or submit to weekly testing.
A recent Gallup poll found the majority of Americans approve of Biden's vaccine mandates, although that result is overwhelmingly fueled by support from Democrats. While more than 90 percent of Democrats back vaccine requirements for employees of private companies and federal workers, less than half of independents and fewer than one in five Republicans agree.
Republicans were more inclined to back vaccine requirements for hospital workers, at 25 percent, and the measure had 54 percent backing from Independents.
When it comes to the economy, Biden is holding on to a slim majority at 51 percent approval, down from a high of 60 percent in March. Although Biden's touted positive changes in the economy, the country is facing inflation in prices, including key things like food and gas, exacerbating pent-up frustrations from the pandemic. Disruptions to supply chains and product shortages have also made it difficult to find certain items and increased the costs of what is available.
With the economy often being a key issue for voters, Americans being less-than-enthusiastic about the economy could be problematic for Democrats in the 2022 midterm elections. Ipsos found the decline in support for both Biden's handling of the pandemic and the economy was due to a drop in support from Independents and Republicans and midterms are often already difficult for the president's party.