Biden is Losing Latino Support in South Florida, Which Could Sway Election
On the same day President Donald Trump visited South Florida on the reelection campaign trail, a poll from Miami showed him closing a gap among one group of voters in which he didn't do so well during the 2016 election.
A new poll shows Trump and Democrat nominee Joe Biden almost in a dead heat among Hispanics in Miami-Dade County. The Bendixen & Amandi and Miami Herald poll show Trump with 47 percent of the Hispanic vote, and Biden with 46 percent.
Although the poll shows Biden with an overall lead of 55 percent to Trump's 38 percent in Miami-Dade, the overall numbers show more favorably to Trump than the exit polls of 2016, which had Hillary Clinton winning by 30 percentage points. Clinton won Miami-Dade by roughly 290,000 votes in 2016, but still wasn't enough to win Florida, which Trump won by 1.2 percent.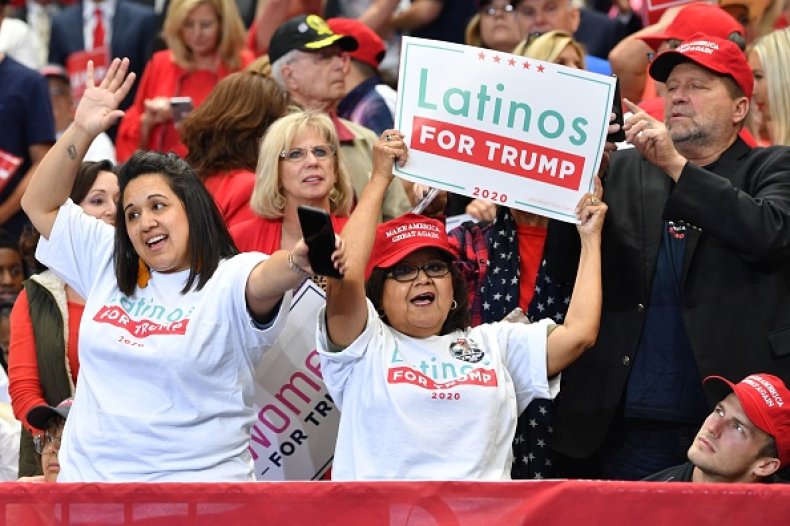 The gap in Florida could widen for Trump if he continues to narrow the margin in the state's largest city—and its strongest Democrat hold.
Miami-based pollster Fernand Amandi, who's a Democratic strategist, said Trump's new favorability in Miami is reason for the Biden campaign to worry.
"If you're the Biden campaign, looking at these numbers, I think there's reason for pause," Amandi said in the Miami Herald. "If Biden under-performs in what should be one of his strongest counties—and is certainly the largest county for Democratic votes in the state of Florida—it might imperil his chances of winning Florida unless there is a massive white voter exodus from Trump in other parts of the state."
Many parts of Florida in recent weeks have hosted Trump boat parades, where sometimes a couple thousand boats and yachts hit the harbors and seasides while displaying flags for Trump 2020, Blue Lives Matter and the American flag.
Closing the gap in the Hispanic community has been a work in progress for Trump, who has been in South Florida many times during his term. Trump has particularly won over many Cuban Americans in Miami, who usually have more conservative political views. Most of those Cuban Americans also side with Trump's strong stance against easing sanctions on Cuba.
Mercedes Schlapp is a local Cuban American from Miami, and senior adviser for Trump's campaign, who isn't shocked by the polling results. She compared Biden's campaign policies to a "Trojan horse" of infiltrating America with "leftist policies and alliances."
"With that kind of an agenda, it's no wonder that so many fellow Cuban Americans, Colombians, Nicaraguans and Venezuelans are rejecting his Trojan horse candidacy," Schlapp said.
Kevin Muñoz, a Biden spokesperson, said Biden's support among Hispanics will continue growing.
"Joe Biden is ready to lift up Hispanic communities to reach their full potential, whether by fighting for the success of our small businesses or ensuring access to quality, affordable health care," Muñoz said. "As Hispanic voters continue to lean in more on this race, their support for Joe Biden will continue to grow."
The Bendixen & Amandi and Miami Herald poll has a relatively small sampling, which the newspaper said doesn't equate into a true poll, but one with a greater error of margin.
The poll shows a greater number of white and independent voters for Biden, and it shows that 16 percent of Republicans said they would vote for Biden.