Biden, Macron Meet to Restrengthen France-U.S. Ties Following Diplomatic Crisis
U.S. President Joe Biden and French President Emmanuel Macron met today for the first time since the two NATO powers got caught in a diplomatic crisis after the U.S. made a deal to sell submarines to Australia that undercut a previous deal between the country and France.
France then recalled diplomats from America and canceled a gala at its embassy meant to celebrate the French-American relationship. France felt "fooled by the deal," and reportedly lost out on billions with the scarping of the $90 billion Australian order, according to The Guardian.
During their meeting, Biden and Macron "shared warm words" and "friendly body language," Reuters reported. However, the French leader stopped short of saying outright that the relationship was repaired, adding that trust would need to be regained.
"Trust is like love: Declarations are good, but proof is better," Macron said. "What really matters now is what we will do together in the coming weeks, the coming months, the coming years."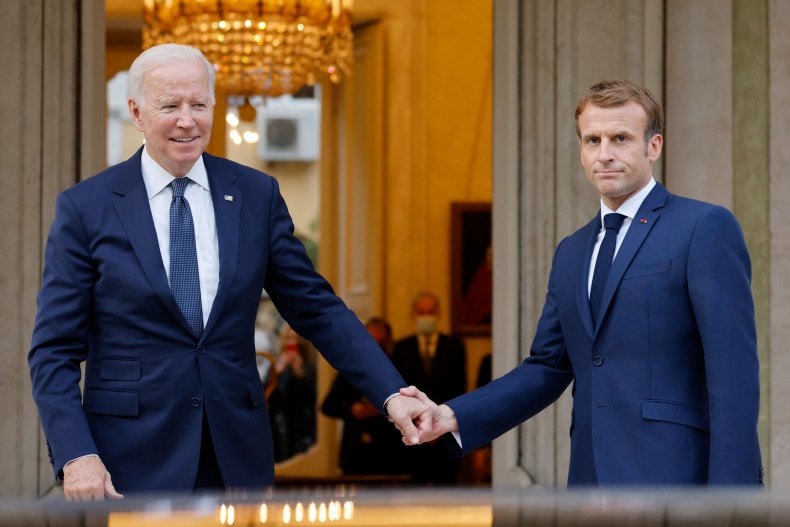 The Biden administration has taken a number of steps to repair the relationship since the initial drift occurred. Last week, the two discussed security cooperation in Africa, Europe, and the Indo-Pacific. Secretary of State Antony Blinken also traveled to Paris to improve communication, and Vice President Kamala Harris plans to take a trip in November.
With the relationship seemingly headed in a positive direction, the two were able to discuss shared national security concerns. Among the issues discussed were Russia, China, energy, and nuclear issues, a senior Biden administration official told reporters after the meeting.
"It was a very meaty substantive but I would say broad-ranging and strategic conversation," the official said. "There's not any sense that there's some kind of fundamental rift in the relationship, I think, at this point."
On Saturday, Biden and Macron will attend the Group of 20 (G20) summit of world leaders. At this meeting, the world's largest economies are expected to discuss issues such as the global supply chain, energy prices and climate change. The latter will likely stand as one of the conference's most pressing issues and one that France and the U.S. will seek to address together.
"We will continue urgently addressing the climate crisis, including support for the aims of (the United Nations Climate Change Conference) to accelerate the global net-zero transition," Biden and Macron said in a joint statement. "The Presidents welcome plans to launch a 'U.S.-France Bilateral Clean Energy Partnership' by the end of the year."