Biden Maintains 20,000 Vote Lead Over Trump in Wisconsin, State Canvass Finds
Wisconsin has completed its statewide vote canvass and found President-elect Joe Biden to have won the state and its 10 electoral college votes by over 20,000 votes.
The Associated Press reported on Tuesday that Biden beat President Donald Trump by 20,612 votes.
The Trump campaign will have until 5 p.m. Wednesday to file a petition for a statewide recount—a move the campaign has previously hinted at but has yet to officially file.
In Wisconsin, a recount must wait until all 72 counties have finished their canvassing of the vote and the runner-up candidate must be within one percent of the winner for a recount to be granted.
The 20,612 votes means Biden has received 49.6 percent of the votes and Trump has received 48.9 percent, putting the two within 0.7 percent of one another.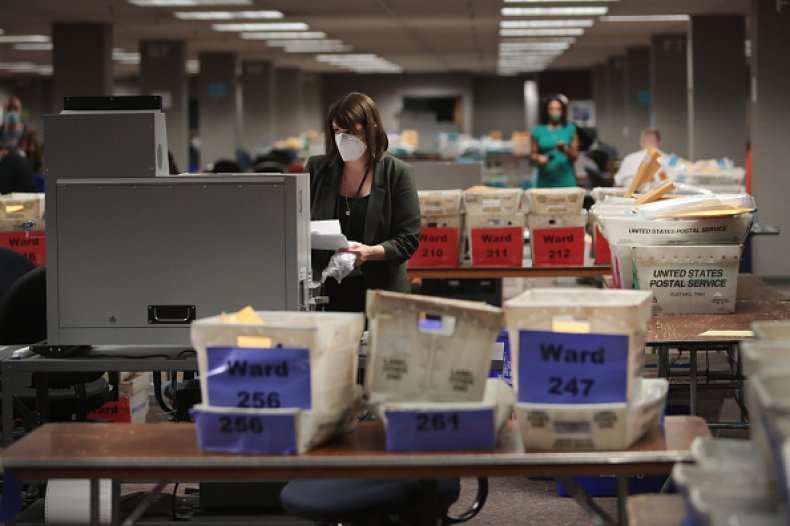 It will cost the campaign $7.9 million up front in order for the statewide recount to proceed, according to the Wisconsin Elections Commission. The recount could begin as soon as Thursday and no later than Saturday and must be completed by December 1.
Trump's campaign could also file for recounts in specific counties, which would drive down the cost and allow him to target areas where votes were mainly cast for Biden.
In a statement shared with Newsweek, Jenna Ellis, the Trump campaign's legal adviser, said, "The legal team continues to examine the issues with irregularities in Wisconsin and are leaving all legal options open, including a recount and an audit."
A hand recount has already been ordered in Georgia by state officials due to the narrow margin of victory. Counting in Georgia is expected to wrap up this week, as counties have until late Wednesday to finish tabulating, but Democrats have said it has not resulted in any substantive changes.
Recounts in the past, both in Wisconsin and in other states, typically result in minor changes to the total vote count.
Four years ago, Green Party candidate Jill Stein requested a recount in Wisconsin and reaffirmed Trump's victory in the state, adding 131 votes to his margin. Trump defeated Democrat Hillary Clinton by more than 22,000 votes in 2016.
The request for that recount was also drastically less expensive than the price tag Trump faces. Stein paid just over $2 million.
Meagan Wolfe, the director of the Wisconsin Elections Commission, told the Milwaukee Journal Sentinel on Tuesday that a recount in this election would be much more costly due to the coronavirus pandemic, which would require larger spaces to ensure social distancing between election workers while they conduct the recount.
This story has been updated with additional background and information, including a statement from the Trump campaign.