U.S. President Joe Biden is defending updated Centers for Disease Control and Prevention (CDC) guidelines that say even people who have been vaccinated against COVID-19 should wear masks in some places, as a new and more potent variant of the virus spreads across the country.
"Today's announcement by the CDC—that new research and concerns about the Delta variant leads CDC to recommend a return to masking in parts of the country—is another step on our journey to defeating this virus," Biden said in a statement Tuesday.
The CDC's updated mask guidance recommends that fully vaccinated people resume wearing masks indoors in places with "substantial" and "high" transmission rates—nearly two-thirds of all U.S. counties.
"In recent days I have seen new scientific data from recent outbreak investigations showing that the Delta variant behaves uniquely differently from past strains of the virus that cause COVID-19," CDC Director Dr. Rochelle Walensky told reporters earlier Tuesday.
More than 163 million people in the United States are fully vaccinated, but the rapidly spreading Delta virus has compromised some. According to tracking from the Mayo Clinic, vaccine rates have shown wide disparities. Less than 40 percent of Mississippi residents have been vaccinated, while more than 75 percent of the residents of Vermont have been.
Nearly 610,000 people in the United States have died of COVID-19 since the pandemic began last year.
The CDC had previously advised that those who had been vaccinated would not need to wear masks in public because it was unlikely they could contract or spread the virus. But the new Delta variant has been stronger and more contagious. Vaccinated people have reported testing positive and some hospitalized from their symptoms.
"When I ran for president, I promised to be straight with you about COVID—good news or bad," Biden said in his statement.
Biden also backed the CDC's recommendation that kids wear masks when they return to school this fall—which has sparked outrage from some critics.
"Masking students is inconvenient, I know, but will allow them to learn and be with their classmates with the best available protection," Biden said.
Biden said he will lay out the next steps on Thursday in the effort to get more Americans vaccinated.
"By following the science, and by doing our part by getting vaccinated, America can beat COVID," he said. "In the meantime, more vaccinations and mask wearing in the areas most impacted by the Delta variant will enable us to avoid the kind of lockdowns, shutdowns, school closures and disruptions we faced in 2020."
Updated 07/27/2021, 4:52 p.m. ET: This story has been updated with additional information.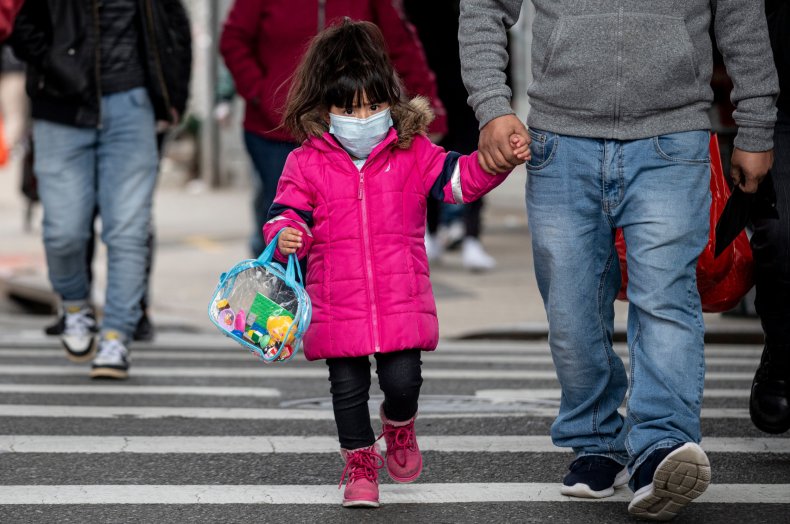 Uncommon Knowledge
Newsweek is committed to challenging conventional wisdom and finding connections in the search for common ground.
Newsweek is committed to challenging conventional wisdom and finding connections in the search for common ground.
About the writer
Elizabeth Crisp is a Washington Correspondent for Newsweek, covering the White House and Congress.
She previously was the Washington Correspondent for The Advocate | The Times-Picayune, primarily covering the Louisiana delegation, and had stints covering State Capitols in Louisiana for The Advocate; Missouri for the St. Louis Post-Dispatch; and Mississippi for The Clarion-Ledger.
A Mississippi State graduate, Elizabeth spent years covering politics in the United States South before moving to the nation's capital. Through her eclectic career she's covered two Trump impeachments; the 2020 and 2016 presidential races; multiple gubernatorial and U.S. Senate campaigns; presidential debates in 2008 and 2020; and multiple prisoner executions.
She's a member of the White House Correspondents Association and IRE.
You can reach Liz at e.crisp@newsweek.com or securely via elizabethcrisp@protonmail.com.
Catch her on Twitter @elizabethcrisp.