Biden May Choose Running Mate by End of July, Interviewing of Candidates Underway
Presumptive Democratic presidential nominee Joe Biden said Wednesday he may have a vice presidential candidate chosen by the beginning of August.
Biden gave no indication who might be up for consideration for the position but has previously stated that he would be choosing a woman as his running mate.
"I think that I need somebody who, in fact, is simpatico with me, both in terms of personality as well as substance," Biden said at a virtual fundraiser Wednesday, adding that the right candidate would need to employ the "same basic approach" toward approaching the issues.
Biden's campaign has already started "deciding the basic cut" of who would make a suitable running mate, attempting to ascertain if "they really want it." The former vice president indicated he wanted to pick a candidate who could be totally truthful with him "because I want to have people around me that have strengths and capacities I don't."
Newsweek reached out to the Biden campaign for further comment. This story will be updated with any response.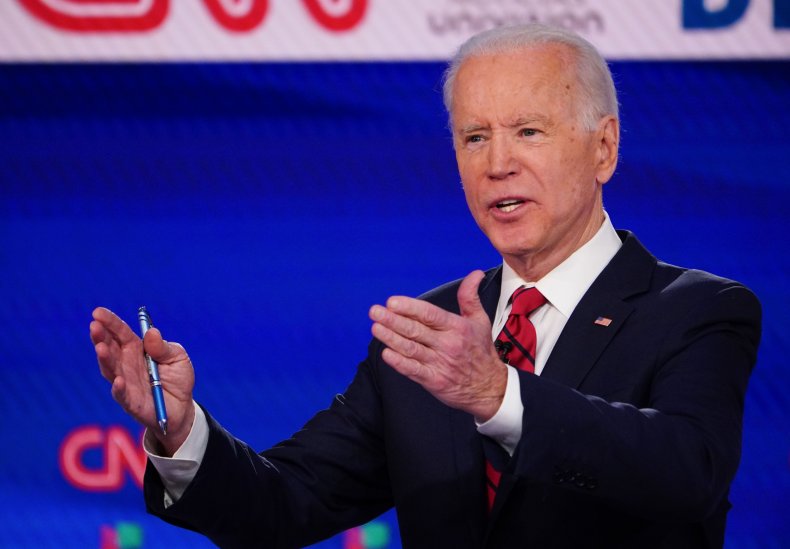 Speculation has run rampant over whom Biden would select as his running mate since the Democratic debate in March. "There are a number of women who are qualified to be president tomorrow," Biden said. "I would pick a woman to be my vice president."
Florida Democratic Representative Val Demings said Thursday during a radio interview that she was among the top contenders for the vice presidential position.
"I am on the short list and I'm honored to be on the short list," Demings said on The Dean Obeidallah Show. "If Vice President Biden asked me to serve along with him, I would be honored to do just that."
Some observers believe one of Biden's choices will be former Georgia gubernatorial candidate Stacey Abrams. Biden's campaign received Abrams' endorsement in May, but Abrams told NBC's Meet the Press in April that she would "be willing to serve" as vice president.
Michigan Governor Gretchen Whitmer said in May she had been contacted by Biden's campaign, but that "it was just an opening conversation and it's not something I would call a professional, formalized vetting."
Biden is also rumored to be considering Minnesota Representative Amy Klobuchar, California Senator Kamala Harris and Massachusetts Senator Elizabeth Warren. All three women ran for the Democratic presidential nomination alongside Biden before suspending their campaigns. Biden's campaign has also received endorsements from the former candidates.
A committee announced its intention in May to draft former First Lady Michelle Obama as Biden's running mate although she has not placed her name into contention.
"We believe that Ms. Obama's perspective will go a long way towards building an honest, people-centered campaign this year as well as positively informing policy in the White House for years to come," read a statement from the Draft Michelle Obama for VP committee.
Biden said in April that he would choose Michelle Obama "in a heartbeat," but added that he doesn't believe "she has any desire to live in the White House again."