Biden Must Follow Trump's Lead on North Korea But Include South Korea, Experts Say
President Donald Trump radically changed the U.S. approach to North Korea, and President-elect Joe Biden may have no choice but to follow in his footsteps if he hopes to achieve progress toward peace on the peninsula, analysts and former officials told Newsweek.
Biden must engage in bold, top-level diplomacy with North Korea, while at the same time outdoing Trump by empowering a parallel bottom-up approach and coordinating closely with South Korea if the new administration hopes to achieve progress toward peace on the peninsula, the experts said.
"There's an opportunity here," Philip Yun, a former presidentially appointed State Department official who now serves as president and CEO of the World Affairs think tank, told Newsweek. "Donald Trump has opened up something and if you use it well, it could result in something that's meaningful."
After decades of tensions and failed negotiations, Trump's landmark summit with North Korean supreme leader Kim Jong Un two years ago represented a milestone for the longtime adversaries. For two Cold War-era foes, the event was surrounded by uncharacteristically warm words and inspired hopes for a new chapter not only for Washington and Pyongyang, but also for Seoul, whose leadership enthusiastically championed an unprecedented rate of inter-Korean interactions.
But the atmosphere has changed significantly since then.
Two additional meetings between the leaders proved insufficient in kindling working-level talks that ultimately produced no agreements, and relations eventually reverted back to hostilities, which are now overshadowed by U.S.-China tensions and the COVID-19 pandemic.
If Biden seeks to capitalize on the unprecedented albeit unfulfilled moves made by the Trump administration, those with experience in dealing with Pyongyang say he has a path to success should he choose to pursue it.
Yun, who worked in the Clinton administration as senior advisor to the Assistant Secretary of State for East Asian and Pacific Affairs and advised two U.S. Coordinators for North Korea Policy—former Secretary of Defense William J. Perry and former Under Secretary of State Wendy Sherman, traveled to North Korea in 1999 and 2000 during a critical push for diplomacy that was ultimately abandoned as political winds changed at home.
He sees this juncture in American politics as another potentially transformative period for U.S.-North Korea relations, and told Newsweek that he's hopeful the presidential transition won't serve as a setback.
"I'm not worried about them saying that 'because Trump did this, we're not going to do that,' I don't think that's going to be the case," Yun said. "I think there are things that they're going to have to do that Trump didn't do that were major omissions, but they're going to take the good, and then they're going to throw out the bad."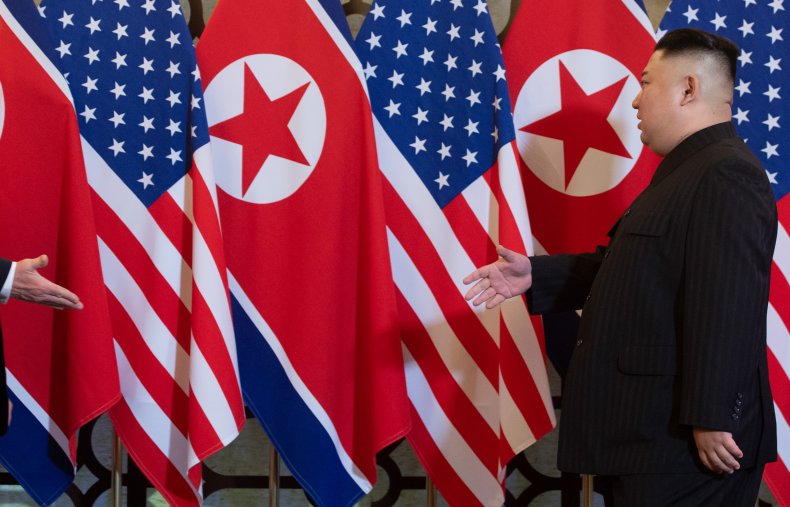 Yun identified two areas of shortcomings in the Trump administration approach to North Korea. The first was the lack of attention paid to the kind of working-level talks that established the likes of the 2015 Iran nuclear deal – another painstaking diplomatic endeavor abandoned by a change in the White House. The second was a lack of policy coherence with South Korea, a U.S. ally whose current administration is especially interested in reconciliation with its northern neighbor.
The realities of the relationship between Washington and Seoul dictate that South Korea typically follows the U.S. lead in dealing with their mutual foe. South Korean President Moon Jae-in has expressed frustration over the stall in the U.S.-North Korea dialogue. This halt quickly led to a freeze in communication across the dividing Demilitarized Zone, and later a resurgence in bad blood between North and South Korea, officially the Democratic People's Republic of Korea (DPRK) and Republic of Korea (ROK), respectively.
Even a record three inter-Korean summits under Moon were not enough to sustain his attempts to change history on the Korean Peninsula once Washington's commitment became unclear to Pyongyang. But Yun says he's confident that the Biden administration will be receptive to Seoul's position, as the former vice president and his team "have emphasized alliances more than anything else."
Harry Kazianis, senior director of Korea Studies at the Center for the National Interest, said that providing South Korea a platform will be critical, especially as the new administration is consumed with inherited challenges like deteriorating ties with China and the debilitating effects of a worsening coronavirus outbreak.
Days before speaking to Newsweek, Kazianis spoke with current White House national security adviser Robert O'Brien about the threat posed by North Korea's weapons of mass destruction and cyber capabilities, as well as potential areas of cooperation such as humanitarian assistance amid the pandemic.
Kazianis offered some advice for officials of the incoming administration on U.S.-North Korea relations.
"For Biden, he needs to come to the realization he does not have the political capital to try and force enough pressure on North Korea to give up their nuclear weapons," Kazianis told Newsweek.
In addition to sharing the negotiating stage with Seoul, he said Washington must also adopt a more practical goal than the Trump administration's maximalist position of unconditionally forcing Pyongyang to shutter a nuclear weapons program it considers central to its national security.
"That can only mean pushing denuclearization into being some sort of aspirational goal and working towards arms control," Kazianis said, "capping the DPRK's nuclear program while allowing South Korea to lead the process of normalization of relations."
This approach, he argued, is the sole path for a country dealing with the world's worst outbreak of the coronavirus disease, an illness with which North Korea to this day insists it has not been afflicted.
"That is the only sustainable policy worth pursuing in the age of COVID," Kazianis said.
Yet the Trump administration appears to remain fixated on forcing North Korea to end its nuclear weapons program, as evidenced by the readouts of special presidential envoy for North Korea Stephen Biegun's discussions in Seoul.
The U.S. interlocutor reaffirmed "U.S. support for inter-Korean cooperation, and continued U.S. readiness to engage in meaningful dialogue with the DPRK in the pursuit of complete denuclearization" in his talks Wednesday with South Korean First Vice Foreign Minister Choi Jong-kun and Special Representative for Korean Peninsula Peace and Security Affairs Lee Do-hoon, according to a State Department readout.
He also reiterated the Trump administration's "commitment to the U.S.-ROK Alliance" at a time when it was under stress at multiple points of pressure.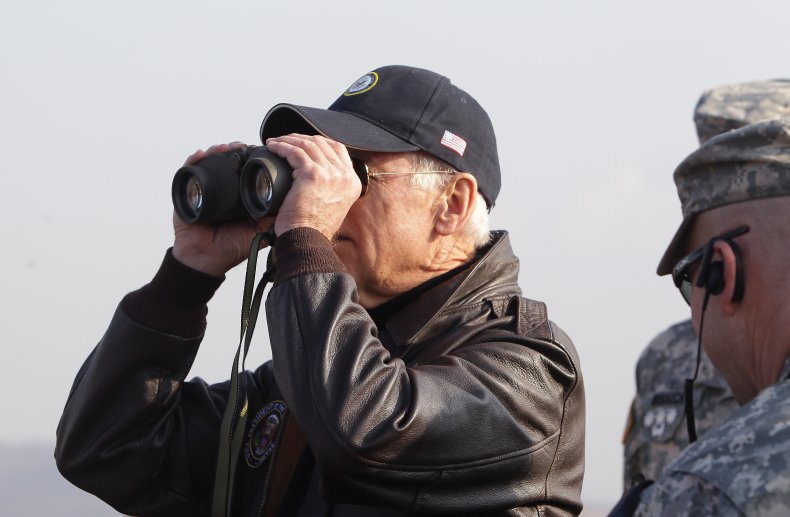 The U.S. and South Korea continue to disagree not only in the urgency with which they wish to engage North Korea but also the state of their own bilateral relationship. The Trump administration has continued its demands that South Korea pay billions more for the nearly 30,000 U.S. troops tasked with defending South Korea from a potential invasion from the North, which last occurred seven decades ago.
Cozy ties between the U.S. and Japan have also further estranged Seoul as it experiences a period of particularly strained relations with Tokyo over historical grievances.
Amid this backdrop, South Korean ambassador to the U.S. Lee Soo-hyuck told an October audit of the National Assembly's Foreign Affairs and Unification Committee that, "just because Korea chose the U.S. 70 years ago does not mean it has to choose the U.S. for the next 70 years, too."
That remark made waves, especially as growing influence from Beijing in the region tested the long robust alliance between two countries that once banded together against China during the Korean War. While the Trump administration has made a priority out of trying to roll back Chinese global power, certain alliances have suffered along the way. This has so far proven to be the case with South Korea, as Trump and Moon went their own ways on North Korea.
"There was collateral damage," Soo Kim, a policy analyst at the RAND Corporation and an adjunct instructor at American University who formerly worked at the CIA and State Department, told Newsweek.
"I'm thinking specifically of alliances and how the North Korea problem contributed to fissures in US-ROK relations," she said. "Conversely, we did not see the alliance operating in full capacity to deal with the North Korea challenge."
Soo Kim was skeptical that, at this point, courting Pyongyang should even be a priority for Biden, given the gaping rift between Washington and Seoul. She said both powers were responsible for the friction between them and hopes the members of the Biden administration have been taking notes over the past four years to correct this dynamic.
"Hopefully the lessons learned from the previous administration's approach would serve as constructive reminders on what not to do," she said, "and call instead for the Biden administration to reestablish equilibrium in its North Korea policy."
Publicly, Seoul remains hopeful of its future work with Biden.
"The ROK-US alliance has served as the foundation for peace and prosperity on the Peninsula and in the region," an official from the South Korean Foreign Ministry told Newsweek. "The ROK government will continue to work closely with the US government for the denuclearization and the establishment of permanent peace on the Korean Peninsula."
Even with the U.S. and South Korea in alignment, North Korea's whims remain a wild card. Its strictly state-run media, once a running commentary on the burgeoning peace process with the United States, has fallen silent on the topic. They have made no comment on the results of the U.S. presidential election.
Experts can only speculate as to what Kim Jong Un is planning. Guesses range from a missile test to a charm offensive, but Soo Kim said the leader's ambiguity may be calculated as "it's not the right time to speak or declare his approach toward the U.S. - too early."
Whispers from across the DMZ suggest the North Korean leader doesn't want to upset the incoming White House.
"We've also heard South Korean officials (citing their intel) saying that North Korea has instructed its diplomats to refrain from provoking or making comments that might ruffle feathers in the Biden administration," Soo Kim said. "So whatever Kim has set up already, he doesn't want the fruits of his labor to turn into smithereens and is erring on the side of caution."
She doesn't expect a fundamental shift in North Korea's approach, however, and said "provocations are a given – it's just a matter of when."
Inauguration Day also isn't the only event on Kim Jong Un's calendar come late January.
The Korean Workers' Party is set to hold its 8th Congress around this time. The last such gathering in 2016 marked the first of its kind since 1980, when late North Korean founder Kim Il Sung, was in power. His grandson, Kim Jong Un, announced his first five-year plan at the 7th Congress to chart out the country's national policies that spanned Trump's time in office.
The upcoming session comes at the tail end of those five years, in which economic development has fallen short of expectations, as acknowledged by Kim Jong Un with rare and emotional candor. The leader is widely expected to unveil a new five-year plan, and this strategy will likely dictate the terms of future U.S.-North Korea diplomacy.
Michael Madden, a leading analyst heading the Stimson Center-affiliated North Korea Leadership Watch blog, explained to Newsweek how "these macro-policies map out development both for the country's defense industry and the rest of its domestic economy.
"Kim Jong Un might decide to let these events, which will feature a lot of strategic rhetoric, telecast whatever 'message' he has for the U.S. and ROK, rather than him staging events involving WMD or ballistic missile testing," Madden said. "Based on current behaviors, it appears the DPRK is taking a 'wait and see' approach."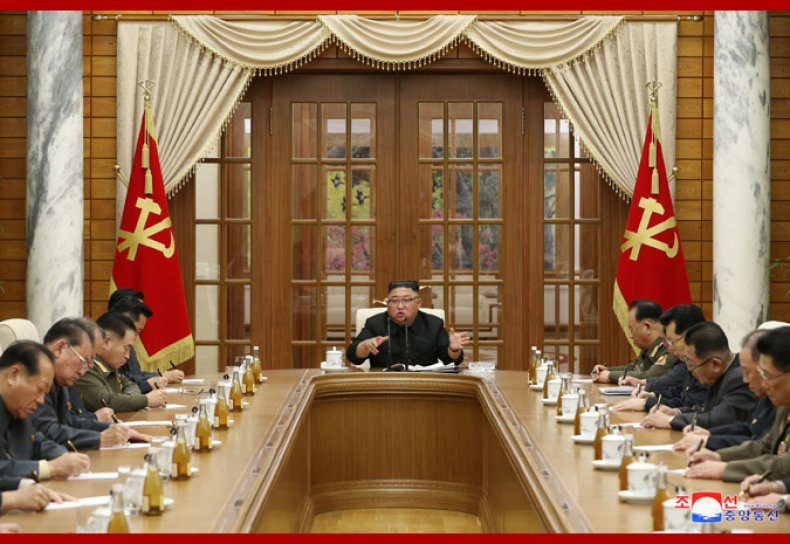 He described Kim Jong Un and his close aides as being "focused inward, on domestic policies" since the letdown of the second U.S.-North Korea summit in the Vietnamese capital of Hanoi early last year. There's much debate as to went wrong at the time, with some blaming the likes of hawks such as then-national security adviser John Bolton, and others believing Kim Jong Un overplayed his hand. But in any case, North Korean officials must be prepared to work with the new White House if they hope to get any deal at all, Madden said.
"Those proposals might resonate differently with Pyongyang as the messengers will have most likely changed," he told Newsweek. "We do not know what the Biden administration's North Korea policy will be, but we do have a good sense as to what the 2019 Trump administration proposed, and it is probably the best the DPRK can hope to get."
Madden said any U.S. overtures here would be preceded by intensive consultations with South Korea. From Pyongyang, Kim Jong Un "will watch those interactions closely, and it will certainly factor into any major decisions he undertakes during 2021."
Those consultations will likely come to define the dynamics of the working relationship between Biden and Moon, a crucial element in gauging the success of any work with North Korea.
Christine Ahn, founder and executive director of the Women Cross DMZ peace advocacy group, said the Biden administration should use these discussions as an opportunity to "immediately abandon the Trump administration's failed maximum pressure campaign and signal to North Korea that the U.S. is ready to engage without pre-conditions."
Ahn, an award-winning activist who has held various positions in support of amplifying women's voices and reuniting divided families on the Korean Peninsula, called on the upcoming administration to back the Moon administration's work to make inroads with North Korea, and to advance humanitarian efforts, such as lifting sanctions and sponsoring cross-border family reunions that have stalled as inter-Korean ties soured.
She urged Biden to then "engage in a step-by-step diplomatic process to build trust and reduce tensions," including a formal resolution to end the Korean War, which remains ongoing despite a 1953 armistice.
Ultimately, it's going to take skilled, committed and open-minded negotiators on all sides to pull off any sort of agreement, Ahn said. While the Biden administration is so far shaping up to be one of the most diverse in history, she argued that it would take more than just representation of women and people of color if they don't bring new ideas to the negotiating table.
"We need visionary leaders who are willing to break from the status quo and support more peaceful, diplomatic solutions to the world's problems rather than rely on military interventions and coercive measures like sanctions," Ahn said, "tactics that have not only failed to achieve U.S. policy goals, but have also had disastrous consequences for civilians in other countries."
Update (12/11/2020 12:30): This article has been updated to include a statement by the South Korean Foreign Ministry.