Biden Must Oppose the Nord Stream 2 Pipeline | Opinion
In this era of renewed great power competition it's not often that a single policy decision can hit both Russia and China, but the Nord Stream 2 pipeline presents that opportunity for Team Biden.
Much has already been written about Nord Stream 2 and the Russian-sponsored corruption surrounding it. For instance, we know that Vladimir Putin's hand-picked chief executive to run the pipeline is none other than Matthias Warnig. Warnig began his career behind the Iron Curtain as an East German intelligence officer in the State Security Service (Stasi) in 1974—at the height of the Cold War. It was here, serving in West Germany, that Warnig likely first met Putin, then an aspiring KGB case officer who had grander ambitions. Putin and Warnig would remain collaborators and interlocutors, using KGB and Stasi tradecraft to further their commercial ambitions and advance their careers. They're now using the same tactics to promote Russian geopolitical interests, enrich themselves and fragment Europe along energy lines, applying intelligence methods to complete Nord Stream 2.
Nothing is off limits in pursuit of Putin's pet project, including attempts "to recruit German politicians to lobby" for Nord Stream and quietly recruiting spies across the European Union to gain nonpublic insights on policy debates. Some have referred to this strategy as "Schroederization," referring to former German chancellor Gerhard Schroeder. One of his last acts as chancellor was permitting the construction of the Nord Stream 1 pipeline. This final gift to Putin, along with his high-placed German contacts, helped Schroeder become a highly paid European surrogate for Putin's energy ambitions. Here he joined his compatriot Matthias Warnig when Putin reunited them on the Nord Stream 2 project. Warnig was designated the CEO for NS2 AG—a company fully owned by Russia's Gazprom but based in Switzerland—and Schroeder would become chairman of the shareholders' committee.
This context is important not just because a few Europeans are getting rich doing the Kremlin's dirty work. That in and of itself is unremarkable. What is remarkable is that they've been able to use their influence in Germany, and among political and media elites, to convince the country not to abandon the project. At full capacity, the pipeline would reroute 55 billion cubic meters of natural gas around Ukraine and eastern Europe. It is estimated to reduce Ukraine's natural gas transit revenues by approximately $1 billion annually, weakening President Volodymyr Zelensky and giving Putin additional leverage by which he can extort Europe. It is perhaps a testament to the effectiveness of Schroeder and Warnig that so much of the German media elite views Nord Stream 2 as merely a commercial project, when it in fact destabilizes Ukraine and is obviously antithetical to the environmental sensibilities of this elite.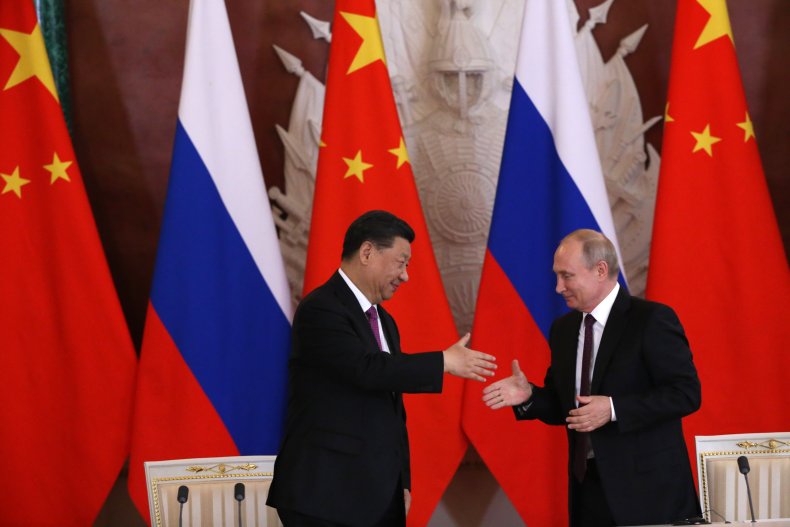 Russia's malign influence isn't the only form of corruption associated with Nord Stream 2. Like a moth to a flame, dirty money draws in others looking to get rich and exert influence. The pipeline, and in particular its base of construction in the Port of Mukran, is that flame, and China is the moth.
China is utilizing the port as a key part of its One Belt One Road initiative—the Chinese Communist Party's (CCP) attempt to better integrate China's internal markets with others through politically inspired extensions of credit, thereby bringing other countries into the CCP's geopolitical orbit. In that way, China uses infrastructure investments in much the same manner that Russia uses elite capture. Countries involved in One Belt One Road receive investment with little or no interest from the CCP, with the expectation that they will not criticize the CCP. As former deputy national security adviser Matt Pottinger recently stated, if you want to do business with China, "you will meticulously ignore the genocide of ethnic and religious minorities inside China's borders; you must disregard that Beijing has reneged on its major promises—including the international treaty guaranteeing a 'high degree of autonomy' for Hong Kong; and you must stop engaging with security-minded officials in your own capital unless it's to lobby them on Beijing's behalf."
That both Putin and Xi have their hooks in Mukran—and in Germany writ large—is cause for concern, but it also represents an opportunity. Mukran Port, or "friendship bridge" as it was dubbed by the East German communist regime, was once used by the Soviets to covertly ship munitions, troops and nuclear warheads to East Germany. It is now being co-opted by Putin and Xi to advance their brand of totalitarianism and economic coercion. If the West can sever these connections through a combination of sanctions and old-fashioned hard-nose diplomacy, it will be a win for human rights and Western values.
Ricky Gill was Director for European Energy Security at the National Security Council and a Senior Advisor in the State Department's Bureau of Overseas Buildings Operations.
The views expressed in this article are the writer's own.