Biden Must Recognize Myanmar's Shadow Government | Opinion
Conflict in Myanmar has escalated to new highs as Myanmar's shadow government has declared civil war against the military junta and the economy nears collapse in the wake of a deadly COVID-19 surge. The death toll rises daily, close to a thousand civilians have already lost their lives and over 7,000 political prisoners have been recently jailed.
Myanmar's military has spectacularly failed to win hearts and minds during the eight months since launching the coup and arresting the country's civilian leadership including Aung San Suu Kyi. Anti-coup resistance and protests have never let up despite brutal military tactics to suppress opposition to their rule. Myanmar's people are not prepared to work for military rulers. A civil disobedience movement and nationwide strike have crippled the bureaucracy, banking and transport sectors. The World Bank estimated the economy will contract by 18 percent this year. The national currency, the kyat, dropped to an all-time low, losing 60 percent of its value in September alone.
A growing consensus points to civil war soon engulfing Myanmar, with the high potential of state collapse. This could be devastating for the region. Myanmar is resource-rich and a key Chinese oil and gas corridor to the Bay of Bengal. Myanmar's military have a track record for using scorched earth tactics, displacing hundreds of thousands, often forcing victims across the country's frontiers. The genocidal deportation of the Rohingya gives a foretaste of what might soon be expected nationwide.
There is now a high prospect this resource rich Southeast Asian nation, bordering China and India, might soon descend into anarchy and violence. The prospects for the region could be devastating.
Myanmar's coup was the newly sworn Biden administration's first wholly unexpected foreign policy challenge. Biden acted quickly, condemning coup leaders and imposing weapons bans and tough new economic sanctions on military businesses concerns. Swift and strong U.S. actions were unthinkable during the Donald Trump years, but that is where U.S. action ended. Despite widespread violence against anti-coup protesters and civilians, the U.S. showed little willingness to engage directly in Myanmar. This has allowed China to reassert its dominance over the region's politics. China is happy to allow Myanmar's military to use violence to subdue anti-coup activism and prevent the return of democracy.
Stopping short of direct military engagement in Myanmar, there are still useful steps Biden could take to reset U.S. relations in the region, ensure China does not become an unchallenged regional hegemon and encourage Myanmar back to a democratic path.
Keeping up the pressure for regime change should be high on the Biden administration's agenda. This must involve supporting Myanmar's National Unity Government (NUG), the government-in-exile. This is more than a debating point—a diplomat supporting the NUG currently occupies Myanmar's seat in the U.N. General Assembly and there is pressure to accredit NUG nominees to other international institutions like the World Health Organization (WHO).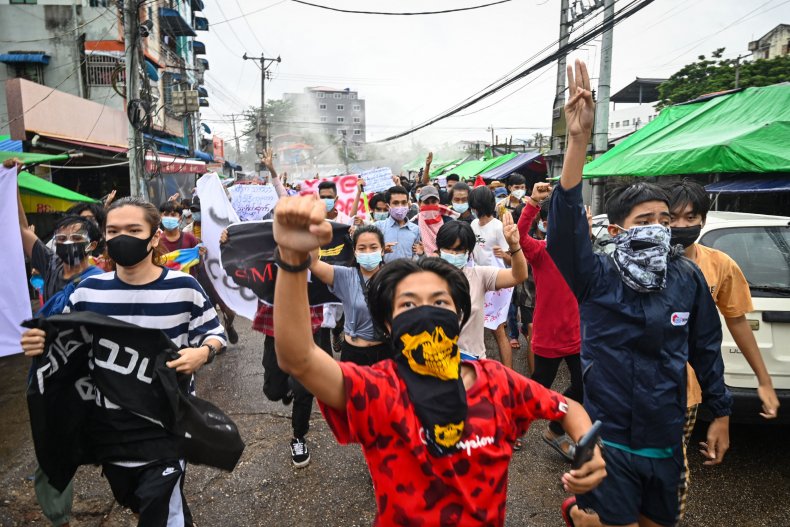 Myanmar's population skews young. Over 70 percent of the country was not born when the 1988 civilian uprising occurred. A new generation, hailing from many ethnicities and religions, has grown up in a newly-liberalized media landscape and believes in the possibility of military rule ending. Supporting the NUG presents President Joe Biden with an opportunity to make clear to Myanmar's young population that the U.S. stands with them, while China defends the interests of Myanmar's military.
Biden could leverage his own vaccine diplomacy campaign to bolster the legitimacy of the National Unity Government and project U.S. influence. The U.S. could reallocate frozen Myanmar government assets to vaccinate refugees, wherever they are. By including the NUG and partnering with Myanmar's neighbors like Bangladesh in the vaccination campaign, the U.S. could both legitimize the NUG and provide material vaccination support to states hosting refugees from Myanmar.
For Myanmar's Rohingya refugees in Bangladesh, a pandemic surge threatens to derail an already tenuous public health situation in the world's largest refugee camps. This has been made worse by India's reduction of vaccine exports to Bangladesh to address its own vaccine shortage.
Bangladesh would likely welcome U.S. pandemic assistance, and the Rohingya refugees would certainly welcome it. This might also incentivize regional stakeholders like Bangladesh to recognize the NUG as an important part of the long-term solution to Myanmar's crises.
Restoring democracy in Myanmar and ending the Rohingya refugee crisis are long-standing issues. By simply recognizing Myanmar's government-in-exile, Biden can take a big leap forward in solving both.
Sai Rajagopal is a South Asian studies researcher at Oxford University.
Ronan Lee is a visiting scholar at Queen Mary University of London's International State Crime Initiative and author of Myanmar's Rohingya Genocide: Identity, History and Hate Speech (IB Tauris/Bloomsbury).
The views expressed in this article are the writers' own.