Biden Narrowly Leads Sanders by 4 Points in South Carolina Poll Released Days Before State's Primary
Former Vice President Joe Biden still holds the lead in polling data released by The Post and Courier on Thursday of Democratic voters in South Carolina with the state primary expected to take place in two days. However, Biden is only ahead of Vermont Senator Bernie Sanders by four points in a state which Biden's campaign was hoping to carry.
In this latest poll, Biden leads the pack with 28 percent, ahead of Vermont Senator Bernie Sanders at 24 percent. With 16 percent, billionaire Tom Steyer took third place in the poll, surpassing Massachusetts Senator Elizabeth Warren and former South Bend, Indiana Mayor Pete Buttigieg. Warren garnered 12 percent of the support of those surveyed while Buttigieg rounded out the top five with 11 percent.
Newsweek reached out to Biden's campaign for comment but did not receive a response in time for publication.
While Biden's support among African American voters in South Carolina remains high, vacillating between 34 and 57 percent, his campaign may receive a boost from an endorsement by South Carolina Congressman Jim Clyburn. As House Majority Whip, Clyburn is the highest-ranking African American member of Congress.
"I can think of no one better suited, better prepared, I can think of no one with the integrity, no one more committed to the fundamental principles that make this country what it is than my good friend," Clyburn said of Biden at a campaign event on Wednesday.
Clyburn also announced his support of Biden in a Wednesday tweet.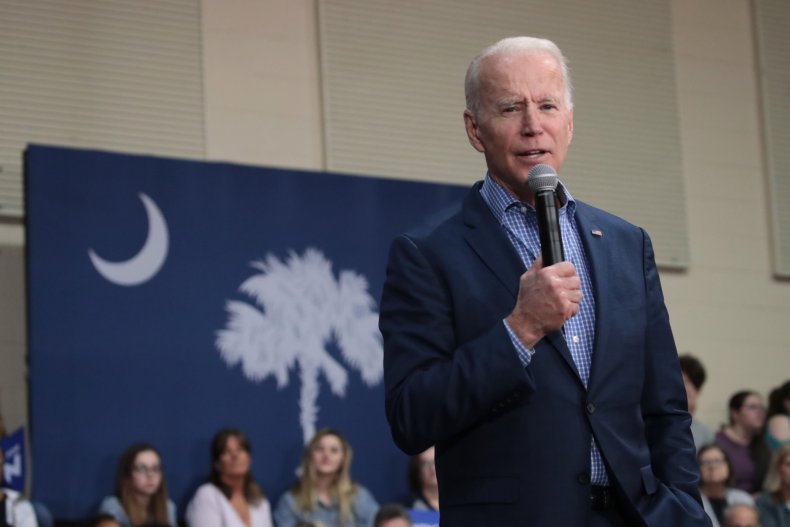 "I know Joe Biden," Clyburn wrote. "I know his character, his heart, and his record. Joe Biden has stood for the hard-working people of South Carolina. We know Joe. But more importantly, he knows us."
"In South Carolina, we choose presidents," Clyburn continued. "I'm calling on you to stand with @JoeBiden."
Biden has spoken frequently of his close ties to African Americans. During the January Democratic debate in Iowa, Biden said, "I come out of the black community."
"If you notice," Biden continued, "I have more people supporting me in the black community, that have announced for because they know me. They know who I am."
Sanders has been campaigning in South Carolina as well, questioning Biden's electability in a race against President Donald Trump.
"I don't believe that Joe can beat Trump when he voted for the war in Iraq," Sanders said Thursday. Sanders also pointed out that Biden voted for NAFTA and "terrible trade agreements that cost us millions of jobs."
Biden's poor showings in the New Hampshire primary and Iowa caucuses may have propped the door open for Sanders who said Thursday he could win the African American vote in South Carolina by focusing on the "issues."
"You win by talking about the issues of importance to working people, to the African American community and to all communities," Sanders said.