Biden Narrowly Leads Trump in Georgia, a Red State That Hasn't Gone for Democratic Candidate Since 1992: Poll
Results of a Civiqs poll of registered voters in Georgia released Tuesday showed Democratic presumptive presidential nominee Joe Biden ahead of Republican President Donald Trump by one point. Georgia has not voted Democratic in a presidential election since 1992 when Bill Clinton defeated then-President George H.W. Bush by less than a percentage point.
Campaign advisers for Biden have targeted traditionally Republican states like Georgia, hoping to persuade voters to vote Democratic. Overall, Biden's campaign is expected to hire 600 more organizers by the end of June to assist the campaign.
Biden's lead over Trump in the Civiqs poll is slight. 48 percent of Georgians polled would vote for Biden if the election were held today. Trump is only one percentage point behind at 47 percent. That one percentage point that separates Trump and Biden is within the margin of error set by the poll, which is plus or minus 3.1 percent.
Biden resonated particularly strongly with black voters in Georgia, garnering their support by 92 percent. Only 6 percent of black voters polled said they would vote for Trump.
Newsweek reached out to the Biden campaign for comment. This story will be updated with any response.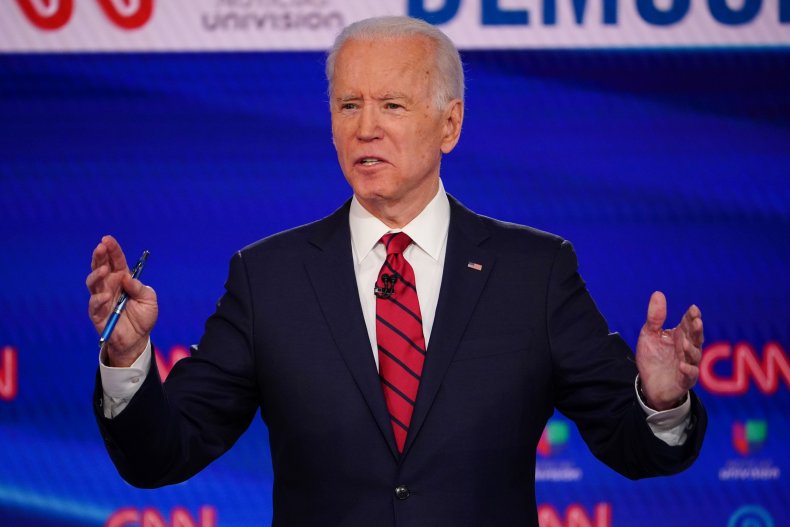 Both Biden and Trump are essentially running unopposed for their party's nomination, giving the Biden campaign more time to focus on defeating Trump in states that Republicans have historically seen victories, such as Georgia, Texas and Arizona.
"We believe that there will be battleground states that have never been battleground states before," said Biden campaign manager Jennifer O'Malley Dillon in a press call Friday. "We feel like the map is really favoring us if you look to recent polling."
Biden has garnered endorsements from Georgia politicians such as Atlanta Mayor Keisha Lance Bottoms, former Atlanta mayor Andrew Young and former gubernatorial candidate Stacy Abrams. Biden has promised to choose as a woman as his vice president and Abrams has said she would be happy to be Biden's running mate.
"I would be willing to serve," Abrams said in April, adding that if Biden choses a woman of color as his vice president, it would "help promote not only diversity but trust."
Both Trump and Biden have refrained from hitting the campaign trail in person to the threat of community spread coronavirus. The president has used roundtables, news briefings and social media to get his reelection message out. Biden has largely used virtual meetings and television interviews to promote his campaign.
Biden's wife, Dr. Jill Biden, is expected to hold a virtual conference with front line health care workers in Georgia on Thursday. A meeting with Atlanta area teachers is expected to follow.
Trump carried Georgia in the 2016 election, defeating Democratic candidate Hillary Clinton with 50.4 percent of the popular vote. Clinton trailed with 45.3 percent of the vote while Libertarian Gary Johnson picked up 3 percent.