Biden Nearly Doubles Lead Over Trump in One Week, Polls Show
Presumptive Democratic nominee Joe Biden nearly doubled his lead over President Donald Trump in one week, according to a new national poll.
According to the poll, 52 percent of respondents said they would vote for Biden if the election were held today, while 42 percent said they would choose Trump, giving the former vice president a 10 point lead.
The poll, which was conducted by Data for Progress, surveyed 794 registered voters from July 22 to July 28, and has a margin of error of plus or minus 4 percentage points. Data for Progress has been conducting weekly tracking polls since April 14.
Biden's ten-point lead over Trump is an increase of 4 percentage points from a similar poll conducted a week prior. In that poll, released July 24, Biden led Trump by 6 percentage points, as 50 percent of respondents said they would vote for him if the election were held today, compared to 44 percent that sided with Trump.
The poll's findings come shortly after Trump faced backlash for suggesting a delay to the upcoming presidential elections in November.
"With Universal Mail-In Voting (not Absentee Voting, which is good), 2020 will be the most INACCURATE & FRAUDULENT Election in history. It will be a great embarrassment to the USA. Delay the Election until people can properly, securely and safely vote???," Trump wrote in a tweet posted Thursday.
Following his tweet, he told reporters during a press conference that he didn't want to delay the elections but "also don't want to have to wait for three months and then find out that the ballots are all missing and the election doesn't mean anything."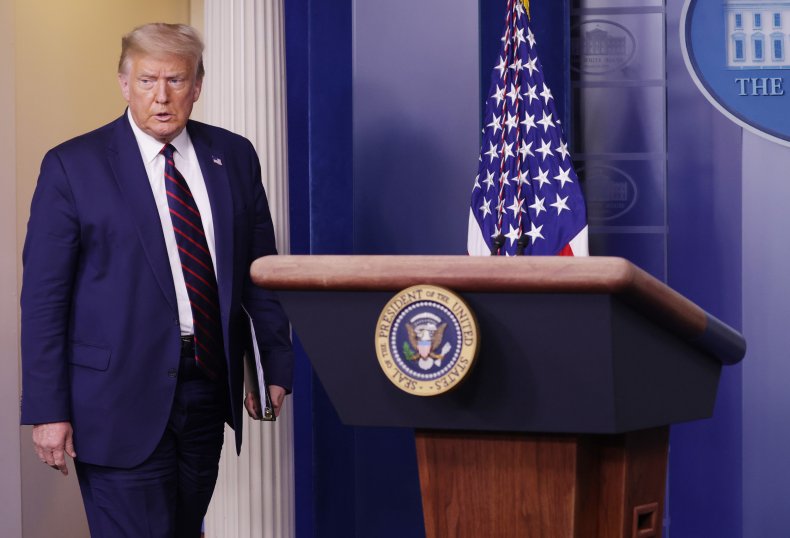 Several other national polls have shown Biden holding a lead over Trump.
One poll recently conducted by Investors' Business Daily/TIPP, found Biden with a 7 point lead over Trump, as 48 percent said they would vote for Biden while 41 percent sided with Trump. According to this survey, the two candidates were tied at 43 percent at the start of May. This poll gathered responses from 1,212 adults, including 1,160 registered voters, from July 25 to July 28 and has a margin of error of plus or minus 2.9 percentage points for all respondents and plus or minus 3.1 percentage points for registered voters.
Another poll, conducted by The Economist/YouGov, found the former vice president leading by nine points, as 49 percent of respondents said they'd vote for Biden, compared to 40 percent that would vote for Trump. This poll surveyed 1,500 U.S. adults from July 26 to July 28 and has a margin of error of plus or minus 3.5 percentage points.
Real Clear Politics average of several nationally conducted polls shows Biden leading Trump by an average margin of 8.3 points.