Biden Needs 'Massive Legal Operation' to Protect Free Election From Republicans, Hillary Clinton Says
Former Democratic presidential candidate Hillary Clinton has some advice for Democratic presidential nominee Joe Biden: prepare to defend the election against attacks from Republicans.
Clinton told Showtime's The Circus, a video-centric political media website, that it's "going to be a close election" in an episode that aired Sunday. She suspected that one "scenario" Republicans are looking at to ensure President Donald Trump is victorious is "messing up absentee balloting" and if Trump has a narrow electoral college win on Election Day, Clinton said Democrats need to be ready for a legal fight.
"We've got to have a massive legal operation, I know the Biden campaign is working on that," she said. "We have to have poll workers ... We have to have our own teams of people to counter the force of intimidation that the Republicans and Trump are going to put outside polling places."
Going into the 2020 election is a "big organizational challenge," Clinton admitted, but said a positive was that at least the Democratic Party knows more about what Republicans are "going to do."
Matthew Morgan, general counsel for the Trump campaign, criticized Clinton in a statement to Newsweek for "unashamedly trying to lay the groundwork" for Biden to "deny the election results." After filing lawsuits to "undermine the integrity of our election," and pushing for mail-in voting close to a general election, Morgan said there's "no telling what other shenanigans Democrats will pull once polling locations are open."
"Republicans will be ready to make sure the polls are being run correctly, securely, and transparently as we work to deliver the free and fair election Americans deserve," Morgan said.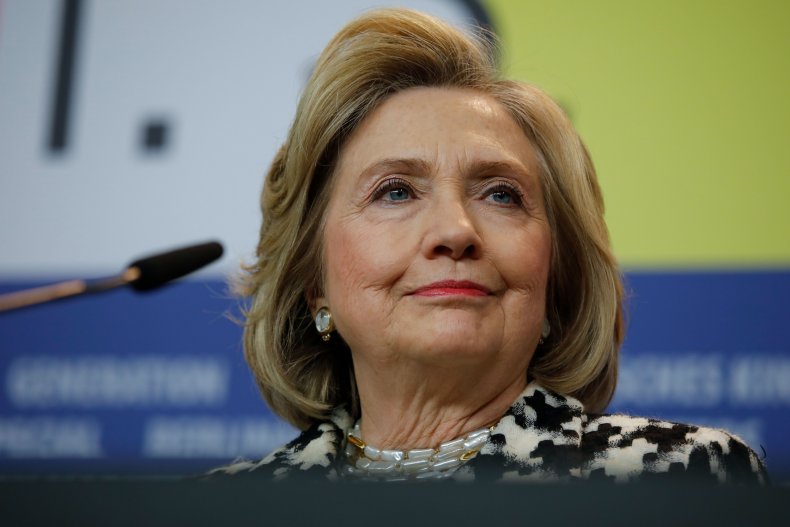 To prevent the spread of the new coronavirus, officials implemented mandates prohibiting people from gathering in large numbers, as lots of people in close quarters can foster an outbreak. As America continues to deal with the pandemic, some states, including New Jersey, Pennsylvania and Nevada, have expanded access to mail-in voting.
It's a process that already occurs, under the name of absentee voting or vote by mail, but has been a sticking point for Trump, who says it will create massive instances of voter fraud. Unlike absentee ballots, a method of voting that the president uses and requires a person to request a ballot ahead of time, issuing mail-in ballots to most voters will result in ballots being sent to "everybody and their dogs," as well as people who are deceased, the president told Fox News on August 17.
California and New York experienced issues with mail-in ballots, including long wait times for results and large numbers of ballots being disqualified, during elections earlier this year. Mark Rom, an associate professor of government and public policy at Georgetown University, told the Denver Post Trump has a point when he says it's a "mess." However, he said it's not due to fraud and in most cases, ballots were discarded because of logistical, not malicious, errors.
In New Jersey, a state the Trump campaign sued for its policy on mail-in voting, a judge ordered a re-do of the Patterson City Council election. Judge Ernest Caposela said it was "rife with mail-in vote procedural violations." Caposela didn't weigh in as to whether fraud was afoot, but in June, New Jersey Attorney General Gurbir Grewal charged four people for voting fraud, tampering with public records and unauthorized possession of multiple vote-by mail ballots.
"Today's charges send a clear message: If you try to tamper with an election in New Jersey, we will find you and we will hold you accountable," Grewal said in a statement at the time. "We will not allow a small number of criminals to undermine the public's confidence in our democratic process."
While Clinton targeted Republicans for impeding the election, Trump went after Democrats for the same behavior. In a surprise speech at the Republican National Convention on Monday, Trump said Democrats are using the new coronavirus pandemic to "steal an election."
"They're using COVID to defraud the American people, all of our people, of a fair and free election. We can't do that," Trump said.
Back in 2016, Clinton conceded the election to Trump one day after he was deemed the winner. This time around, if Election Day arrives and Biden doesn't have the electoral college votes necessary to win, Clinton urged the former vice president to wait it out.
"Joe Biden should not concede under any circumstances because I think this is going to drag out and eventually I do believe he will win if we don't give an inch and if we are as focused and relentless as the other side is," Clinton said.
This article has been updated to include comment from Matthew Morgan, general counsel for the Trump campaign.