Biden Needs to Re-engage Iran Before It's Too Late | Opinion
Back when he was Barack Obama's vice president, Joe Biden celebrated the Iran nuclear deal as the signature foreign policy achievement of that administration. Biden himself played a key role in shoring up congressional support for the deal—known officially as the Joint Comprehensive Plan of Action, or JCPOA.
But in May 2018, despite Iran's full compliance, President Donald Trump abruptly withdrew from the agreement and launched a "Maximum Pressure" campaign of harsh new sanctions and a larger U.S. military presence surrounding Iran.
Still, even after the U.S. came dangerously close to bombing the country, Iran continued to abide by the agreement at least until July 2019, after seeking relief from U.S. sanctions to no avail.
Many expected Biden to prioritize returning to the agreement when he became president. But as the deal marked its sixth anniversary this July, its future—and the promise of a U.S. relationship with Iran rooted in respecting the dignity of the Iranian people—looked deeply in doubt.
Biden's approach to rejoining the deal his predecessor torpedoed has been mixed at best.
On one hand, Biden appointed Rob Malley—one of the lead U.S. negotiators for the JCPOA under Obama—to be the U.S. special representative for Iran. The U.S. also joined talks with Iran, mediated by European negotiators, in Vienna. Talks continue today.
On the other hand, many Biden officials have sounded pessimistic notes from the beginning. Secretary of State Antony Blinken said, "Iran is out of compliance on a number of fronts." National Intelligence Director Avril Haines said, "We're a long ways," from Iran coming back.
Reading these statements, you could forget that it was actually the United States, not Iran, who first pulled out of compliance with the JCPOA.
Away from the negotiating table, Biden has essentially maintained the hostile status quo toward Iran set by the Trump administration—and even escalated it. In late June, the U.S. launched airstrikes in Syria and Iraq targeting facilities the Pentagon claimed belong to "Iranian-backed militias."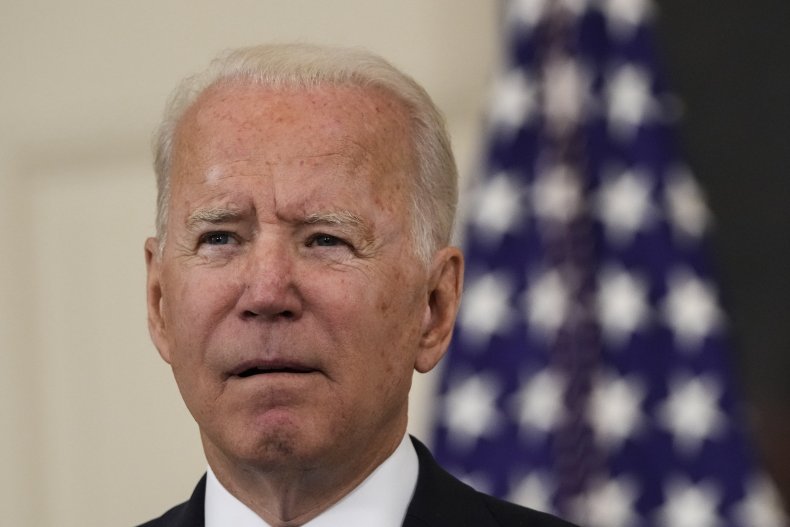 The same week, Biden hosted Israeli President Reuven Rivlin and reiterated Washington's "iron-clad" commitment to Israel. Israel is widely believed to have carried out a series of attacks against Iran, including the 2020 assassination of nuclear scientist Mohsen Fakhrizadeh in Tehran and a strike on Iranian nuclear facilities at Natanz earlier this spring. Israel has all but taken credit for the latter operation.
Meanwhile, Biden has maintained nearly all of the harsh sanctions that Trump imposed on Iran, which have caused tremendous suffering in the country.
While the sanctions imposed on Iran nominally target specific purchases and sales, like those in the energy sector and transactions by Iranian banks, the threat of "secondary sanctions" against countries and financial institutions that do business there has plunged the country into near total financial isolation.
In particular, sanctions have made it more difficult for Iranians to purchase medicines and get health care—a devastating limitation anytime, but especially during a pandemic. From January 2020 to early July 2021, Iran reported over 3.3 million confirmed cases of COVID-19 and over 85,000 deaths—the highest toll in the Middle East.
It may get worse as the highly contagious delta variant of the coronavirus spreads through Iran. With vaccination rates lagging and infection rates again climbing, Iran is one of the world's most at-risk countries for severe oxygen shortages, threatening the total collapse of its health system.
Iran's dire economic situation has made it difficult to enforce safety measures like temporarily shutting down businesses or providing financial support to individuals unable to work. Under the Trump administration, the U.S. even went so far as to block a $5 billion IMF loan that Iran requested to help fight COVID-19.
This June, the Biden administration did issue guidance easing the way for the delivery of face masks, ventilators and vaccines to heavily sanctioned countries like Iran, Venezuela and Syria. But many lives might have been saved by acting much sooner.
Instead of taking the opportunity to reset U.S. relations with Iran, the Biden administration has mostly continued a course of aggression set by the last administration. Facing military aggression from the U.S. and Israel, and suffering a protracted economic and public health crisis worsened by U.S. sanctions, it's ordinary Iranians who are paying the price.
The U.S. needs to immediately shift course, take responsibility for the damage that its policies have caused and pursue an approach to Iran centered not on militarization and economic suffocation, but on honoring the humanity of the Iranian people—before it's too late.
Azadeh Shahshahani is the legal and advocacy director with Project South and a past president of the National Lawyers Guild.
Khury Petersen-Smith is the Michael Ratner Middle East Fellow at the Institute for Policy Studies.
The views expressed in this article are the writers' own.