Biden and Netanyahu Promise Stronger U.S.-Israel Alliance in First Talk Since Inauguration
President Joe Biden and Israeli Prime Minister Benjamin Netanyahu vowed to strengthen their relationship during a phone call on Wednesday.
The conversation was the first between the leaders since Biden took office, coming almost one month after his January 20 inauguration. It also followed conversations Biden had with a host of other allies from around the world, as well as calls with figures like Russian President Vladimir Putin and Chinese President Jinping Xi. The leaders discussed ties between the U.S. and Israel while promising to strengthen bilateral relations and address regional security issues in the Middle East.
"The President affirmed his personal history of steadfast commitment to Israel's security and conveyed his intent to strengthen all aspects of the U.S.-Israel partnership, including our strong defense cooperation," according to a White House readout of the call. "The leaders discussed the importance of continued close consultation on regional security issues, including Iran."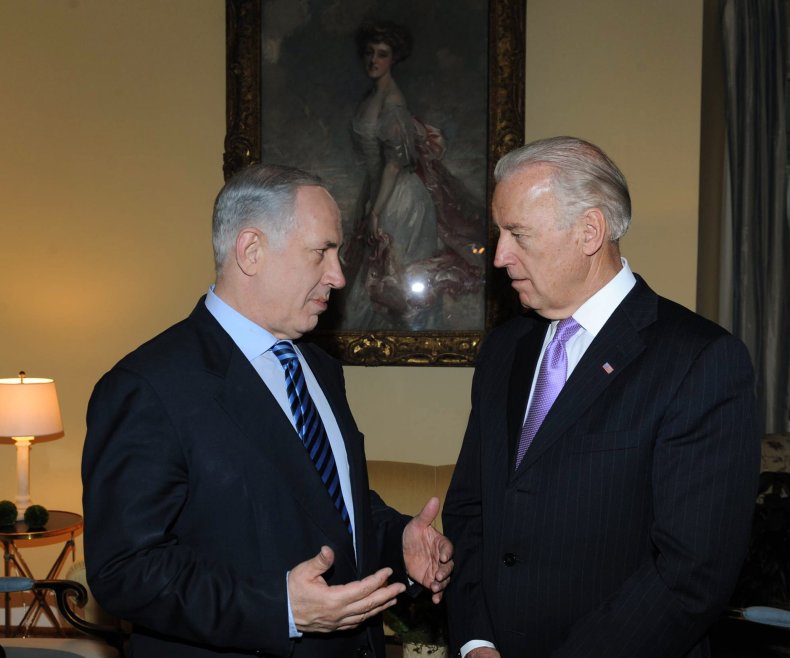 "The President emphasized U.S. support for the recent normalization of relations between Israel and countries in the Arab and Muslim world," it continued. "He underscored the importance of working to advance peace throughout the region, including between Israelis and Palestinians. Together, they affirmed their shared interest in continued strategic cooperation to confront the many challenges facing the region."
Netanyahu's office described the hour-long conversation as "very warm and friendly," while confirming that the call had included discussions on "the Iranian threat and regional challenges" and efforts "to continue strengthening the steadfast alliance" between the U.S. and Israel. The leaders were also said to have discussed the COVID-19 pandemic, including the exchange of "ideas on ways to deal with the pandemic."
The call was the first that Biden has held with the leader of a Middle East country since becoming president. It took place after some observers and Israeli media outlets noted that the prime minister was not included in the new president's initial round of calls and speculated that Biden was snubbing Netanyahu due to his conservative ideology and close relationship with former President Donald Trump.
White House Press Secretary Jen Psaki said that Biden was "looking forward" to the conversation with Netanyahu last week while insisting that the delay was not intended to be "an international diss." During a press briefing on Tuesday, she promised the call would be happening "very soon," highlighting the "important strategic security relationship" between the two countries.
Netanyahu and Trump spoke within days of the former president being inaugurated in January 2017. Prior to Wednesday's call, Biden and Netanyahu had met many times during the administration of former President Barack Obama. After Biden beat Trump in the 2020 presidential election, Netanyahu offered slightly delayed congratulations amid Trump's repeated false claims of massive voter fraud.
Newsweek reached out to the White House for comment.