Biden Is Now Getting Intel Briefings; Here's What That Means
President-elect Joe Biden has officially begun receiving the Presidential Daily Brief—gaining access to the top-level, classified rundown of security intelligence for the first time on Monday.
The Biden transition team didn't provide any additional information and didn't immediately respond to Newsweek's request for comment on the change after President Donald Trump, who hasn't conceded the November 3 election, blocked Biden from getting the sensitive information that has traditionally been shared during transitions between administrations.
Vice President-elect Kamala Harris also received the brief, commonly called the PDB, during a meeting at the Department of Commerce on Monday, according to an update from the transition team to reporters.
The President's Daily Brief, a six-day-a-week summary and analysis of the nation's top intel from the CIA and other parts of the intelligence community, is classified because it contains information that isn't for public consumption, including sources of information, but it's typically shared with presidents-elect in the run-up to their inauguration so they can get up-to-speed on critical issues of national security. Presidents and their aides have received it in some form since 1946.
"We just want to get access to intelligence information, to threat assessments, to the ongoing work on COVID, so we can prepare to govern," Jen Psaki, a transition official who has been named Biden's incoming press secretary, told reporters on a call earlier this month after Biden became the apparent winner.
Trump had blocked Biden from gaining access since Biden was projected the winner in the election, but he recently agreed after several Republican lawmakers, including Trump allies, came out in favor of Biden getting the documents.
Biden, who was privy to the briefing documents as vice president in the Obama administration, pointed to those Republicans during a November 16 transition briefing, noting that he hoped that their positions would make Trump "mildly more enlightened" ahead of the January 20 inauguration.
"There's two months left to go so I'm feeling good about the ability to be able to get up to speed; and I fully expect, based on what occurred so far, we'll get full cooperation with each of the agencies in question," Biden told NBC News' Lester Holt during a sit-down interview last week.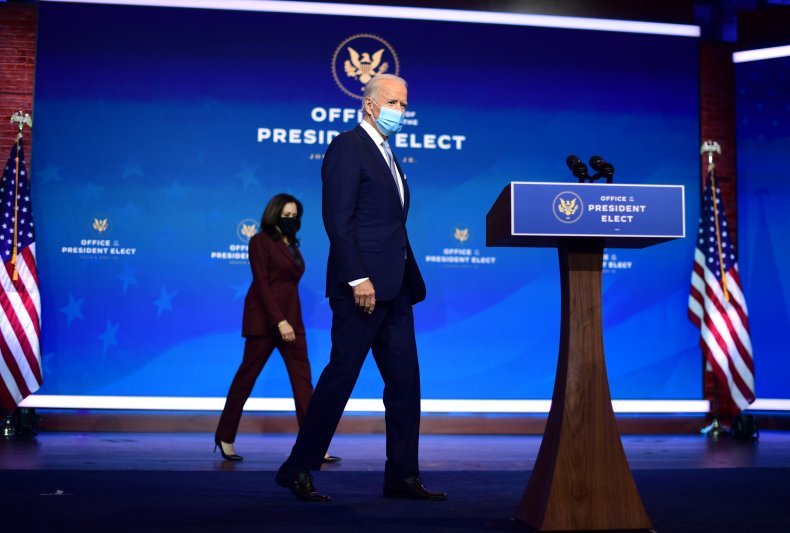 President Barack Obama opted to receive the file electronically, but The Washington Post reported in 2018 that Trump was opting for an oral briefing, instead of the traditional written file and wasn't receiving it as regularly. Intel briefings appeared on the president's schedule semi-regularly but have not appeared on there in several months. Not every meeting of the president appears on his public schedule, but the timing lined up with Trump's aggressive travel schedule as the campaign heated up this fall.
The Post noted that some intelligence experts worried Trump's choice to eschew the traditional briefing schedule, the president could hamper his ability to respond to crises.
It's unclear what format Biden received his brief in on Monday. The transition revealed only the location where Harris received it but no details on format. Biden was at his home in Delaware on Monday.