Health and Human Service Secretary Xavier Becerra denied the government was tracking who is vaccinated against COVID-19 and who isn't vaccinated after saying it is "absolutely" the government's business to know a person's vaccination status.
Becerra's comment sparked an online fury as people decried it as an encroachment on people's freedom and likened it to how governments in China and Russia operate. Hours later, the Biden official walked back the comment, saying that it was being taken "wildly out of context."
"To be clear: government has no database tracking who is vaccinated," Becerra posted on Twitter. "We're encouraging people to step up to protect themselves, others by getting vaccinated. It's the best way to save lives and end this pandemic."
To help rejuvenate interest in the COVID-19 vaccination, the Biden administration is shifting focus from mass vaccination sites to situations where one-on-one conversations can transpire. That includes encouraging doctor's offices to push the need to get vaccinated and "literally" knocking on people's doors, according to President Joe Biden.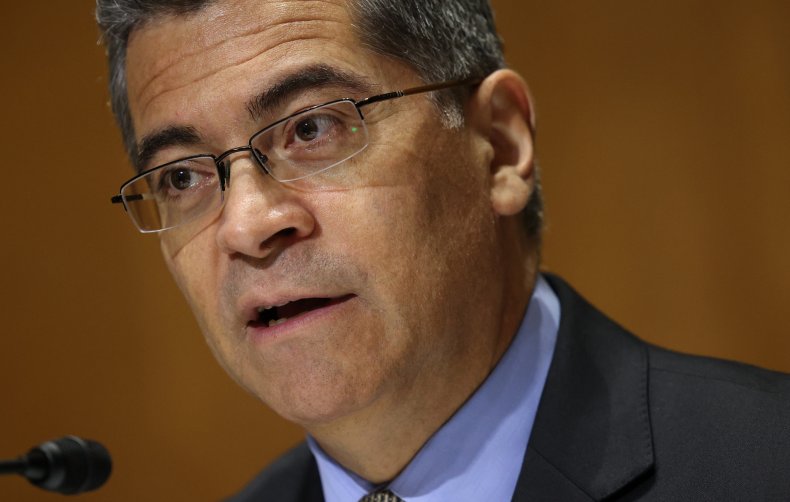 Appearing on CNN on Thursday morning, Becerra was asked about the criticism the plan received and the belief that it's none of the government's business as to whether a person is vaccinated.
"The federal government has spent trillions of dollars to keep Americans alive during the pandemic, so it is absolutely the government's business. It is the taxpayer's business if we have to continue to spend money to try to keep people from contracting COVID," Becerra said. "Knocking on a door has never been against the law and you don't have to answer but we hope you do."
About 55 percent of Americans have received at least one dose of the COVID-19 vaccine and approximately 48 percent are fully vaccinated. However, vaccination rates vary widely on a state-by-state basis, and some states where vaccination rates are low, including Missouri, Arkansas and Nevada, are seeing spikes in cases largely attributable to the Delta variant.
Polls indicate Democrats are more likely than Republicans to get vaccinated and conservatives were quick to jump on Becerra's comment.
Sen. Ron Johnson asked, "What happened to health privacy and personal freedom?" on Twitter. He added "too much liberty" was lost to the government during the pandemic and that people should be free to refuse the vaccination. "Say no to Big Brother Becerra," he concluded his tweet.
Rep. Dan Bishop tweeted that it was "absurd" even by Democrats' "power trip standards" and told his followers they were on a list.
While Becerra's "absolutely" comment garnered the most attention, some people also took issue with his saying later in the CNN interview that the Biden administration wants to give people the "sense" that they have the "freedom to choose" whether to get vaccinated.
When pushed as to why the Biden administration wasn't pushing for people to need to prove their vaccination status in certain situations, Becerra pointed out that in America, people have choices. He related it to driving a car in that when a person gets into a vehicle with their kids, they hope everyone else is being as responsible as they are, but not everyone is and people aren't barred from driving.