Biden Official Helps Restore Confidence as Bank Stocks Rise
U.S. Treasury Secretary Janet Yellen said the nation's banking system is "sound," leading to a surge in stocks for several banking institutions.
Following the seizure of two U.S. financial institutions, Silicon Valley Bank and Signature Bank, President Joe Biden on Sunday announced emergency measures to secure the banking system.
First Republic Bank will receive a $30 billion rescue package from 11 of the largest U.S. banks.
U.S. Treasury Secretary Janet Yellen on Thursday said the nation's "banking system is sound" during testimony before the Senate Finance Committee.
Following her remarks, stocks rose for many banks, including among institutions that had trading halted on Monday after shares fell drastically.
Investor confidence has resulted in market swings this week as Wall Street braces for more volatility. The banking market became precarious after the seizure of two U.S. financial institutions, Silicon Valley Bank (SVB) and Signature Bank, which was soon followed by shares for Credit Suisse dropping to an all-time low on Wednesday.
On Sunday, the U.S. government announced it would put emergency measures into place to secure the banking system and protect deposits at SVB and Signature Bank. In a statement, President Joe Biden said Yellen and National Economic Council Director Lael Brainard had "reached a prompt solution that protects American workers and small businesses, and keeps our financial system safe."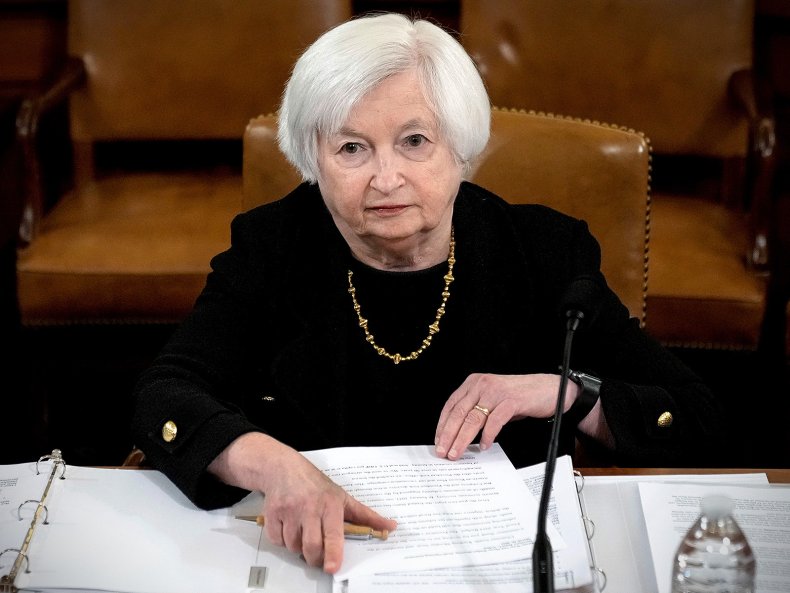 Despite Biden's attempts to assuage markets, stocks fell on Monday. However, Yellen's Thursday comments to Congress about the banking system remaining "sound" was met with a very different reaction. Stocks prices for Western Alliance Bancorporation increased by 29 percent; First Republic Bank's stock rose by 51 percent; PacWest Bancorp's stock saw a 27 percent bump; and the Charles Schwab Corporation's stock increased by 5 percent.
All four of those institutions had been hit with volatility trading pause on Monday, which automatically halts trading for a short time when a share's price swings too rapidly.
"I can reassure the members of the committee that our banking system is sound, and that Americans can feel confident that their deposits will be there when they need them," Yellen said to Senate Finance Committee. "This week's actions demonstrate our resolute commitment to ensure that depositors' savings remains strong and that depositors' savings remain safe."
The nation's top banks also saw modest gains following Yellen's testimony. JPMorgan Chase (4 percent); Bank of America (4 percent); Citigroup (5 percent); Wells Fargo (3 percent ); U.S. Bancorp (7 percent); PNC Financial Services (7 percent); Truist Bank (13 percent); Goldman Sachs (4 percent); and Capital One Financial (3 percent) all experienced slight to moderate to increases.
Credit Suisse, a Switzerland-based investment bank, also managed to recover on Thursday. Shares increased by 33 percent on Thursday morning before settling to around a 14 percent gain ($2.16 as of press time) by the afternoon. This followed Credit Suisse's shares plunging by over 20 percent on Wednesday for a record low of $1.76.
Much of Credit Suisse's turnaround can be attributed to the institution's announcement before the market opened that the Swiss central bank will loan the bank up to $54 billion.
Meanwhile, First Republic Bank received a substantial boost on Thursday when 11 of the largest U.S. banks—including JPMorgan Chase, Bank of America Citigroup and Wells Fargo—would be providing the company with a $30 billion rescue package.
Newsweek reached out to the U.S. Treasury Department via email for comment.