Officials in Joe Biden's administration discussed the president's $1.9 trillion stimulus proposal in a call with a group of bipartisan lawmakers on Sunday.
On January 14, days before his inauguration, Biden unveiled a sweeping new relief plan that includes a third stimulus check of $1,400, increasing federal unemployment payments from $300 a week to $400, $160 billion in further funding for the national vaccination program and raising the minimum wage to $15 an hour. The administration said that it would hold a call by the end of the weekend with lawmakers from both sides of the political aisle after Senate Republicans expressed opposition to the proposal.
Several senators—including Angus King of Maine—confirmed their participation in the conference call, which included eight Republicans and eight Democrats. "Today's call between the White House and members of Congress was a bipartisan discussion focused on policy solutions—which is notable in itself," King tweeted. "Let's keep working together to speed vaccine distribution and support Americans during this pandemic."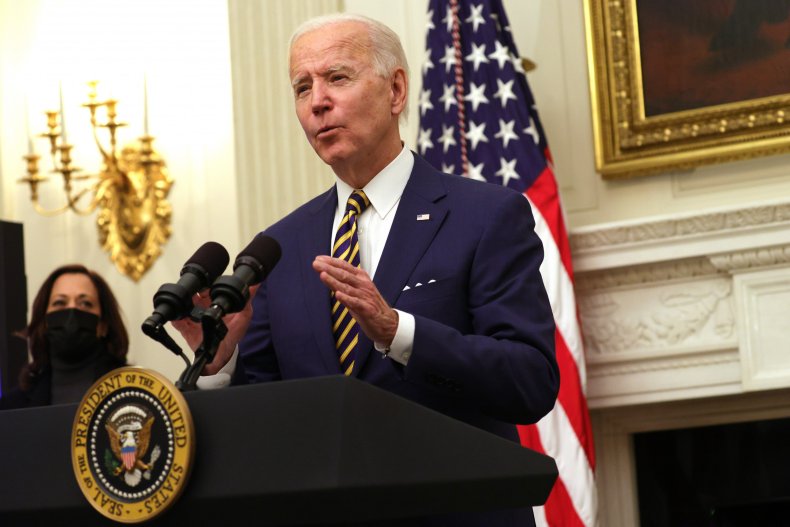 King also told Axios that the virtual meeting was dominated by talks about vaccine distribution and data on the pandemic. "If you were just listening on the call, I don't think you would have been able to tell who were the Republicans and who were Democrats and who were independents," he said.
Senate Majority Whip Dick Durbin of Illinois said it was "refreshing" to see an administration "fully engaged in addressing this pandemic with a focus on science and federal leadership."
Lawmakers reportedly discussed the high price tag attached to the package, what stimulus funding was essential, and whether the third check could be more targeted to individuals in need during the call, according to the Washington Post.
Over the past week, Senator Susan Collins of Maine and Mitt Romney of Utah have indicated that it may be too soon to pass another large relief package. "We just passed $900 billion worth of assistance; why we would have a package that big now? Maybe a couple of months from now the needs will be evident and we will need to do something significant. But I'm not seeing it right now," Collins said on Friday.
Romney called the $1.9 trillion price tag "pretty shocking" in an appearance on Fox News Sunday. "We'll listen to representatives of the White House today to understand their perspective, but if there are places that we missed in our proposal, we are happy to pick that up," he said, hours before the call with the group of bipartisan lawmakers and the White House.
After the meeting, Collins said Republican still had "a lot of unanswered questions."
"Most notably, how did the administration come up with $1.9 trillion dollars required, given that our figures show that there's still about $1.8 trillion left to be spent," she told the Post. "We hope to get more data documenting the need from them."
Newsweek reached out to the White House for further information about the Sunday stimulus call with lawmakers.