Biden Outlines 4-Point Bipartisan 'Unity Agenda' in State of the Union
In a State of the Union address that largely highlighted Democratic legislation that has been stalled by Senate Republicans, President Joe Biden laid out a four-point "Unity Agenda for the Nation" of bipartisan goals he'd like to tackle in the year ahead.
His four-point agenda included beating the opioid epidemic, improving mental health (especially for children online), aiding veterans sickened by burn pits and cutting the national cancer death rate by at least 50 percent over the next 25 years.
In his first section on the opioid crisis, Biden mentioned the estimated 23 million Americans who are recovering from drug addiction. He also said he wanted to get rid of outdated rules that stop doctors from prescribing treatments, and to halt the illicit drug trade by empowering state and local law enforcement to go after drug traffickers.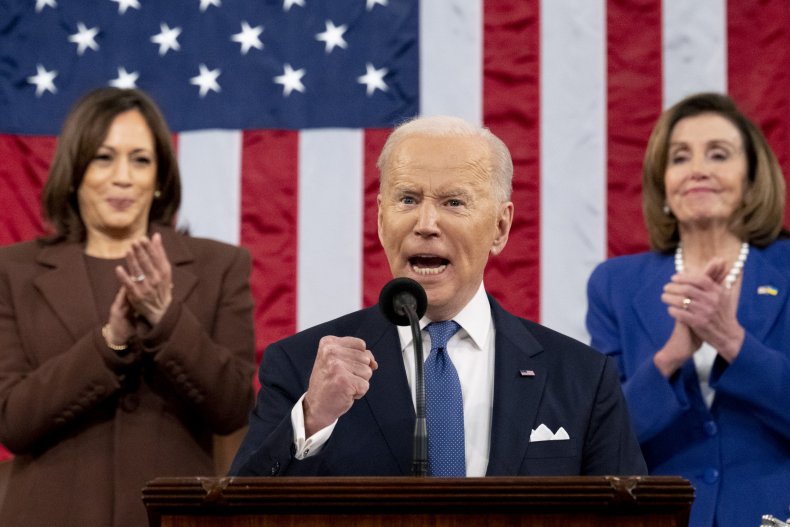 In his second section, he mentioned that U.S. children had especially suffered from increased mental distress during the COVID-19 school shutdowns.
He touted the 2021 American Rescue Plan for providing funds to schools to hire more teachers who are helping students make up for lost learning. He encouraged people to sign up to be tutors or mentors to young children.
While he urged Congress to help secure mental health care for all Americans, he especially held social media companies responsible for their effect on young people.
"We must hold social media platforms accountable for the national experiment they're conducting on our children for profit," Biden said. "It's time to strengthen privacy protections, ban targeted advertising to children, demand tech companies stop collecting personal data on our children."
In his third section, Biden spoke about his goals to provide additional health support for military veterans in need.
The president mostly focused on how military service members are exposed to toxic "burn pits," which are waste dumps that create toxic smoke from burning medical and hazardous materials, jet fuel, ammunition and other items. Veterans have reported experiencing serious health issues after exposure from the pits.
In response to the issue, Biden announced expanded benefits for veterans suffering from nine different respiratory cancers. He also called on Congress to pass a law to ensure full benefits and comprehensive health care for veterans devastated by toxic exposure in Iraq and Afghanistan.
He also said his administration is providing assistance with job training and housing, and now helping lower-income veterans get debt-free care from the Department of Veterans Affairs.
"I've always believed that we have a sacred obligation to equip all those we send to war and care for them and their families when they come home," Biden said.
For his fourth point, Biden said he wanted to fund research to help "turn more cancers from death sentences into treatable diseases."
To this end, he asked Congress to fund ARPA-H, the Advanced Research Projects Agency for Health. ARPA-H would drive breakthroughs in cancer, Alzheimer's, diabetes and more, Biden said.
"It is important for us to show the nation that we can come together and do big things," Biden said of his plan.
Newsweek contacted the White House for comment.