Biden, Pence Classified Documents Put Spotlight on Obama
The recent discovery of classified documents in offsite locations belonging to Joe Biden, Donald Trump and former Vice President Mike Pence has raised questions about what other classified material could potentially still be out there, putting a renewed focus on former presidents like Barack Obama as Congress races to learn how so much sensitive material has managed to escape the security of the Oval Office.
In a series of interviews on Capitol Hill this week, several Republican members of Congress told Newsweek they had concerns about the chain of custody involved in the handling of sensitive material amid mounting questions about how several former presidents were apparently able to remove classified material from the White House.
In particular, some members urged figures like Obama to begin scouring their records to see whether they had improperly removed materials from the White House amid what some have described as an "epidemic" of protocol breaches at 1600 Pennsylvania Avenue.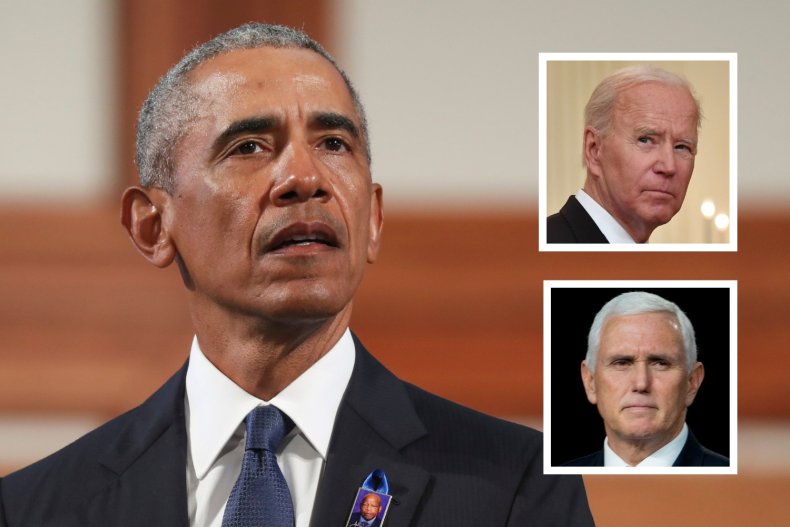 "Hopefully President Obama is looking at his papers, making sure he doesn't have the same," Republican Congressman Don Bacon of Nebraska, who's handled sensitive documents as a member of the Armed Services Committee and in his former role as an Air Force Brigadier General, told Newsweek in an interview. "Obviously, we have a problem with the senior level. I called it an epidemic yesterday. It's embarrassing. I've worked on secrets kind of my whole life since I was in the Air Force in '85 as an intelligence guy, but I don't have any secrets for all I can guarantee."
Newsweek has contacted Obama's office, as well as his presidential library, for comment, including whether they were already in the process of reviewing their files for any classified material. However, several on Capitol Hill are beginning to believe that the issue of classified documents is not isolated to any one individual, but a more widespread issue with how White House staffers and others traditionally handle those materials on their way out the door.
"I have seen nothing that would indicate to me that it was anything other than accidental," Democratic Senator Diane Feinstein of California, the most senior Democrat in the Senate and a member of the Intelligence Committee, told Newsweek. "It's easy to do, because paper moves if somebody moves."
But that in itself is concerning for some members of Congress, noting that many White House staffers lack the security clearance required to handle some of the material that has been found outside of the White House.
"If they're classified documents, then [people who find them] need to contact someone that has a security clearance that can handle it," Republican Senator Joni Ernst of Iowa, who's served on the Armed Services Committee and is a member of Senator Mitch McConnell's leadership team, told Newsweek. "Just by having staffers go through—staffers don't have security clearance. So, that concerns me as well. Across the board, I just think everybody should be treated the same."
The fact the people who handled the documents weren't aware of what was in their possession raises other red flags as well, Ernst said.
"I think we also need to scrutinize the people that handled the documents, because I still can't figure out how documents were allowed to leave secured locations," she added. "So, I mean it really comes back to those that have the documents in their possession, they bear responsibility. But then also, we have people that work in our skiffs that are in charge of those documents, and if those documents aren't being turned back in, somebody should be alerted."
The rash of newly discovered documents, however, has also caused some to call into question the treatment of former President Donald Trump after a large cache of classified material was found at his home in Mar-a-Lago.
While Trump defied an order from the National Archive to return the material once it was discovered to be missing—prompting a raid by the Federal Bureau of Investigation—Biden's administration delayed alerting the public after his attorneys unearthed a number of classified documents in an office he maintained at the University of Pennsylvania and in the garage at his Wilmington, Delaware, home.
This delay has since given cover to Republicans like Elise Stefanik, who accused Biden of improprieties in handling documents dating back to his time in the Senate during Republican's weekly press conference on Capitol Hill Wednesday.
For some Republicans, the issue of classified documents is no longer simply a case of the Biden administration singling out a political opponent: It's potentially an uneven application of the law in what is being revealed to be a systemic issue with the way classified information is handled.
"Here's the deal: Of the people who've had these classified docs, I noticed only one guy has had his metaphorical door kicked down, and that's Trump," Republican Senator Josh Hawley of Missouri, who has served on the Armed Services Committee, told Newsweek. "And there's a reason for that; it's because Biden wants Trump not to be his opponent. He doesn't care about Obama or Pence or Jimmy Carter."