President-Elect Joe Biden Picks Obama's Ebola Czar Ron Klain as Chief of Staff
President-elect Joe Biden has chosen Ron Klain to be the Chief of Staff for his incoming administration, according to an announcement from the Biden-Harris Presidential Transition Twitter feed.
Klain served as Biden's chief of staff when Biden was vice president, during the administration of former President Barack Obama. Klain also served as the coordinator of Obama's Ebola response team from 2014 to 2015.
"Ron has been invaluable to me over the many years that we have worked together," Biden said in a Wednesday statement, "including as we rescued the American economy from one of the worst downturns in our history in 2009 and later overcame a daunting health emergency in 2014."
"His deep, varied experience and capacity to work with all people all across the political spectrum is precisely what I need in a White House chief of staff as we confront this crisis and bring our country together again," the statement continued.
Newsweek reached out to the Office of the President-elect for further comment.
In a Wednesday statement, Klain referred to the appointment as "the honor of a lifetime."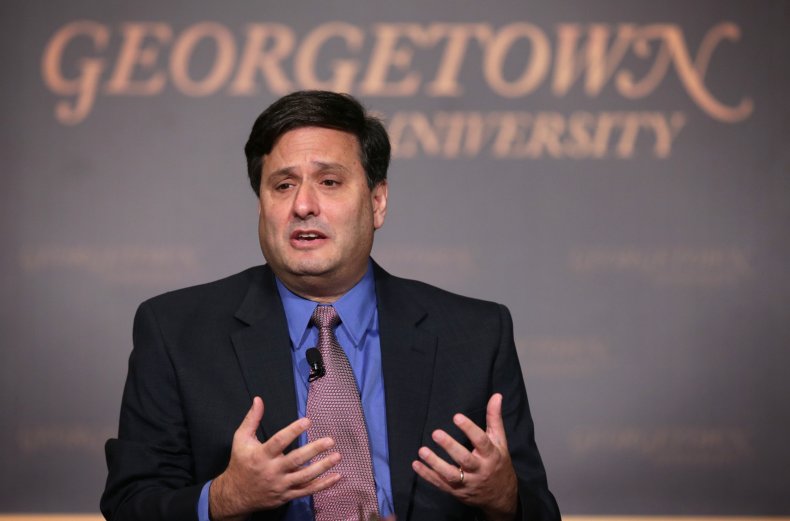 "I look forward to helping [Biden] and the Vice President-elect assemble a talented and diverse team to work in the White House, as we tackle their ambitious agenda for change, and seek to heal the divides in our country," Klain said.
Klain was chosen by Obama in 2014 to handle the U.S. response to the Ebola virus, which had entered the country via visitors from West Africa. Some observers criticized Klain's appointment then as being political in nature, citing Klain's lack of experience in the public health field.
However, then-White House press secretary Josh Earnest told reporters that Klain was chosen because of his extensive management experience.
"What we were looking for is not an Ebola expert but rather an implementation expert, and that's exactly what Ron Klain is," Earnest said in 2014.
Before his presidential run, Donald Trump criticized the Obama administration's choice of Klain. "Obama just appointed an Ebola Czar with no experience in the medical area and zero experience in infectious disease control," Trump tweeted in October 2014. "A TOTAL JOKE!"
This past October, Klain said that the Trump administration had "simply given up" on attempting to actively combat the ongoing coronavirus pandemic. "[They're] basically just waiting for the vaccine," Klain told MSNBC host Lawrence O'Donnell, "and that's not a strategy."
"Donald Trump and his administration has just walked off the battlefield," Klain added.
Although only 11 people were reported to be infected with the Ebola virus in the U.S., according to the Centers for Disease Control and Prevention, Klain's experience in handling the outbreak could prove useful as Biden prepares to take on the COVID-19 pandemic. Biden made Trump's perceived lack of preparedness for the coronavirus outbreak one of his major campaign points.
During remarks about the coronavirus on Monday, Biden implored Americans to wear face masks as a means to curb the spread of COVID-19. "We could save tens of thousands of lives if everyone would just wear a mask for the next few months," Biden said. "Not Democratic or Republican lives, American lives."