Biden Press Sec Jen Psaki Promises 'Truth' in First Briefing: I 'Deeply Respect' the Media
White House Press Secretary Jen Psaki expressed "deep respect" for the media during her first press briefing on Wednesday. Psaki also vowed to tell the truth despite the potential for disagreement with members of the press.
Psaki previously served in President Barack Obama's administration as a press spokesperson. She also was the spokesperson for the State Department between 2013 and 2015. Her first press conference as Biden's press secretary was a stark contrast to those held under former President Donald Trump's administration, during which members of his press team would often spar with the media.
Psaki calmly fielded questions from the reporters present.
"I have deep respect for the role of a free and independent press in our democracy and for the role all of you play," Psaki said. "As I noted earlier, there will be moments when we disagree. There will certainly be days where we disagree for extensive parts of the briefing even perhaps, but we have a common goal which is sharing accurate information with the American people."
"If the President [Joe Biden] were standing here with me today, he would say he works for the American people," Psaki added. "I work for him, so I also work for the American people. His objective, and his commitment is to bring transparency and truth back to government to share the truth, even when it's hard to hear."
Psaki insisted that disagreements between the media and the Biden administration are "okay."
"That's part of our democracy and rebuilding trust with the American people will be central to our focus in the press office and in the White House every single day," she said.
Psaki announced that the White House would be reinstating daily press conferences, a practice which had been dropped by the Trump White House. Former White House Press Secretary Stephanie Grisham did not conduct any press briefings during the 8 months she held the position.
Newsweek reached out to the White House for comment.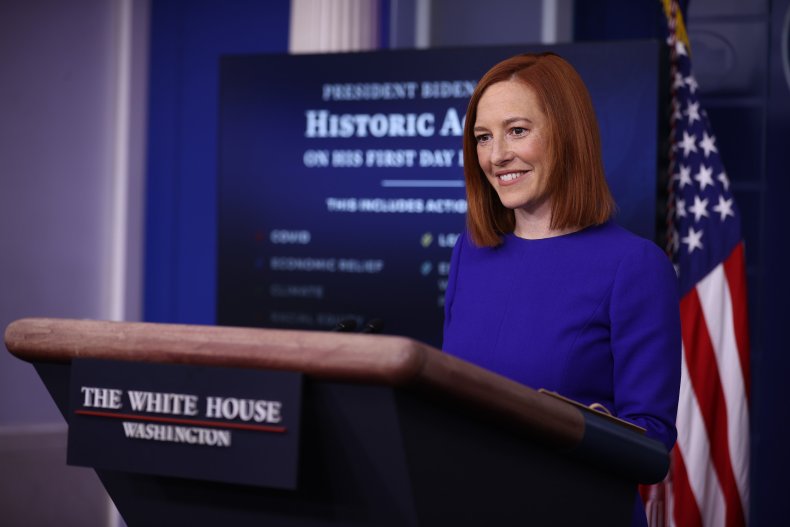 Trump often battled with the media during his presidency, referring to many outlets as "fake news." During a press conference in 2018, Trump referred to CNN reporter Jim Acosta as "a rude, terrible person."
"When you report fake news," Trump added, "which CNN does a lot, you are the enemy of the people."
In November 2020, Trump lashed out at a reporter who challenged his baseless claims of voter fraud. When asked if he would willingly leave the White House if Biden were certified as the winner of the Electoral College, Trump called the reporter a "lightweight."
"Don't talk to me that way," Trump said. "You're just a lightweight. Don't talk to me that way. I'm the president of the United States. Don't ever talk to the president that way."