Biden Projects Optimism in State of the Union, Previewing Midterm Messaging
President Joe Biden took office promising to restore bipartisanship in Congress and American leadership abroad. Thirteen months into his first term, his ambitious domestic agenda has stalled, and the Russian invasion of Ukraine is testing the ability of the United States to shape global affairs in the 21st century.
Biden's main selling point as a presidential candidate was his deep knowledge of U.S. politics and foreign policy, accumulated over a half-century of dealings with lawmakers in Washington and world leaders such as President Vladimir Putin of Russia.
But so far Biden's experience has not translated directly to the kind of success the White House and its supporters had hoped for, a worrying sign for Democrats going into a difficult midterm election that could see the party lose control of the House and Senate.
In his first State of the Union speech on Tuesday, Biden addressed the many challenges for the nation in the coming year and outlined his plans to tackle them, from continuing to punish Russia for its invasion of Ukraine to efforts aimed at speeding up the pandemic recovery.
Biden argued that policies he put in place last year and new steps his administration is planning to take in the coming months will help bring the pandemic under control while easing inflation, a problem that has already emerged as a flashpoint in the midterm elections.
Faced with the largest war in Europe in decades, Biden announced new measures to further isolate Russia from the rest of the world and help Ukraine defend itself. Seeking to explain the stakes in Europe to Americans who may feel the war is far from home, Biden cast the conflict as a broader "battle between democracy and autocracy."
"When the history of this era is written, Putin's war in Ukraine will have left Russia weaker, and the rest of the world stronger," Biden said.
But as the fighting in Ukraine intensifies one week into the invasion, it remains unclear what the U.S. and its European allies can do to get Putin to back down.
The steps Biden outlined Tuesday will put more pressure on Russia's economy and wealthiest individuals. Biden announced that the U.S. would block Russian flights to America, and said the Department of Justice would create a task force to investigate Russian oligarchs. Those measures come after the U.S. and Europe imposed severe economic sanctions against Russia in recent days in an effort to cripple its economy and cut the country off from the global financial system.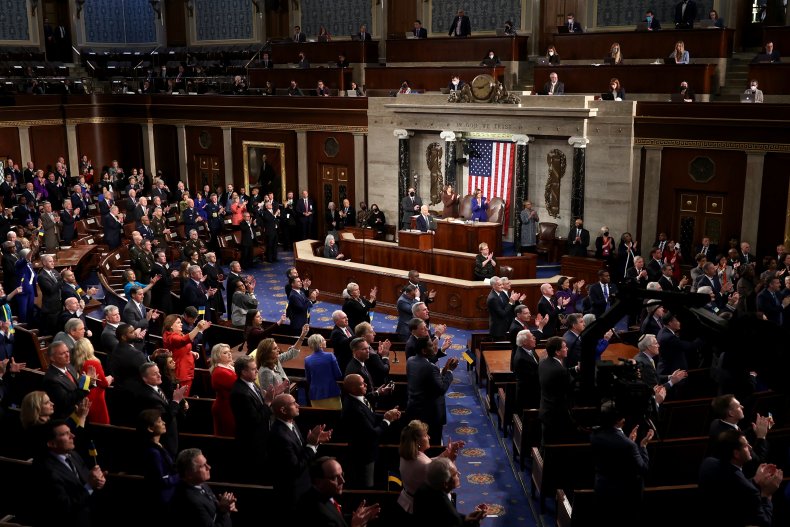 "The administration has done a very good job in rallying the Western world to deal with the invasion of Ukraine," said Thomas Graham, a former senior Russia adviser on the National Security Council. "Yes they didn't deter it, but I don't believe that Putin was expecting the level of unity in the West in leveling sanctions over the past several days."
Yet despite all the sanctions, Russia has pressed forward with the invasion. President Volodymyr Zelensky of Ukraine said Tuesday that his country, which has put up a fierce defense, wouldn't hold out unless other nations stepped up their military assistance.
Biden vowed in his State of the Union speech to continue providing security assistance to Ukraine. But he also appeared to acknowledge directly for the first time that the conflict might not end anytime soon, by saying that the "next few days, weeks, months, will be hard on" the people of Ukraine.
"This is a real test. It's going to take time," he said.
Time is not a luxury Biden can afford, on foreign policy or domestic affairs. Republicans have already criticized his handling of the Ukraine crisis, with many arguing that the U.S. should have imposed harsher sanctions earlier this year, before Russia launched its attack.
On domestic issues, Biden is also facing significant challenges going into a difficult midterm election year in which Democrats are facing the very real prospect of losing control of both chambers of Congress.
Biden said the U.S. added 6.5 million new jobs in 2021, the most in any year in American history. But he acknowledged that inflation was hurting consumers, a sign he was aware the issue may be overshadowing the economic growth on his watch.
The president said he would work to reduce inflation by creating more jobs and boosting wages, but offered few details on how that would impact the price of consumer goods. He attributed the high rate of inflation in part to supply chain problems caused by the pandemic, while arguing that the $1.9 trillion American Rescue Plan he signed into law last year had helped the country weather the economic impact of the virus.
At the time it passed critics argued the spending plan was too large, and some studies, including one by the Federal Reserve Bank of San Francisco, suggest that it may have helped lead to the rise in inflation. Republicans in the House and Senate have blamed Biden for the highest inflation rate in decades, while arguing to voters that Biden's policies have hurt the economy.
Still, Biden and congressional Democrats view the bill overall as a success and plan to make it a central part of their pitch to voters in the midterms this fall, along with the bipartisan, $1.2 trillion Infrastructure Investment and Jobs Act that Biden signed into law in November. Democrats have already begun holding events touting local projects that will be paid for by the law, and that effort will ramp up closer to the election.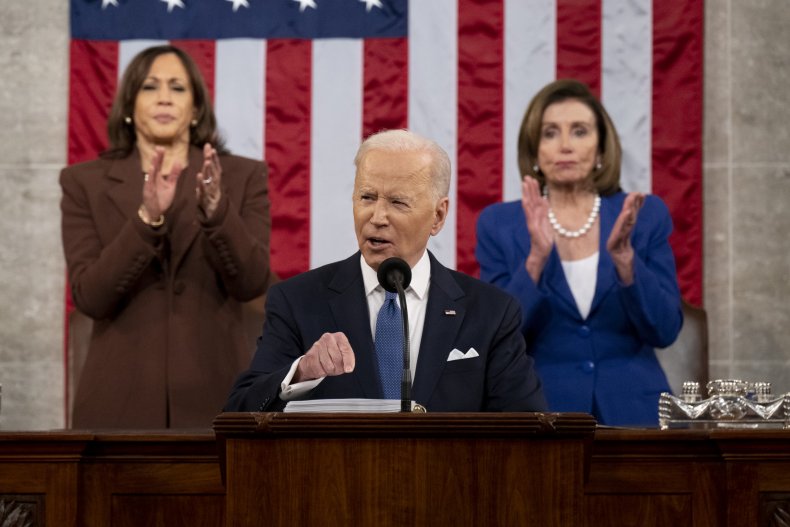 The president also sounded confident about curbing COVID-19.
Biden argued that the nation had turned a corner in its pandemic recovery. To prove the point, he appeared in the House chamber without a mask, days after the Centers for Disease Control and Prevention eased its public mask mandates.
"We've reached a new moment in the fight against COVID-19," Biden said.
Going forward, Biden said the government would make more tests available, work to make the vaccine available to children under 5 years old, and ensure Americans had access to treatment for the virus at no cost.
Biden noted Tuesday that 75 percent of American adults are fully vaccinated. But the percentage of people aged 18 and older who have been fully vaccinated and have also received a booster dose is 47.1 percent, according to the latest data from the Centers for Disease Control and Prevention.
"We all hoped we would be in a better place [with vaccinations] by now, but the headwinds that President Biden has faced are really just surprisingly strong," said Richard Frank, a health economics professor at Harvard Medical School.
Covid-19 has killed nearly 1 million Americans, and despite a drop in hospitalization rates in many parts of the country following the end of the omicron wave earlier this year, the pandemic continues to pose a health risk. Biden said he couldn't promise a new variant wouldn't appear, vowing instead that the administration would "do everything in our power to be ready if it comes."
The course of the pandemic recovery and events abroad in the coming months will shape the president's poll numbers -- and could play an important role in the midterm elections.
Biden's approval ratings are at the lowest they've been since he took office. Just 37 percent of Americans said they approve of the job he's doing as president, compared to 55 percent who said they disapprove, according to a recent ABC News/Washington Post poll.
In comparison, former President Donald Trump's approval rating was 39 percent at this point in his first term, according to Gallup, while former President Barack Obama's approval rating in the Gallup survey was 49 percent. Former President George W. Bush stood at 80 percent, a reflection of his overall popularity following the 9/11 terrorist attacks. Gallup currently has Biden at 41 percent, though its last poll was conducted in mid-February.
The most worrisome sign for Biden may be his low levels of support among independents and Democrats. According to the ABC News/Washington Post poll, just 30 percent of independents -- a key group that helped Biden win the presidency -- approve of his job performance. The poll also found that 19 percent of Democrats disapprove of Biden. The party will need to turn out Democrats and independents in large numbers in November to maintain its control of Congress.
In a nod to the work the party will have to do to convince voters this fall, Biden ended his speech Tuesday urging the public to view his first year in office as a success.
"We are stronger today than we were a year ago. And we will be stronger a year from now than we are today," Biden said.