Joe Biden Promised Obama 'Would Never Have to Worry' About Former VP Running for President
Former Vice President and 2020 Democratic hopeful Joe Biden once promised that Barack Obama "would never have to worry" about him running for the White House, according to a report from The New York Times.
During the 2008 presidential campaign, Obama had gone back and forth over who to choose as his running mate. The final three picks included Biden, Indiana Senator Evan Bayh and Virginia Governor Tim Kaine.
Obama's top two strategists, David Plouffe and David Axelrod, traveled to meet all three candidates during the campaign. The two were worried about Biden's inability to stop talking, which often results in verbal gaffes. But they were ultimately impressed by Biden's insight into Senator John McCain, who was the Republican nominee, and his bond with his family.
Plus, Biden promised that he would never try to usurp Obama by launching another presidential bid. The Delaware senator told the two aides that he was too old to make another run for the White House. He also said he viewed being vice president as a "capstone" to his long political career.
"That was helpful," Plouffe told the Times. Biden was apparently the only one of the three candidates to promise to never run for president.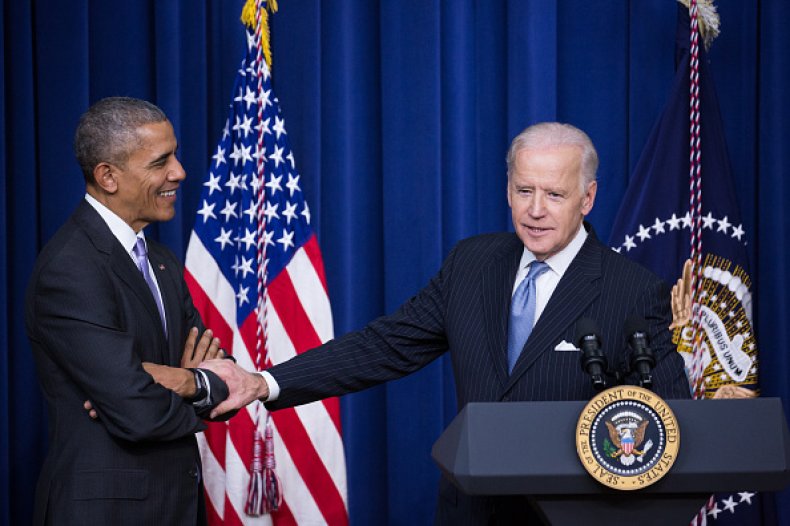 Over the next eight years, Obama and Biden would develop a strong friendship that Axelrod described as a "shotgun marriage that gradually turned into a love story."
But "Biden's simmering ambition was a source of unease for both men," according to the Times. In 2016, Obama advised Biden not to run for president, especially after the death of his son Beau. Obama also reportedly had doubts about Biden running in 2020. According to one source, earlier this year Obama told Biden: "You don't have to do this, Joe, you really don't."
But Biden pressed ahead, launching his third presidential bid in April. On the campaign trail, the former vice president frequently mentions Obama and the accomplishments of their administration. He once said he was most proud of the fact that there was not a "hint of scandal" during their time in the White House.
New Jersey Senator Cory Booker has called out Biden's frequent talk of Obama during the first round of Democratic debates. Booker told Biden that "You invoke President Obama more than anybody in this campaign. You can't do it when it's convenient and then dodge it when it's not."
Obama has not yet weighed in on too much on the 2020 Democratic primary race and hasn't given any indication that he will be endorsing Biden. The former vice president said he's unfazed Obama hasn't backed him, arguing that he wants to win the nomination on his own merit.
"I would rather him not get engaged," Biden told the Times when asked if he was disappointed Obama didn't defend him on the issue of busing that drew attention during the first debate in July. "I want to win this fair and square."