President Joe Biden said Friday that the federal government would finance "100 percent of the cost" for rebuilding off-interstate bridges in small towns and rural areas, doing away with a previous requirement that communities share the cost.
The president said $5.5 billion would go toward a program that will make these bridges "safer and more useful." Making the bridges more functional, Biden added, would provide communities with greater economic opportunities.
"These are the bridges that are often overlooked when decisions are being made, but they are essential for small towns, rural towns, farmers to get their products to market, [to] small businesses to be able to serve customers," he said.
"With this investment, we're sending the message to those communities and the people who call them home: You matter. We're building back and building back better with you," he added.
The decision to remove the requirement that communities share in the cost was made because in many of these areas "budgets are stretched thin already," Biden noted.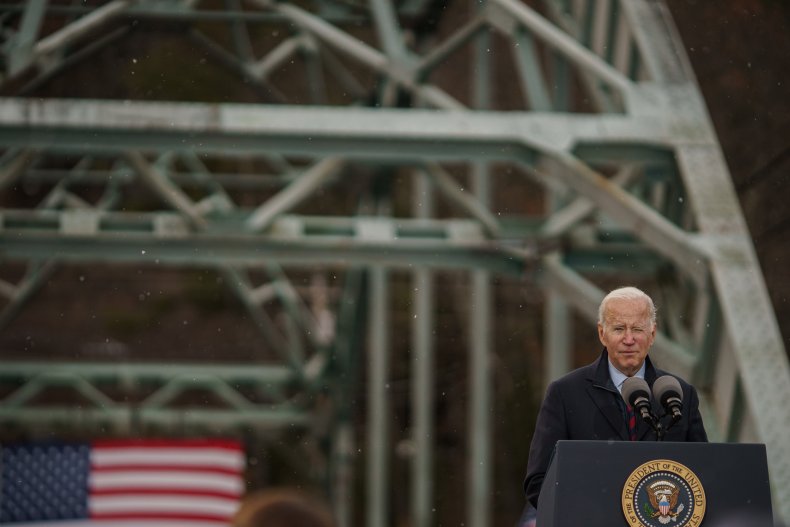 While investing in these bridges may not have much impact for users of the Interstate Highway System, Biden said, rural communities will see a noticeable difference. Their bridges are often the ones that, when forced to close, "shut off deliveries and routes to school, work and home" and "create longer delays for first responders."
Professor Shana Gadarian, chair of the political science department at Syracuse University's Maxwell School of Citizenship and Public Affairs, told Newsweek that these improvements could improve relations between the federal government and rural communities that have long felt left behind as economic opportunities dwindle. As people see tangible benefits coming from the federal government, like a new bridge in their community, they may begin to see Washington in a new light.
However, Gadarian emphasized that the federal government must ensure that a community's residents understand that the infrastructure improvements came from Washington and not locally or from the state.
"People need to make the connection between what they are getting and have it made very clear that the benefits that they're getting can be tied to government," Gadarian said.
"There's a reason that, during the New Deal, all of the bridges and the art programs and everything were labeled that they came from the federal government. And I think that's to the good. If you are trying to claim credit for benefiting people's lives, you have to put your name up in lights."