Biden Puts Fingers in His Ears as Recession Alarm Bells Ring Everywhere
The Biden administration does not believe the U.S. is in a recession and is not preparing for one, according to White House officials, despite economic indicators suggesting a recession could be on the cards.
White House Chief of Staff Ron Klain told MSNBC on Thursday that "we are not in a recession. I want to be really, really clear on that," while White House Press Secretary Karine Jean-Pierre told MSNBC the administration wasn't planning for one.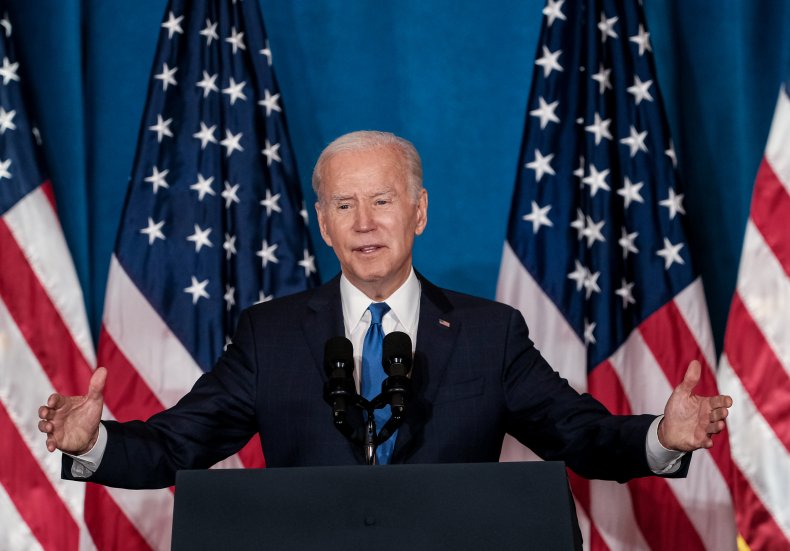 Jean-Pierre said "there are no meetings or anything happening like that in preparing for a recession because... look, what we're seeing right now is a strong labor market."
The U.S. jobs market has been performing very well, with the unemployment rate just 3.7 percent in October, which is up slightly from 3.5 percent in September.
The U.S. economy added 261,000 nonfarm payroll jobs in October, down slightly from 263,000 in September, but higher than had been expected by some economists.
President Biden touted jobs and GPD figures on Twitter on Friday, writing: "Jobs are up, gross domestic product is up, unemployment is down. America is reasserting itself."
The president appeared to be referring to the reduction in unemployment since he took office.
In a statement issued by the White House on Friday, Biden said that, "while comments by Republican leadership sure seem to indicate they are rooting for a recession, the U.S. economy continues to grow and add jobs, even as gas prices continue to come down."
However, a number of other economic indicators suggest the U.S. could be heading for recession in the near future.
Gross Domestic Product
An economy is generally considered to be in recession if it experiences two quarters of negative growth in Gross Domestic Product (GDP), which the U.S. had in the first two quarters of 2022.
GDP grew by 2.6 percent during the third quarter of 2022, but that doesn't mean GDP growth will continue into the fourth quarter. Further declines in GDP would be a warning sign of a potential recession.
However, the U.S. economy is not considered to be in recession officially until that determination is made by economists who sit on the Business Cycle Dating Committee, which operates under the auspices of the National Bureau of Economic Research (NBER).
The NBER's definition of recession is, in part, "a significant decline in economic activity that is spread across the economy and that lasts more than a few months," and the committee has not yet said the U.S. is experiencing such an event.
"For Biden, discounting the odds of a recession is an almost political necessity at the moment," Thomas Gift, founding director of University College London's Centre on U.S. Politics, told Newsweek.
"Especially in the lead-up to next week's midterms, no one in the Democratic Party wants their leader out on the campaign trail, harping about the prospect of a protracted economic downturn," he said.
"It certainly wouldn't be the first time Biden has played fast and loose with the state of the U.S. economy," Gift said. "Over the summer, the White House tried to rejigger the definition of recession, away from the standard measure of two consecutive quarters of negative GDP growth, to avoid his administration being pegged with the 'R' word.'"
Gift was referring to the Biden administration's reaction to the first quarter of negative GDP growth earlier in 2022.
In July, the White House pushed back against the idea that the U.S. would be in recession if GDP fell in two consecutive quarters, which led to widespread discussion about the definition of the 'R' word and accusations that the administration was trying to redefine it.
The NBER did not declare the U.S. to be in recession and has not yet done so.
Projections
Bloomberg Economics model projections published on October 17 found that a recession was almost certain within the following 12 months.
Bloomberg economists' probability models gave a 100 percent chance of an economic downturn by October 2023, up from a 65 percent probability for the comparable period in model's previous update.
Economists surveyed by Bankrate, a consumer financial services company, for their Third-Quarter Economic Indicator said there is a 65 percent chance of recession within the next 12 to 18 months. That estimate is up from 52 percent in their second quarter survey, and 1 in 3, according to their first.
The CEOs of both Goldman Sachs and JPMorgan have said they both expect a recession in the U.S. amid the Federal Reserve's efforts to fight inflation. Barclays Bank has forecast a contraction in major economies including the U.S. in the fourth quarter and that the country may "narrowly" avoid a recession in 2023.
"Many economists and business leaders agree that the risk of recession is quite elevated going into 2023," Bankrate.com senior economic analyst Mark Hamrick told Newsweek, pointing to the company's survey.
"For many Americans, however, the detrimental effects of high and sustained inflation have almost made this consideration academic. With the prices for necessities such as food, energy and shelter being so high, many individuals and households have needed to cut back on discretionary purchases," he said.
"At his recent news conference, Federal Reserve Chairman Jerome Powell, responding to a reporter's question, said the path is narrowing for a soft landing, meaning that the probabilities are rising for a recession," Hamrick went on.
"At the same time, he said a soft landing, or avoidance of an economic contraction, remains possible," he added.
Hamrick said that the "severity and duration of a recession are also key. During the previous two, the unemployment rate topped out at 10 percent in October 2009, and 14.7 percent in April 2020.
"It may well be that we won't see the jobless rate go early as high next time, particularly if the financial system can avoid a crisis, if inflation begins to behave better and if the Fed can loosen its grip on tightening monetary policy," he said.
The Biden administration has repeatedly pointed to strong jobs numbers as an indication that economy is healthy and not heading for recession.
Inflation and Interest Rates
One of the biggest causes for concern when it comes to a potential recession is interest-rate hikes by the Federal Reserve. The Fed appears to be determined to raise these to tackle high inflation, but that risks triggering an economic downturn.
Inflation figures for October won't be released until November 10, but the annualized rate of inflation in September was 8.2 percent, well ahead of the Fed's 2 percent target.
The Fed raised interest rates by 75 basis points on Wednesday, bringing the benchmark federal funds rate into the range 3.75 percent and 4 percent. That's the interest rate at which banks borrow and lend to other banks and affects the cost of credit-card repayments, mortgages and vehicle financing, among other items.
That was the fourth-consecutive so-called "jumbo" rate hike of 75 basis points and the sixth-consecutive rate hike overall.
It has raised further concern that the Fed's actions could trigger a recession by discouraging economic growth through increasing the cost of borrowing.
The editorial board of The Washington Post wrote on Tuesday that the Fed may have to trigger a recession to tackle inflation, while a CNN poll published on Thursday found that 75 percent of likely voters feel like the U.S. is in a recession.
"As for the Biden administration, given the narrow path toward passage of legislation in the Senate, there's not much on that front to be expected at this point," Hamrick told Newsweek.
"Fiscal policy, as prescribed by the legislative and executive branches, needs to avoid conflict with monetary policy put in place by the Fed," he said. "We were recently witnesses to the conflict seen in Britain when monetary and fiscal authorities were at odds, until they apparently were not, due in part to a change in leadership.
"That should be a warning shot to elected officials in Washington to avoid such policy collisions with the central bank, which is politically independent for good reason," Hamrick added.
Recession is already part of the national conversation with midterms just days away, and economists are sounding the alarm on a potential economic downturn, despite the fact the Biden administration has said that it is not preparing for it.
Newsweek has asked the White House for comment.
Do you have a tip on a politics story that Newsweek should be covering? Do you have a question about the U.S. economy? Let us know via politics@newsweek.com.