Homebuyers with good credit scores will soon be facing higher mortgage fees as the Biden administration seeks to close the racial homeownership gap and get more first-time and low-income buyers through the door.
A new federal rule could raise the monthly mortgage payments of buyers with good credit scores by over $60 a month, while riskier borrowers will get more favorable terms because their fees will be reduced.
Starting in May, the current structure of the Loan-Level Price Adjustment (LLPA) matrix will be upended by the Federal Housing Finance Agency (FHFA) in the hope of addressing housing affordability challenges in the U.S.
But there have been complaints that the rule change is unfair and potentially ineffective.
"In the short term, this may increase homeownership among the targeted group, but I'm afraid it could decrease homeownership among the middle class," Jerry Howard, CEO of the National Association of Home Builders, told Newsweek. "I'm not sure that we're not robbing Peter to pay Paul here."
Only about 25 percent of homebuyers with Federal Housing Administration loans are people of color, according to the White House. Black and Hispanic people, on average, have fewer savings to use as a down payment on a home and tend to have lower credit scores, according to David Stevens, former CEO of the Mortgage Bankers Association (MBA) and a former FHA commissioner during the Obama administration. The current policy is being rolled out by the FHFA.
He told Newsweek that this can be attributed to factors like distrust in the banking system or being a first-generation American. He added that low credit scores can be a significant barrier to homeownership.
But in order for the FHFA to close the gap by bringing down LLPAs for those borrowers, the agency will compensate for the reduction in borrowing fees by raising the LLPAs of borrowers with higher credit scores, who tend to be white.
The average credit score in white communities was 727 in 2021, compared with 667 in Hispanic communities and 627 in Black communities, according to data analyzed by FinMasters, a personal finance blog.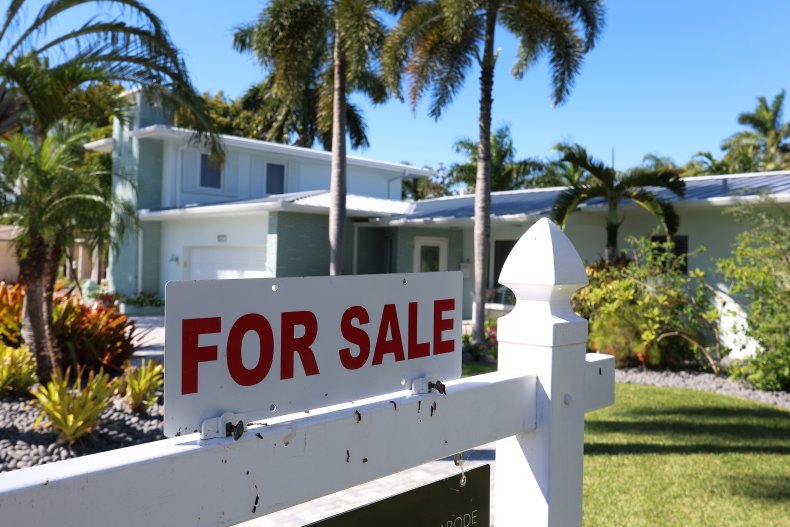 The effort to get more low-income Americans and Americans of color into homeownership is essentially being subsidized by borrowers who have better credit scores and can contribute more to their down payment, Michael Borodinsky, a vice president at Caliber Home Loans, told Newsweek.
Borodinsky said while the plan was designed to help people who have historically faced obstacles to homeownership, it comes at the cost of negatively affecting buyers who worked hard to save enough money for a larger down payment and maintain a strong credit rating, especially since those buyers can "be of all demographics."
"This new rule unfairly penalizes Americans for having good credit and rewards those who accrue debt and don't pay their bills with cheaper loans," GOP Representative Michael Lawler of New York told Newsweek. "The way to expand access to housing isn't to reward bad credit—it's to bring down inflation, reduce property taxes, cut energy costs and invest in critical infrastructure."
Although the new rule, which takes effect May 1, is designed to assist low-income and minority borrowers by encouraging homeownership, industry experts have expressed concern that the plan fails to meet that goal.
Stevens said that while the generational limitations on homeownership among racial groups in the U.S. need to be addressed, FHFA Director Sandra Thompson's actions weren't enough to lower borrowing costs to the point it will "make a difference."
"We just went through to this completely convoluted discipline around risk-based pricing in the hopes of accomplishing something that isn't going to be accomplished," he said.
However, in a statement shared with Newsweek, the FHFA defended the changes. It called the recalibration of its pricing framework "minimal" and stressed that the agency's goal of making sure that the government-sponsored enterprises (GSEs) Fannie Mae and Freddie Mac "fulfill their role in any market condition."
But former National Economic Council director Larry Kudlow said those GSEs have never "penalized" people who don't need government programs to help them own homes, calling the Biden administration's new rule a "middle-class tax hike."
"We learned the hard way [in 2008] that if you can't afford a home, just getting a subsidy one time to get a mortgage, you won't be able to carry it," Kudlow told Fox News on Thursday.
A spokesperson for the National Association of Realtors (NAR) told Newsweek that a GSE could still incentivize homeowners without punishing others and stressed that such a move is "especially needed" at a time when there is limited affordable housing "in all areas of the market."
"NAR urges the FHFA to eliminate the fee increase on strong credit borrowers," the spokesperson said.
Days later, Thompson addressed the changes in an April 25 press release, calling it a "misconception" that higher-credit-score borrowers were being charged more so lower-credit-score borrowers can pay less. She said that the updated fees do not represent "pure" decreases or increases and that the new rule was targeting borrowers with lower incomes, not lower credit scores.
"Many borrowers with high credit scores or large down payments will see their fees decrease or remain flat," Thompson said. "Some mistakenly assume that the prior pricing framework was somehow perfectly calibrated to risk—despite many years passing since that framework was reviewed comprehensively. The fees associated with a borrower's credit score and down payment will now be better aligned with the expected long-term financial performance of those mortgages relative to their risks."
Newsweek reached out to the White House for comment via email.
The timing of the upcoming LLPA changes is also "not ideal," given the spring buying season and low inventory, an MBA spokesperson told Newsweek. But the MBA is more concerned about another mortgage change: the addition of an LLPA for loans with a debt-to-income (DTI) ratio greater than 40 percent, which Borodinsky stressed is often a "moving target."
The DTI is calculated by taking a person's monthly debts, including minimum payments on credit cards and loans, and dividing it by that individual's income. The result is used to assess a person's ability to make the necessary monthly payments on a loan.
In a March 15 statement, MBA president and CEO Bob Broeksmit warned that because the DTI often fluctuates throughout the mortgage application and underwriting process, the new fees will further vary those estimates, thus "increas[ing] compliance costs and confus[ing] borrowers."
"[It] makes for a 'no win situation,'" Borodinsky said. "Especially because the borrower will feel that they were taken advantage of by the lender due to these changed circumstances."
After the MBA asked the FHFA to remove the DTI adjustment, the agency delayed the DTI ratio-based fee to August 1. But the MBA expressed disappointment that the FHFA is not considering alternatives to the new fees, which "simply are not workable for lenders and borrowers alike."
Stevens agrees and said: "This would just make things really difficult for the lending community and for potential homebuyers." He added that he's "hopeful" Thompson will gut the adjustment before it goes into effect during the summer.
Update, 04/24/2023, 5:10 p.m. ET: This story was updated to clarify which federal agency is behind the mortgage fee policy change.
Update, 04/26/2023, 10:21 a.m. ET: This story was updated with comments from FHFA Director Sandra Thompson.
—