President Joe Biden emphasized that the new coronavirus stimulus package will include $1,400 individual payments, which Senate Republicans had wanted to shrink during negotiations.
"Here's what I won't do: I'm not cutting the size of the checks. They're going to be $1400. Period. That's what the American people were promised," Biden said during a Friday press conference.
The Senate backed the president's $1.9 trillion aid plan early Friday morning after Vice President Kamala Harris broke the 50-50 tie. It will now return to the House of Representatives for another vote to approve the amendments made.
Biden made it clear that the Democrats went in on the plan alone, saying: "I'd like to be doing it with the support of Republicans. I've met with Republicans, there's some really fine people want to get something done. But they're just not willing to go as far as I think we have to go."
"What Republicans have proposed is either to do nothing or not enough. All of a sudden, many of them have rediscovered fiscal restraint and a concern for the deficits," he added. "But don't kid yourself: this approach will come with a cost. More pain for more people for longer than it has to be."
Biden said that he could not "in good conscience" ask Americans to wait on receiving aid. He argued that the biggest risk in passing federal aid was not going too big, but in going too small.
While the president said would prefer to a bipartisan plan, he said that if he has to choose between delivering immediate aid to Americans and being delayed by lengthy negotiations, which happened with the second relief bill, "it's an easy choice."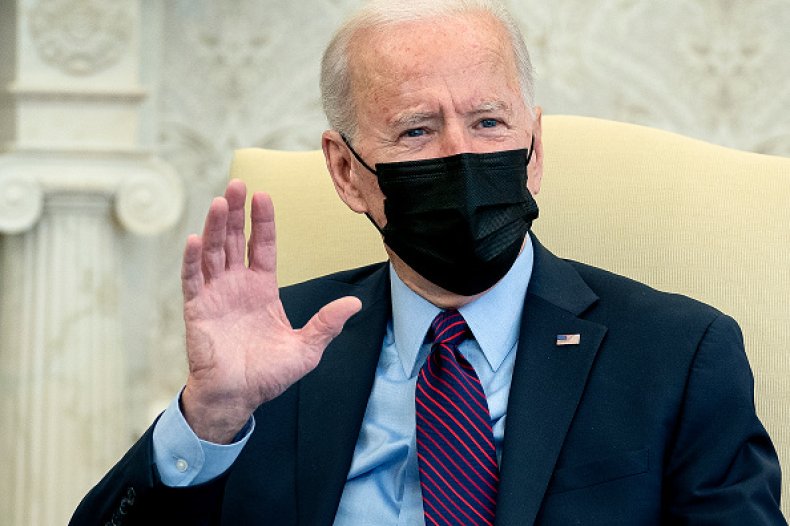 Although Democrats were able to quickly pave the way forward for much-needed relief in the form of stimulus checks, the recipients of these checks were far more targeted this time around.
The Senate overwhelmingly approved a bipartisan proposal, led by Senators Joe Manchin and Susan Collins, which prevents "upper-income taxpayers" from being eligible for the $1,400 payments.
Some have also criticized Biden for including $1,400 checks instead of the $2,000 checks that had been touted on the campaign trail, especially during Georgia's Senate runoff elections last month.
Former President Donald Trump had also backed $2,000 checks when he held office—support that led to a last-minute veto of the second stimulus bill. However, even after lawmakers went back to the drawing table, Americans only received $600 payments in December.
Biden also stressed on Friday that his top priority is getting vaccines into arms. He argued that getting more of the population vaccinated will allow more Americans to return to work and, in turn, stimulate economic growth.
As of Friday, the U.S. has administered more than 35 million doses of the COVID-19 vaccine, according to a tracker from the Centers of Disease Control and Prevention (CDC).