'Biden for Resident': Trump Shares Image of Biden Photoshopped into Retirement Home
On Tuesday evening, Republican President Donald Trump published a tweet showing an altered photograph of Democratic Presidential candidate Joe Biden's head on the body of an elderly wheelchair user surrounded by other elderly wheelchair users. The image has the words "Biden for President" below with the letter "P" marked out so it reads, "resident."
Trump is 74 years old and the oldest person ever to have been elected U.S. president. Biden is 77 years old. Despite this, Trump has called himself a "perfect physical specimen and extremely young" while referring to Biden as "sleepy" and a "dumb guy" who "doesn't know where the hell he is."
Trump's attacks on Biden as low energy and confused are meant to suggest that he lacks the ability to lead the country. Simultaneously, Trump has tried to cast Biden as a weakling, incapable of withstanding the "radical left" who would allegedly seek to control his presidency. However, the country's radical left considers Biden a corporate moderate with center-right policies and as an obstacle to radical change.
Conversely, Trump tries to convey himself as a strongman who is the only one with the capability to "Make America great again."
But while Trump is mocking Biden as a senior citizen, recent polls suggest that actual American senior citizens may prefer Biden over the slightly younger Trump.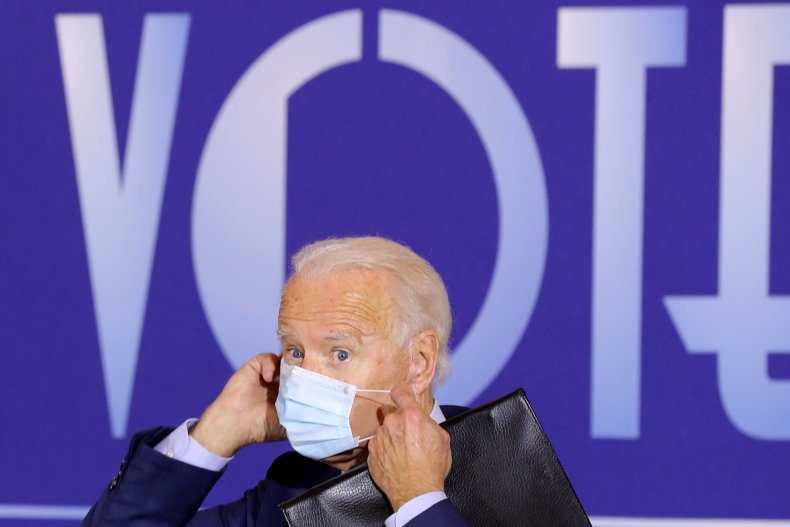 A Wall Street Journal-NBC News poll from last week showed that voters age 65 and above prefer Biden over Trump by 27 points. A CNN poll, also from last week, shows Biden leading by 21 points among the same age group.
Yesterday, Biden spoke to older voters in Pembroke Pines, a suburb of Miami, Florida, laying out his plan for elderly Americans.
"You deserve respect and peace of mind, but you're not getting it because to Donald Trump, you're expendable," Biden said, according to The Hill. "You're forgettable. You're virtually nobody. That's how he sees seniors. That's how he sees you."
Meanwhile, on a Monday morning call with reporters, Trump campaign manager Bill Stepien said the campaign had launched an "eight-figure" advertising campaign to woo elderly voters.
One of the ads, entitled "Who's Better", claimed that Trump upheld Social Security and Medicare benefits while Biden tried to slash them. Another ad, "Carefully", defends Trump's handling of the ongoing COVID-19, a pandemic that is especially dangerous for seniors and whose virality has killed over 216,000 Americans.
In his recent speeches to seniors, Biden has accused Trump of holding super-spreader events at the White House where politicians hug one another while seniors in resident care remain unable to even hug their grandchildren because of coronavirus.
Newsweek contacted the Biden campaign for comment.