Biden Rips Trump for Golfing Amid Coronavirus Outbreak, Says President 'Turns Everything Into a Political Benefit for Himself'
Former Vice President Joe Biden sat down with MSNBC's Lawrence O'Donnell Monday morning in Grand Rapids, Michigan for an interview broadcast on O'Donnell's program, The Last Word. Biden said President Donald Trump is attempting to turn the coronavirus outbreak in the U.S. into a "political benefit for himself."
Biden also said Trump is neither capable nor competent enough to handle the coronavirus situation.
"There's no confidence in the president, in anything he says or does," Biden said. "He turns everything into what he thinks is a political benefit for himself, when he's actually imploding in the process. But there's a lot of innocent bystanders that are being badly hurt."
"I think if the president were to just get out of the way, let the experts at CDC and others handle this, speak to it, talk about what needs to be done, we'd all be better off," Biden continued.
Biden also told O'Donnell that the American people need to be told what's going on concerning the government's response to the outbreak.
"People just wonder what's going on and he's down there golfing today," Biden said. "There's no sense of urgency. The American people, I think, want to know that their president is on top of this, understands it, and that he's being guided by science."
Biden also implied that the best thing Trump could say about the coronavirus is nothing at all.
"I wish he would just be quiet," Biden said. "I really mean it. That's an awful thing to say about a president, but he should be quiet. Just let the experts speak and acknowledge whatever they suggest to him, is what we should be doing."
Newsweek reached out to the Trump campaign for comment but did not receive an answer in time for publication.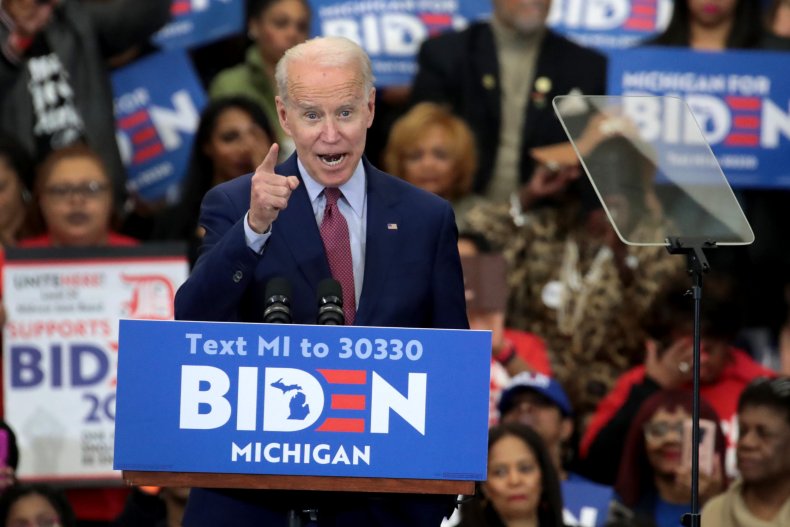 Trump has downplayed the threat posed by coronavirus in the past, comparing the outbreak to the impeachment proceedings set in motion against him by Democrats.
"The Democrats are politicizing the coronavirus," Trump told a South Carolina rally crowd in February. "One of my people came up to me and said, 'Mr. President, they tried to beat you on Russia, Russia, Russia.' That did not work out too well. They could not do it. They tried the impeachment hoax."
Biden told reporters in February that Trump's remarks were hard to believe "even for him."
"Some of the stuff he says is so bizarre that you can laugh at it," Biden said. "It just so diminishes the faith that people around the world have in the United States. The president of the United States says it's a hoax? It's hard to believe. Even for him, it's hard to believe."
Biden's remarks came the day before the next set of primaries is expected to occur, including one in Michigan in which 125 pledged delegates will be up for grabs. Recent polling show Biden holding a substantial lead over Vermont Senator Bernie Sanders in the state, with Biden holding 51 percent of the support of those surveyed to Sanders' 36 percent.