Biden Rips 'Wrong and Un-American' Texas Voting Bill State Lawmakers Likely to Pass
President Joe Biden condemned a new Texas bill that would limit voting in the state on Saturday, calling it "wrong and un-American."
Republican lawmakers in the Lone Star State finalized Senate bill 7 earlier today, which would enforce some of the most restrictive voting laws in America, including eradicating drive-by voting and temporary polling locations.
"Today, Texas legislators put forth a bill that joins Georgia and Florida in advancing a state law that attacks the sacred right to vote," Biden said in a statement. "It's part of an assault on democracy that we've seen far too often this year—and often disproportionately targeting Black and Brown Americans."
He added: "It's wrong and un-American. In the 21st century, we should be making it easier, not harder, for every eligible voter to vote."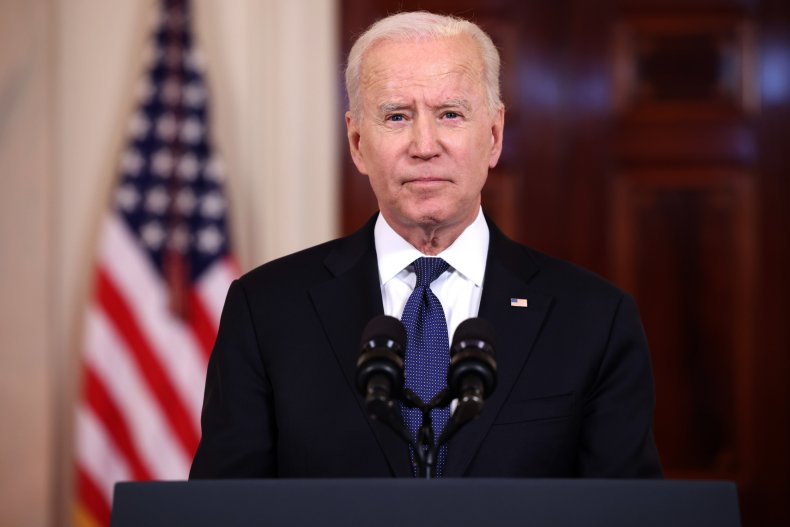 The voting bill is expected to pass the Texas legislature in the coming days and Democrats have virtually no path to blocking its passage, although they have vowed to challenge the measure in court. Republican Governor Greg Abbott said he will sign the measure when it lands on his desk.
The sweeping elections bill would limit voting on Sundays to before 1 p.m., which will make participation harder for Black Americans who attend church, and give greater powers to partisan poll watchers. It also includes other provisions, such as restricting early and 24-hour voting.
The new Texas measure is part of a wider Republican push to tighten voting laws in at least 14 states, including Florida, Georgia, Iowa and Arizona. According to the New York-based Brennan Center for Justice, almost 400 bills have been filed across the country since Trump's defeat that aims to restrict voting.
A slew of Democrats have strongly denounced the move, calling it an attack on voter rights sparked by former President Donald Trump's 2020 defeat. But Republicans have denied a link between the bill and the ex-president's voter fraud conspiracy theories.
Last Friday, Wyoming Rep. Liz Cheney disputed any connection between the new laws and Trump's election claims. "Everybody should want a situation and a system where people who ought to be able to vote and have the right to vote should vote and people who don't shouldn't," she told Axios journalist Jonathan Swan.
GOP Texas State Senators Bryan Hughes and Briscoe Cain called the legislation "one of the most comprehensive and sensible election reform bills" in the state's history.
"Even as the national media minimizes the importance of election integrity, the Texas Legislature has not bent to headlines or corporate virtue signaling," the two top Republican negotiators said in a joint statement.
Democrats have introduced two bills—the For the People Act and the John Lewis Voting Rights Advancement Act—to expand voting rights.
"I call again on Congress to pass the For the People Act and the John Lewis Voting Rights Advancement Act. And I continue to call on all Americans, of every party and persuasion, to stand up for our democracy and protect the right to vote and the integrity of our elections," said Biden on Saturday.
Newsweek reached out to Texas Governor Greg Abbott's office for comment. This story will be updated with any response.