Democratic President Joe Biden has said that wildfire and drought don't "give a damn" about political parties.
Biden made the comment during his Tuesday evening address in Golden, Colorado. In his address, he spoke about climate change and the Democratic infrastructure bill.
"In the end, it's not about red states or blue states," Biden said. "A drought or a fire doesn't see a property line. It doesn't care, give a damn, for which party you belong to. Disasters aren't going to stop. That's the nature of the climate threat."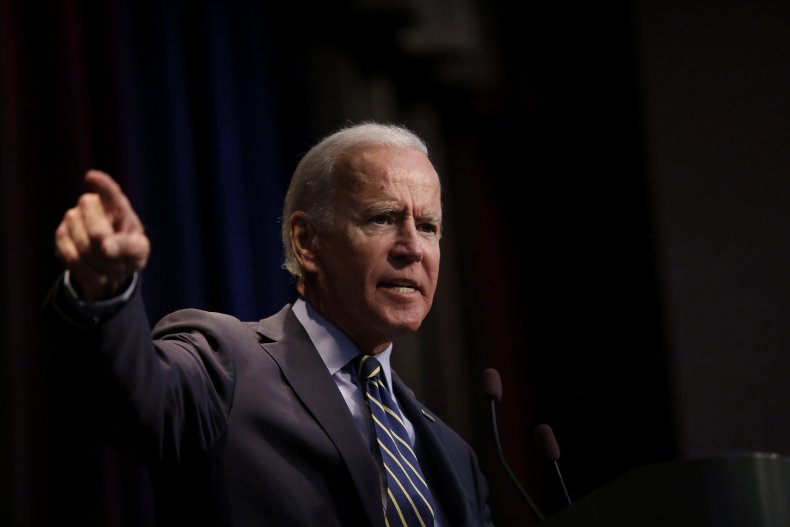 At the start of his address, Biden said that he had witnessed the damage caused by California's Caldor wildfire and Hurricane Ida on the southern and eastern coasts.
"[The] extreme weather we're seeing is only going to come more frequently and with more ferocity," Biden said. "We're blinking Code Red as a nation, we really are."
Biden said that nearly one in three American homes has been struck by weather disasters. He also said that in 2021 alone, 44,000 wildfires have burned nearly 5.6 million acres, causing billions of dollars in damage and compelling "tens of thousands" to evacuate their homes and businesses.
He then said that members of both mainstream political parties have recognized clean energy as an economic, environmental and national security imperative.
"We know what's causing climate change human activity. This no longer subject to debate," Biden said. "The only debate is around what we do to confront this crisis, and that shouldn't even be a debate."
The president then mentioned his administration's goals of achieving a 50 to 52 percent reduction in greenhouse emissions by 2030 as well as zero emissions by 2050. He also said he wanted the nation to fully run on carbon pollution-free power by 2035.
"We can do all this in a way that creates good jobs, lowers cost to consumers and businesses and makes us global leaders in an entirely new industry that other countries are really working hard to try to dominate," Biden said.
Biden concluded by mentioning the renewable energy investments in his proposed $3.5 trillion infrastructure plan.
The bill includes substantial investments in solar and wind energy generation and storage, Biden said. He also said it would contain "the largest federal investment power transmission in history" to help modernize the national electrical grid. The investments would seek to make the grid more resilient to extreme weather, capable of handling higher energy transmissions and cable of storing larger reserves of unused energy.
He added that he would like to create a civilian climate corps to "put a new generation of Americans to work" in conserving and restoring public lands. The corps would clean combustible underbrush that enable wildfires to spread as well as plant trees to fight climate change.
"Experts tell us that the bipartisan agreement we've reached in the American infrastructure bill will put 800,000 people to work.... including plumbers, pipefitters, electrical workers, steelworkers: modernizing roads, bridges, water systems and broadband systems," Biden noted.
Newsweek contacted the White House for comment.