Presumptive Democratic presidential nominee Joe Biden laid one rumor to rest Tuesday by saying in an interview that Michigan Governor Gretchen Whitmer was still in the running to be his vice president.
Biden's campaign has yet to reveal the names on his short list of potential running mates. During the Democratic debate in March, Biden said he would choose a woman to be his vice president. Some Democrats have said that Biden should choose a woman of color to join him on the ticket, a stipulation which would exclude Whitmer.
During an interview with WOOD-TV, Biden said Michigan was an important state for his campaign to win. When asked if Whitmer was still in contention, Biden said "Yes." Biden did not expand on his answer.
Newsweek reached out to the Biden campaign for comment.
Biden confirmed Whitmer's name was on his list in April. In a statement at the time, Biden called Whitmer a "tenacious fighter" from whom "Donald Trump could learn a thing or two."
Whitmer said in a May interview with NBC News that she had engaged in a conversation with the Biden campaign about the job, but it was "not something that I would call a professional, formalized vetting."
"I am making a little bit of time to stay connected to the campaign," Whitmer added, "but the most important thing that I have to do is be the governor of my home state. That's all that matters to me in this moment."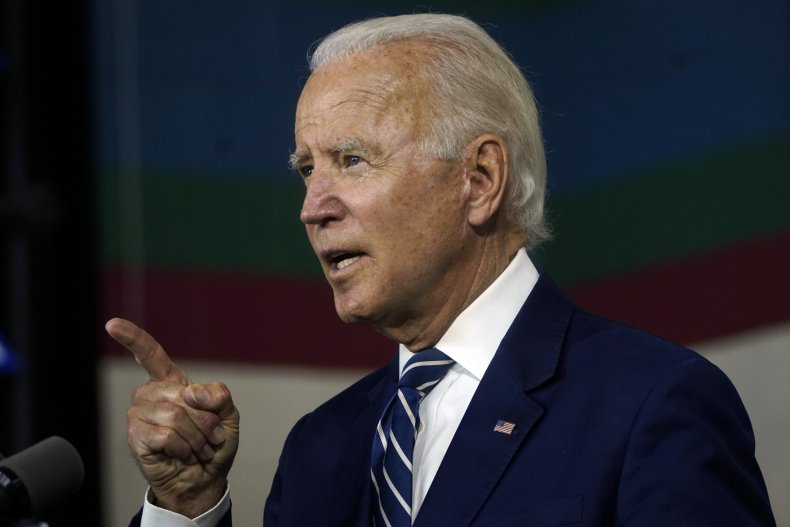 Minnesota Senator Amy Klobuchar withdrew her name from consideration for the vice-presidential position in June, but told Biden she believed "this is a moment to put a woman of color on that ticket."
Biden said Monday night that four candidates had been vetted for the position, but did not say which candidates they were.
"I am committed to naming any but the people I have named," Biden told MSNBC host Joy Reid, "and among them are four Black women. So that decision is underway right now."
Women of color rumored to be in contention as Biden's vice presidential candidate include California Senator Kamala Harris, Atlanta Mayor Keisha Lance Bottoms, Florida Representative Val Demings and former National Security Adviser Susan Rice. Newsweek has not confirmed that any of the candidates are on Biden's list.
Biden outlined his requirements of a vice presidential candidate in June.
"It's really important that whomever you pick as a vice president agrees with you in terms of your philosophy of government and agrees with you on the systemic things that you wanna change," Biden told CBS Evening News. "I want someone strong. I want someone strong, and someone who can—who is ready to be president on day one."
Biden is expected to announce his choice before the Democratic National Convention takes place in August.