With the benefits of the coronavirus stimulus package expected to expire at the end of the year, President-elect Joe Biden expressed confidence on Friday that a bipartisan agreement on a new package would occur.
Republicans and Democrats had not been able to come to an agreement over details of a fifth coronavirus relief bill, causing discussions to stall for weeks. Democrats had been pushing a bill that would have cost roughly $2 trillion. Republicans wanted a bill with a smaller price range, somewhere around $500 billion.
On Tuesday, a compromise bill was introduced by lawmakers from both sides of the aisle for approximately $900 billion. During his remarks on the U.S. economy on Friday, Biden said he believed there was enough support on both sides for a bipartisan economic stimulus agreement.
"All I can say is I'm confident there are a sufficient number of Democrats and Republicans in the United States Senate, along with significant votes coming out of the House of Representatives, to put together a serious package that will keep us from going off the edge here, provide the kind of resources that are needed immediately," Biden said.
"It's not going to satisfy everybody," Biden continued. "But the option is if you insist on everything, you're likely to get nothing on both sides. And so I think they're on their way to being able to come up with a package that meets the basic immediate needs that we have."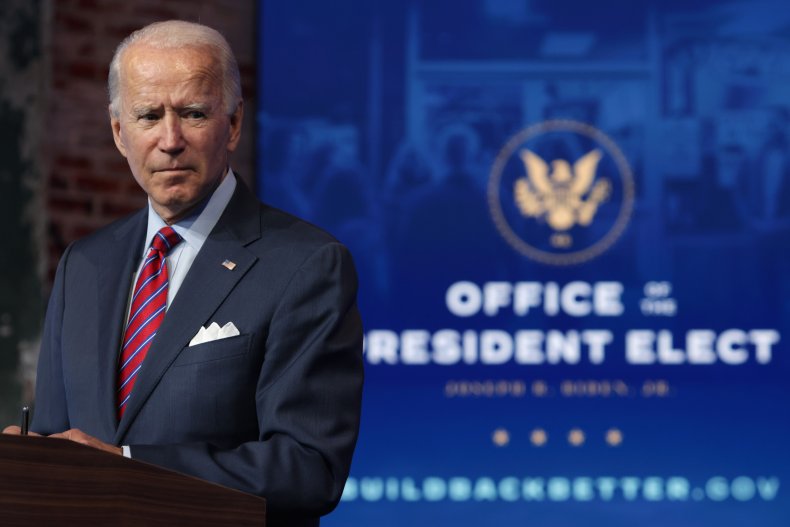 Biden warned that even if a new package is approved, it would only serve as a "down payment" and another packaged would be needed in 2021. "This is not the end of the deal," Biden said.
According to a report released Friday by the U.S. Labor Department, the unemployment rate fell to 6.7 percent in November with the addition of 245,000 jobs. That number is down from October's report which showed 610,000 jobs had been added. 10.7 million Americans reported being unemployed in November.
House Speaker Nancy Pelosi and Senate Minority Leader Chuck Schumer said in a Tuesday joint statement that they hoped Senate Majority Leader Mitch McConnell would move to break the stalemate on discussions of a relief package.
"In light of the urgency of meeting the needs of the American people and the hope that the vaccine presents," the statement read, "it's time for Leader McConnell to sit down with Democrats to finally begin a true, bipartisan effort to meet the needs of the country."
Newsweek reached out to Schumer's office for further comment.
While McConnell has not endorsed the bipartisan plan, he said on Thursday that a compromise could be close at hand. "We know where we agree," McConnell said during a speech on the floor of the Senate. "We can do this. Let me say it again. We can do this. And we need to do this."
President Donald Trump said on Thursday that he would sign a new economic relief package if one crossed his desk by the end of December. "I want it to happen and I believe they're getting very close to a deal," Trump said.