Democratic presidential candidate Joe Biden said on Monday that it's "fine" to hold the second presidential debate if precautions to avoid the spread of the new coronavirus are taken.
"Listen to the science. If the scientists say that it's safe, the distances are safe, then I think that's fine. I'll do whatever the experts say is the appropriate thing to do," Biden said to reporters before boarding a plane to campaign in Florida. "I think we should be very cautious as I've thought all along."
Biden's comments come after President Donald Trump, first lady Melania and several other White House staff members have tested positive for the virus that causes the respiratory disease COVID-19.
The second presidential debate, which is scheduled to take place on October 15, is 13 days after Trump announced his positive COVID-19 test. The Centers for Disease Control and Prevention recommends that anyone who has tested positive for the virus, or has been in close contact with someone who tested positive, should quarantine for 14 days.
Prior to Biden's comments on Monday, his deputy campaign manager, Kate Bedingfield, spoke to ABC News' This Week and made similar comments, stating that Biden will be at the second presidential debate if the "necessary" mitigation efforts are in place.
"We hope that they're going to put in place every adjustment necessary to ensure that it's fully safe," Bedingfield said. "And, obviously, we send President Trump our best. We hope that he is well and able to debate. If he is, Joe Biden will certainly be there."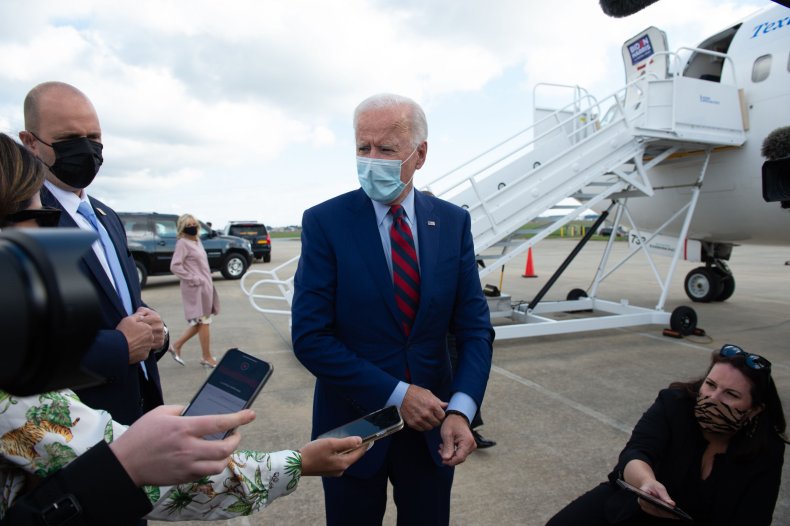 Biden's campaign announced on Wednesday that they will be revealing the result of every COVID-19 test the former vice president takes.
"We have adhered to strict and extensive safety practices recommended by public health experts and doctors in all of our campaigning—including social distancing, mask wearing, and additional safeguards," campaign spokesman Andrew Bates said in a statement. "Vice President Biden is being tested regularly, and we will be releasing the results of each test."
White House press secretary Kayleigh McEnany on Sunday suggested that Trump is eager to participate in the second debate and is "very hopeful about getting out there in short order when the doctors deem it appropriate."
Before the second presidential debate on October 15, Biden's running mate, California Senator Kamala Harris and Vice President Mike Pence will meet for the first vice presidential debate on Wednesday, October 7.
The Commission on Presidential Debates confirmed to Politico that Harris and Pence will be seated 12-feet apart from each other, a change from the previous distance of seven feet.
The second presidential debate will take place at the Adrienne Arsht Center for the Performing Arts in Florida on October 15 and will be moderated by USA Today's Susan Page.
Newsweek reached out to Biden's campaign for comment but did not receive a response in time for publication.