Biden Says 'Let 'Em Talk' as Environmental Protests Disrupt McAuliffe Rally
President Joe Biden shut down and insisted that "no one's paying attention to" a group protesting against an oil pipeline expansion proposal after they interrupted his speech in Virginia on Friday.
Biden was speaking at a rally for former Virginia Governor Terry McAuliffe, a Democrat who is running for a non-consecutive second term as the state's governor this year. Not long after Biden's speech began, a group of at least three protesters began a "Stop Line 3!" chant, according to reporters covering the event.
"That's all right, no no no, let 'em talk," Biden said in response to the crowd drowning out and booing the protesters. "Look, it's not a Trump rally. Let 'em holler, no one's paying attention to them."
"Stop Line 3!" is a slogan that has been used by a group of indigenous activists who are lobbying for Biden to block construction of an expanded Enbridge Line 3 oil pipeline, which is set to deliver oil from Alberta, Canada to Superior, Wisconsin.
It is not clear that Biden was able to hear what the protesters were chanting. The chant is difficult to make out in video from the event.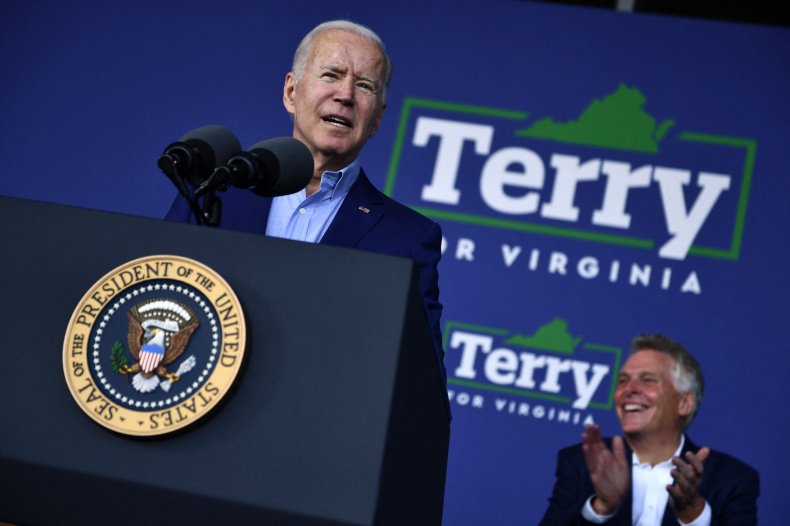 The Line 3 protesters, some of whom refer to themselves as "water protectors," contend that the pipeline could pollute several bodies of water in the area, including the Mississippi River. The current project is intended to replace the original Line 3 pipeline, which opened in 1968 and has had a troubled history of spills, including a 1991 spill that was the largest-ever oil spill in the U.S. over land.
Activists have noted that the new pipeline takes a different than the previous incarnation, opening more land to potential pollution. They have also protested the project on the grounds that it infringes on treaty law by interfering with indigenous rights to fish, hunt and gather wild rice. In addition, pipeline opponents stress that the project could exacerbate climate change by increasing the supply of oil.
The pipeline's Canadian owner Enbridge proposed the replacement in 2014. Final permits for the project were given under the Trump administration. Construction has been completed in all areas except for a portion in Minnesota, where activists are making their last stand against pipeline construction workers, officials and law enforcement agents who are helping the project proceed.
The campaign to halt the pipeline has recently focused on appealing directly to Biden, with endorsements from high-profile figures and celebrities like actors Mark Ruffalo and Marisa Tomei. Although Biden has not directly commented on the matter in public, his administration filed a brief urging that a legal challenge to the project be thrown out last month.
Newsweek reached out to the White House for comment.