Biden Says Russian Invasion of Ukraine Could Be 'Largest Invasion Since WWII'
A Russian invasion of Ukraine would "change the world" and be the largest military operation of its kind since World War II, President Joe Biden told reporters on Tuesday.
Biden again underscored the gravity of the tense situation at the border between the two Eastern European countries, where Russia has amassed 100,000 troops in possible preparation of an invasion of the former Soviet republic.
Biden told reporters there has been "no change in the posture of the Russian forces" along the border with Ukraine, according to a video of his remarks captured by the Associated Press.
White House officials have warned of an imminent Russian invasion of Ukraine. But Ukraine Defence Minister Oleksii Reznikov said Tuesday that there is no reason to think Russia is planning anything, telling residents there is no need to have bags packed and they can "sleep well," according to the AP.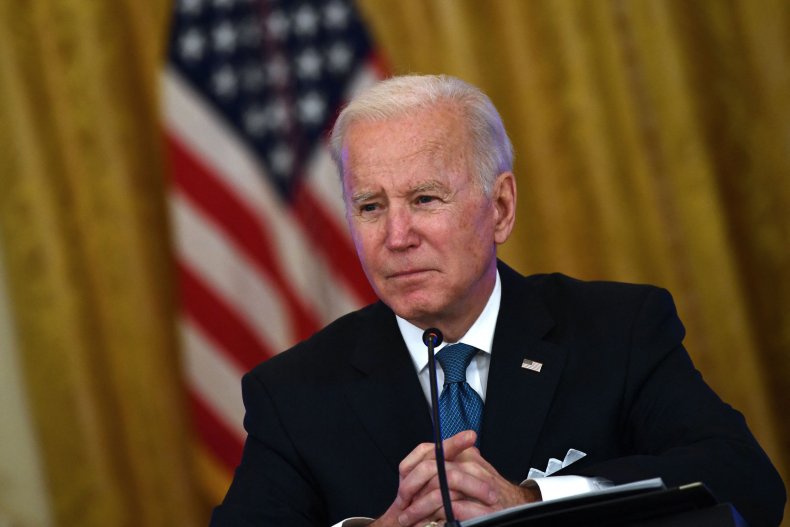 When asked if the likelihood of a Russian invasion has increased or decreased, Biden said the situation was hard to gauge.
"To be completely honest with you, it's a little bit like reading tea leaves," replied Biden, according to a video of the exchange posted by Fox News.
While Russian President Vladimir Putin's build-up of forces along Ukraine's border suggests a preparation to invade, Biden said it will all come down to a decision from the Russian leader.
Biden again stressed there will be "serious economic consequences" for Putin if he does invade Ukraine, saying he would personally sanction the Russian leader. Biden added that Russia will also see "political consequences" and "enormous consequences worldwide," underscoring the significance of the invasion.
"If he were to move in with all those forces and be the largest invasion since World War Two," said Biden. "And it would change the world."
The Pentagon on Monday put over 8,500 troops on standby as the White House and military officials determine whether to deploy to Europe.
However, Biden told reporters Tuesday that "there is not gonna be any American forces moving into Ukraine." Biden said those forces are part of a NATO operation that's part of the alliance's mutual-defense pact. Ukraine is not a member of NATO.
"I've spoken with every one of our NATO allies... and we're all on the same page," said Biden. "We're going to make it clear that there's no reason for anyone, any member of NATO to worry whether or not we would come to their defense."
In recent days, NATO members have made deployments to Eastern Europe as a deterrent against Russia. The alliance said on Monday that member Denmark was sending a frigate to the Baltic Sea and is set to deploy four F-16 fighter jets to Lithuania, another member that shares a border with Russia. The Netherlands is sending two F-35 fighter aircraft to Bulgaria to support NATO's air-policing activities in the region, in addition to putting a ship and land-based units on standby.
"NATO will continue to take all necessary measures to protect and defend all Allies, including by reinforcing the eastern part of the Alliance," NATO Secretary General Jens Stoltenberg said in a statement. "We will always respond to any deterioration of our security environment, including through strengthening our collective defence."