Biden Says Trump Admin Hasn't Been 'Begrudging' in the Transition Process
President-elect Joe Biden said during his first interview since winning the presidential election that the transition between his incoming administration and President Donald Trump's outgoing administration "has not been begrudging" thus far.
The interview, which aired Tuesday evening on NBC Nightly News with Lester Holt, was conducted in Wilmington, Delaware, where Biden and members of his transition team are headquartered. Though the General Services Administration (GSA) granted Biden's team access to transition funds and materials on Monday and the White House gave Biden access to daily presidential briefings on Tuesday, Trump has not yet conceded the election.
During Tuesday's interview, Holt asked Biden about whether the GSA's acknowledgment of the election results had improved communication between the two camps.
"Yes. Immediately we've gotten outreach from the National Security shop, from—just across the board," Biden said. "We're already working out meeting with the COVID team in the White House, and how to not only distribute, but get from a vaccine being distributed, to a person being able to get vaccinated. So I think we're going to not be so far behind the curve, as we thought we might be in the past."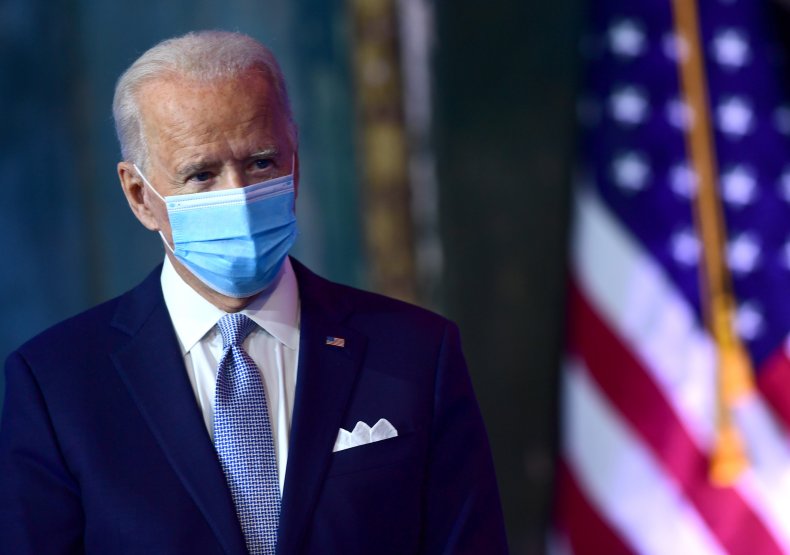 Biden said the outreach his team has received "has been sincere."
"It has not been begrudging so far," he said. "And I don't expect it to be."
In the weeks since major media networks called the election for Biden on November 7, Trump's campaign launched several legal challenges to states' election results, most of which have been unsuccessful. Meanwhile, Biden's team raised concerns about the ways in which Trump's refusal to concede would delay the transition between Trump's outgoing administration and Biden's incoming administration.
Biden told Holt that he has not had any direct communication with Trump since the election but that he believes Trump's chief of staff, Mark Meadows, and his own chief of staff, Ron Klain, have spoken.
"It's a slow start," Biden said of the transition. "But it's starting. And there's two months left to go, so I'm feeling good about the ability to be able to get up to speed. And I fully expect, based on what occurred so far, we'll get full cooperation with each of the agencies in question."
In addition to addressing the transition, Holt's wide-ranging interview touched upon what Biden hopes his First 100 Days will look like, how progressives and conservatives may play a role in his administration and his team's COVID-19 vaccine distribution plans. Holt also asked Biden if he agrees with some Democrats who believe investigations into Trump should proceed once he leaves office.
"I will not do what this president does and use the Justice Department as my vehicle to insist that something happened," Biden said. "There are a number of investigations that I've read about that are at a state level. There's nothing at all I can or cannot do about that. What I'm focused on [is] getting the American public back at a place where they have some certainty, some surety, some knowledge that they can make it. The middle class and working class people are being crushed. That's my focus."
Newsweek reached out to the White House for comment but did not receive a response in time for publication.