Biden Says Trump Is 'Consumed by Blinding Ego' When It Comes to Obama, Calls for Severe Punishments for 'Bad Cops'
Joe Biden said Tuesday he would reduce racial inequality as president, starting with expanding Obamacare, something the former vice president charged President Donald Trump has failed to do because of his personal feelings about his predecessor.
During a speech in Philadelphia, Biden spotlighted his presidential plans amid the recent social unrest over the death of George Floyd, who died in Minneapolis police custody on May 25. He acknowledged that the change that's necessary for America could not be completed during his term as president but said "economic justice" begins with health care.
The coronavirus pandemic has reignited talk about universal health care and disparities in access, and Biden said the "quickest route" is to expand Obamacare. Universal health care in America is possible and something legislators "should do," according to Biden, but he said it won't happen with Trump in the White House.
"He doesn't care how many millions of Americans will be hurt because he's consumed with his blinding ego when it comes to Barack Obama," Biden said. "He should withdraw his lawsuit to strike down Obamacare, and the Congress should prepare to pass on the act I proposed to expand Obamacare to millions more so everyone's covered."
Biden also called for reforms in America that give "true meaning to our constitutional promise"—that everyone has equal protection under the law. He committed to creating a national police oversight committee within the first 100 days of his presidency.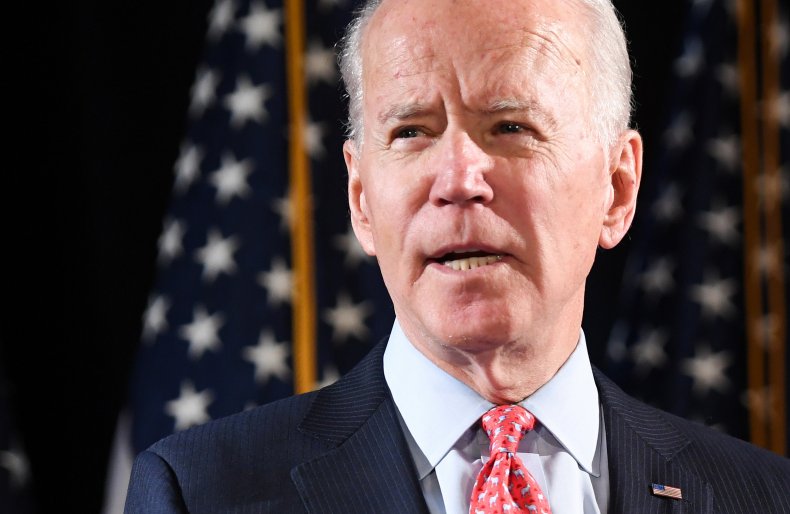 Along with a need for "real community policing," Biden said every police department needs to conduct a comprehensive review of its hiring, training and de-escalation tactics. The federal government should give states and cities the tools and resources to implement reforms, he added, and police officers should have to meet higher standards, something most officers already do.
"All the more reason bad cops should be dealt with severely and swiftly," Biden said. "We all need to take a hard look at the culture that allows for the senseless tragedies that keep happening."
Peaceful protests over Floyd's death turned into a violent, chaotic situation on Saturday evening in Philadelphia, as rioters lit buildings and police cars on fire and looted stores. On Sunday, Mayor Jim Kenney, who attended Biden's speech, said the destruction "saddened and disappointed me beyond words."
He separated the rioters from the people who came out to peacefully protest and said their statement should not be "diminished by other organized groups of people who tried to cause chaos in our city."
"Those vandals in Center City did a great disservice to the many others who chose to speak out forcefully against institutional racism and violence at the hands of police," Kenney said.
Confrontations between demonstrators and law enforcement continued in Philadelphia through the weekend and on Monday, and hundreds of National Guard troops arrived to help restore order. Police deployed tear gas into a crowd of demonstrators blocking Interstate 676, and U.S. Attorney William McSwain said it was time to "confront" violence and "stop it in its track."
He promised to bring charges against people rioting or looting in the Philadelphia area and prosecute them to the fullest extent of the law.
"If you engage in that type of criminal behavior under the guise of protest, you disgrace the Constitution and you disgrace yourself," McSwain said. "And you dishonor the memory of George Floyd."
On Monday, Trump said that all Americans were "rightly sickened and revolted" by the death of Floyd, who died after a Minneapolis police officer knelt on his neck. However, he added, the "righteous cries and peaceful protesters" can't be "drowned out by an angry mob."
If state and local officials won't deploy the National Guard or take necessary actions to curb violence on their own, Trump said, he will deploy the military to "quickly solve the problem for them."
Biden criticized Trump for his response to the demonstrations, saying that "our freedom to speak is a cherished knowledge that lives in every American."
In response to Biden's speech, Katrina Pierson, a senior adviser in the Trump campaign, told Newsweek that Biden made the "crass political calculation that unrest in America is a benefit to his candidacy."
Noting that Biden campaign staffers made donations to help arrested Minneapolis protesters get out on bail, Pierson said his campaign made it "clear" that they "stand with the rioters [and] the people burning businesses and causing mayhem."
She went on: "In contrast, President Trump has addressed the nation twice, expressed horror and sorrow for the death of George Floyd, stood with the peaceful protesters, and made it clear that he would not abide our cities being overtaken by violent, uncontrollable rioters. President Trump is restoring the nation to order and is clearly the leader we need to return the country to peace and prosperity."
Newsweek reached out to the Biden campaign for a response to Pierson's comments but did not hear back before publication.
In his speech, the former vice president also offered a message of hope by citing the accomplishments that occurred as a result of the Civil War, the Great Depression and the civil rights movement. Some of America's "greatest moments" came from the darkest moments of despair, he said.
That light on the horizon that Biden referenced has sometimes been seen, as when protesters and police come together to jointly advocate for change.
During a demonstration Monday at City Hall, Andre DuCally, an African American resident of the city, engaged in a conversation with officers. He condemned black communities destroying other back communities but wondered why police reform wasn't happening.
One officer, whom The Philadelphia Inquirer identified as black, said people need to take steps to get to a solution, "because we all want the same thing." A white officer agreed and asked DuCally, 22, to give him a hug, saying that "nobody will do that and that's the problem."
The three parties hugged, but a white officer whose last name is Brady rejected requests to take a knee, saying, "It's not my thing." Nearby, four officers joined a group of protesters who were kneeling, prompting demonstrators to say, "I love you."
As president, Biden said Tuesday, he would work to not only rebuild America but make it "better than it was."
"We're the only nation that goes through a crisis and comes out better," he said. "To build a better future, that's what America does. It may in fact be the most American thing to do, build the future."