Biden Says U.S. 'Is Now Having Trouble Breathing,' Urges Police Reform During Town Hall
In a virtual town hall meeting Thursday, presumptive Democratic presidential nominee said that the U.S. was "having trouble breathing" in the aftermath of the death of Minneapolis man George Floyd.
Floyd's death during an arrest attempt by members of the Minneapolis Police Department galvanized demonstrators across the country to protest police brutality and racism. Video taken by a witness to the arrest attempt was shared on social media. In the footage, a white officer can be seen kneeling on Floyd's neck for nearly nine minutes. Floyd can be heard to say, "I can't breathe." The phrase became a chant for some protesters and a point of reference for Biden's Thursday remarks.
"It's Technicolor," Biden said. "They're looking at it. They're saying, 'Oh, my God, I can't breathe.' The country now is having trouble breathing."
"We have to move," Biden continued, "and we have to change the institutional structures, everything from police brutality, racism writ large, but also the things that make life better for people."
Biden also expressed worry over protests expected to occur within the next few days. Although some people may "protesting legitimately for change," Biden said that "we can't allow the protesting to overshadow the purpose of the protest. A lot of people are going to want to cause trouble. Some cops, but some folks, too."
Newsweek reached out to the National Fraternal Order of Police for comment. This story will be updated with any response.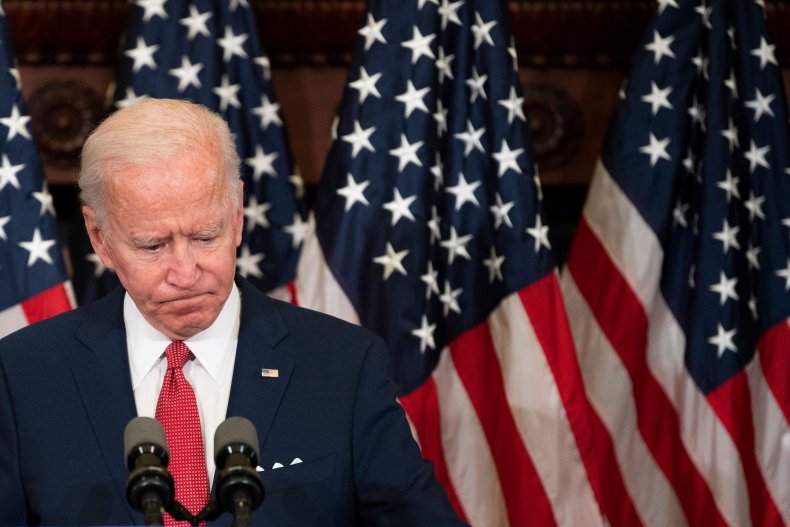 If elected, Biden said, he would enact police reforms within the first 100 days of his presidency. Included within his proposals were the banning of chokeholds by police officers, the creation of a national police oversight commission and developing a standard model for the use of force for police departments.
Besides the death of George Floyd, demonstrators have also protested against the death of Louisville, Kentucky EMT Breonna Taylor.
Taylor was shot at least eight times by members of the Louisville Metro Police Department as they attempted to serve a no-knock warrant as part of a narcotics investigation. Since the terms of the warrant stated that the officers did not have to identify themselves, Taylor's partner Kenneth Walker opened fire on them. He believed they were burglars attempting to rob the apartment. Officers returned fire, striking and killing Taylor.
On Monday, Louisville resident David McAtee was killed during a confrontation with law enforcement officers. LMPD officers involved in the shooting may not have activated their body cameras, resulting in no footage of the incident.
LMPD Chief Steve Conrad announced his June retirement after the Breonna Taylor shooting. After it was discovered that no bodycam recording existed, Conrad was fired by Louisville Mayor Gary Fischer.
"This type of institutional failure will not be tolerated," Fischer said at a Monday press briefing.