Biden Says World 'Better' Due to Queen Elizabeth II as He Pays Respect
President Joe Biden paid respects to Queen Elizabeth II on Sunday, and praised the British monarch as he visited the queen's lying-in-state at Westminster Hall in London.
"To all the people of England, all the people in United Kingdom, our hearts go out to you. You were fortunate to have had her for 70 years, we all were. The world's better for her," Biden said, according to Reuters.
The president's comments in the U.K. come one day before the queen's funeral, which he and many other world leaders are expected to attend. Meanwhile, King Charles II welcomed leaders in a reception ahead of the funeral, Reuters reported.
Biden and first lady Dr. Jill Biden could also be seen on broadcast footage paying their respects in Westminster Hall. Bloomberg journalist Josh Wingrove posted images of the the president and first lady in the hall and signing condolences books.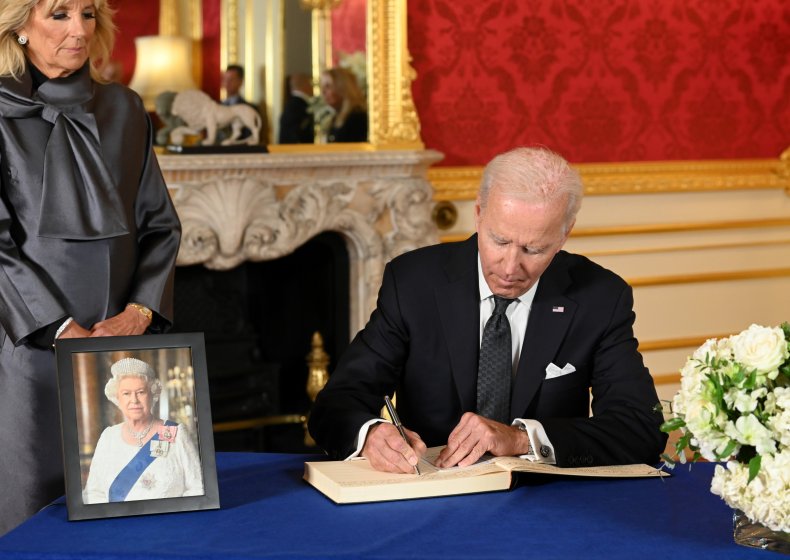 "President Biden and the First Lady just paid their respects to the Queen at Westminster Hall, per the broadcast feed. Biden held his right hand over his heart as they paused for several moments, before taking their leave," he wrote.
Wingrove added: "First Lady Jill Biden signed a condolence book before they moved to another room, where President Biden signed another."
When the queen died on September 8, at the age of 96, Biden released a statement honoring the monarch.
"She was the first British monarch to whom people all around the world could feel a personal and immediate connection—whether they heard her on the radio as a young princess speaking to the children of the United Kingdom, or gathered around their televisions for her coronation, or watched her final Christmas speech or her Platinum Jubilee on their phones," the statement read. "And she, in turn, dedicated her whole life to their service."
Newsweek has reached out to the White House for comment.
While in the U.K. Biden had been expected to meet with the nation's new prime minister, Liz Truss. However, the BBC reported that the meeting has been canceled until after the funeral. The two will participate in formal bilateral talks on the sidelines of the United Nations General Assembly in New York this week.
On Friday, British officials said that the 4.9 mile line to attend the queen's lying-in-state had reached capacity. In recent days, thousands lined up, waiting in some cases for more than 14 hours to walk past the queen's coffin in Westminster Hall.