Biden Scolds Coast Guard Graduates as 'Dull' After They Don't Clap at His Joke
President Joe Biden called a group of Coast Guard cadets "dull" after they registered a tepid response to one of his jokes on Wednesday.
Biden delivered what was at times a lighthearted commencement address for the graduating class of 2021 at the U.S. Coast Guard Academy in New London, Connecticut. The president praised the cadets for "choosing a more difficult path" amid the COVID-19 pandemic and said the group represented "the most progressive, best-educated, least prejudiced, most open generation in American history." He also delivered a handful of jokes that were met with mixed reactions.
"I can only assume that you will enjoy educating your family about how the Coast Guard is 'the hard nucleus around [which] the Navy forms in times of war,'" Biden said, with the crowd failing to react.
"You're a really dull class," Biden continued before the crowd responded with some laughter. "I mean come on, man. Is the sun getting to you? I would think you'd have an opportunity, when I say that about the Navy, to clap."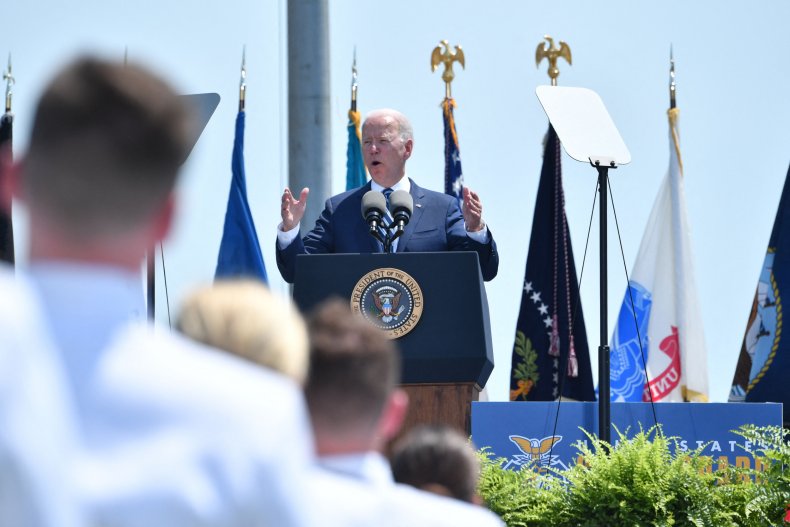 The cadets responded to the president's prompt by clapping. It was one of multiple times during the speech that Biden asked the crowd to clap. After joking that the cadets had "maybe spent a little too much time at the Slice," a local pizza restaurant, Biden encouraged his audience to "show a little courage" and clap louder than they already were.
Biden also continued a longstanding tradition of absolving cadets serving with minor misdeeds on their records. He joked that he wished he could have been absolved himself during his 1965 graduation from the University of Delaware, saying he needed absolution for "minor infractions like using a fire extinguisher to hose down an RA."
The second half of the president's speech was more serious in tone. Biden noted that more than one-third of the 240 soon-to-be officers were from "underrepresented minorities," while another third of the class were women, adding that "those numbers are going up year by year." He said that "diversity is one of the enduring advantages and inherent strengths to America" and promised that his "administration is committed to taking on the scourge of sexual assault in the military."
Biden's commencement speech came a little over a month after he announced that the U.S. would be fully withdrawing troops from Afghanistan by September 11. It was Biden's second speech at the academy, with his first having been delivered during his time as vice president in 2013. Former President Donald Trump was the last president to deliver the academy's commencement, doing so during his first year in office in 2017.
Newsweek reached out to the White House for comment.