President Joe Biden won over nation's teachers unions on Friday after the Centers for Disease Control and Prevention's (CDC) new school reopening guidance included vaccination prioritization for educators.
Although the CDC said vaccines are not mandatory for reopening, they stated that teachers should be given priority.
The new report said that because teachers hold jobs "critical to the continued functioning of society" and are at risk of COVID-19 exposure, state and local officials should "consider giving high priority to teachers in early phases of vaccine distribution."
The advisory committee recommended that educators be included in Phase 1B, after health care personnel and residents of long-term care facilities.
Kim Anderson, the executive director of the National Education Association (NEA), said all mitigation factors, including vaccine priority, should be implemented by every school.
"Educators are no different [from other front-line workers], and educators need to be prioritized, not only so that we can get safely back to in-person learning as quickly as possible, but so we can see students and thus, their families, safe as well," Anderson told Newsweek.
She said that 60 percent of the NEA's 3 million plus members have continued teaching in-person or hybrid since the pandemic began.
"Many of them have been teaching fully in person since the pandemic began without any protection," she said on Friday. "We want to ensure that those people who are at any risk—whether they have underlying conditions, whether they're in person or whether they have a family member in the home that they're worried about—we want to make sure that educators are appropriately prioritized."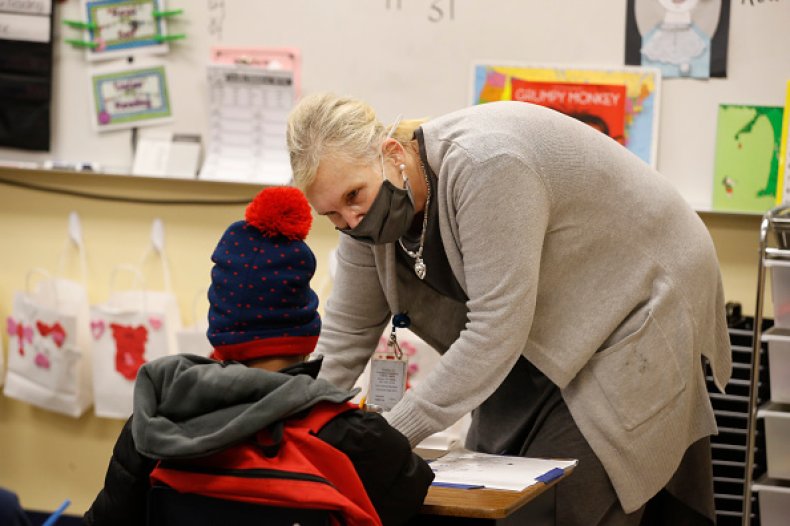 The CDC rolled out its new recommendations on Friday after the White House said it was deferring to the health agency on school reopenings.
President Joe Biden has pledged to reopen K-8 schools within his first 100 days in office, but some have argued that he hasn't acted aggressively enough and caved to teachers unions instead.
Republican whip and ranking member of the House coronavirus task force Steve Scalise criticized the report, arguing that it did not add any new recommendations to those that the Trump administration had last year.
"Today's CDC guidance essentially reiterates the same guidance issued eight months ago. It's time for President Biden to stand up to the unions and reopen schools," Scalise said in a statement. "The science could not be more straightforward: schools must safely reopen their doors to students now."
"President Biden pledged to reopen schools in 100 days and follow the science, but instead he has broken this promise and followed the radical unions' lead," the congressman added. "The President calls school closures a 'national emergency' but he is enabling it. It's past time for President Biden to put the needs of students first and take the steps necessary to reopen America's classrooms and have teachers instruct students in-person."
Educators have long called for clear guidance on reopening schools safely and pointed to the Trump administration's mixed signals during the coronavirus pandemic.
"We've been really disappointed that the previous administration, together with, unfortunately, Senator McConnell, just sat for so long on providing the kind of aid that our school districts and educators and students needed," Anderson said. "We are delighted that the Biden-Harris administration has gotten right to business. We are delighted that they are taking this pandemic as seriously as we are because we know that many human lives have been lost, including hundreds and hundreds of educators."
The CDC unveiled a plan that included four color-coded zones (full in-person, hybrid, reduced attendance and virtual-only), which corresponds to community transmission rates.
But Anderson says that schools must move quickly to reopen now that the CDC has given educators to return to classrooms as long as precautions are in place.
"We now have the Biden recovery plan making its way through Congress and that needs to be passed immediately, because if we are ever going to get back to in person learning, we also know that we have to make up for the disrupted learning opportunities for students," she said. "We want to get to the business of doing that but we've got to make it safe to do so."